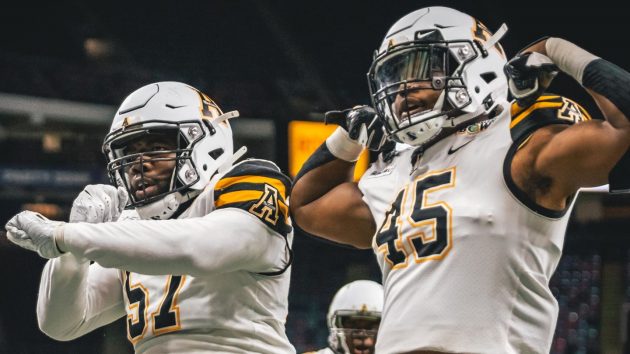 Last Updated on January 2, 2020 12:12 pm
NEW ORLEANS BOWL POSTGAME NOTES: No. 20 App State 31, UAB 17

1. The Mountaineers became the first Sun Belt team and the first FBS team from the state of North Carolina to win 13 games.

2. App State is in position to finish a season as the highest-ranked FBS program in the state of North Carolina for the second straight year.

3. App State became the first FBS program to win five bowl games in each of its first five bowl-eligible seasons.

4. With the win, fifth-year seniors Akeem Davis-Gaither, Desmond Franklin, Victor Johnson, Collin Reed and Josh Thomas finished their careers with a 7-0 postseason record that included two wins in the Sun Belt Conference Championship Game and a 5-0 bowl record. The only other FBS programs with a chance to officially reach 5-0 in the five seasons since 2015 are Louisiana Tech, Wisconsin and Alabama, which followed wins in the 2016 Peach Bowl and 2018 Orange Bowl with losses in the CFP National Championship Game.

5. The fifth-year seniors went 54-12 overall and won four Sun Belt Conference championships. Fourth-year seniors such as Jordan Fehr and Noel Cook were on teams that went 43-10 with a Sun Belt title every season.

6. App State is 19-1 in its last 20 games, tying Ohio State for the nation's second-best record in that span. Clemson has won 28 consecutive games.

7. Since the 2015 season began, App State is No. 5 nationally in win percentage (81.8) and is No. 5 in total wins with its 54-12 record. The win total trails only Clemson (68-4), Alabama (65-6), Ohio State (61-6) and Oklahoma (58-9) during that time.

8. With 13 wins, App State tied for the second-highest total by a Group of Five team since the Sun Belt was established in 2001. Boise State had a G5-record 14 wins in 2009. The 13-win G5 teams before App State were 2017 UCF, 2016 Western Michigan, 2015 Houston, 2014 Marshall, 2011 Houston, 2010 TCU, 2010 Nevada, 2008 Utah and 2006 Boise.

9. Since 2015, App State improved to an FBS-best 24-0 in non-season-opening games in which it had more than a week to prepare.

OFFENSE

10. App State set Sun Belt records for single-season points (543) and touchdowns (73). The old records belonged to the 2015 Arkansas State team that scored 520 points and posted 69 touchdowns. The Mountaineers finished with eight non-offensive touchdowns: four on interceptions, two on fumble recoveries, one on a kickoff return and one on a blocked punt.

11. App State set a program record for fewest turnovers committed in a season with nine. The previous record of 10 was set in 1985

12. App State tied the program's single-season record for lost fumbles by losing only three in 2019. That happened previously in 1985.

13. Darrynton Evans has three MVP awards from App State's four postseason games in the last two seasons. He repeated as a belt-winning MVP of the Sun Belt Championship Game and joined quarterback Zac Thomas as an MVP of the R+L Carriers New Orleans Bowl by finishing with 166 all-purpose yards.

14. Darrynton Evans tied the Sun Belt's single-season touchdown record of 24. In 2001, Middle Tennessee's Dwone Hicks also scored 24 times. Evans finished the season with 18 rushing touchdowns, five receiving touchdowns and a kickoff return for a touchdown.

15. Darrynton Evans had the second-most touchdowns in a season by an App State player. Kevin Richardson scored 31 touchdowns in 2006.

16. By rushing for 1,480 yards as a redshirt junior, Darrynton Evans posted the fourth-best single-season total in App State history and the top number in the program's FBS existence. The only higher totals belong to Kevin Richardson (1,676 in 2006), John Settle (1,661 in 1986) and Armanti Edwards (1,588 in 2007).

17. With 2,888 career rushing yards, Darrynton Evans ranks ninth in school history.

18. Thomas Hennigan moved into a tie for seventh place on App State's career list for receiving touchdowns by increasing his three-year total to 14 with two scores. Current teammate Corey Sutton is tied for fifth place with 17 touchdown receptions.

19. For the fifth straight year, thanks to the work of its offensive line and other blockers, App State will rank in the top 25 nationally in both rushing yards per game and fewest sacks allowed. Two days into the bowl season, they rank 17th in rushing yards per game at 231.4 and 22nd with 18 sacks allowed — that ranking could improve as other teams play their bowls. App State rushed for 261 yards and allowed one sack Saturday.

20. Zac Thomas had a hand in 35 touchdowns (28 passing, seven rushing) and threw only six interceptions as a junior in 2019. He improved to 23-3 as a starter.

DEFENSE

21. With six sacks at the New Orleans Bowl for the second straight year, App State tied its bowl record and had its single-game high for 2019. The previous high was four against both Charlotte and Troy.

22. Tommy Dawkins recorded a career-high 2.5 sacks. He entered the game with one in his career: against East Tennessee State in the 2019 opener. Dawkins tied App State's bowl record of 2.5 set by Okon Godwin in the 2018 New Orleans Bowl.

23. App State had two seniors finish the season with more than 100 tackles: Jordan Fehr (109) and Akeem Davis-Gaither (104). Fehr led the team with 11 stops in New Orleans, and Davis-Gaither added nine.

24. Starting cornerback Shemar Jean-Charles recorded the first interception of his career in the second quarter.

25. App State allowed only 184 total yards of offense after UAB's first two drives, and UAB managed just 40 rushing yards on 33 carries throughout the entire game.

26. App State allowed a combined 816 rushing yards over its last nine wins, an average of 90.7 per victory.

27. Senior safety Josh Thomas finished his career with 56 game appearances, and Akeem Davis-Gaither totaled 55. The other seniors with at least 50 were Victor Johnson, who had 52, and senior safety Desmond Franklin, who played in his 50th game Saturday.

28. App State outscored opponents 115-56 in the fourth quarter of games in 2019, limiting opponents to 4.0 points per fourth quarter.

SPECIAL TEAMS

29. Chandler Staton scored 105 points, the third-most by an App State kicker in program history. Julian Rauch had 127 in 2007, and Jason Vitaris scored 115 in 2009.

30. With 72 extra points, Chandler Staton had the second-most in program history. Julian Rauch accounted for 76 in 2007.

31. Chandler Staton opened the year with 56 consecutive made extra points and ran his career streak to a school- and program-record 148. The 56 consecutive makes in one App State season ranks fifth in school history, with his 61 straight in 2018 tying for first.