Last Updated on September 21, 2015 2:04 pm
Update Tuesday morning – On September 21, 2015, at approximately 1:34 PM, Boone Police responded to the Appalachian Antique Mall – 631 West King Street, for a report a vehicle striking the building. The driver of the vehicle, Betty Phillips Jones, 80 years-of-age, of Boone, was parking when she inadvertently hit the accelerator. Her vehicle traveled over the sidewalk and into the building. There were no injuries from the accident. Damage to the structure, vehicle, and parking meter, were estimated to be $13,000
A single vehicle accident not only caused traffic delays, but created quite the surprise for pedestrians too on Monday afternoon. The official report, with the cause of the accident, from Boone Police will not be available until tomorrow.
---
Boone Fire and Boone Police are on the scene of an accident in downtown Boone as a car has backed into a building just before 2pm. No other details are available at this time.
2:38pm – Boone Fire has cleared the scene of the accident.
Photo submitted by Mallory Vannoy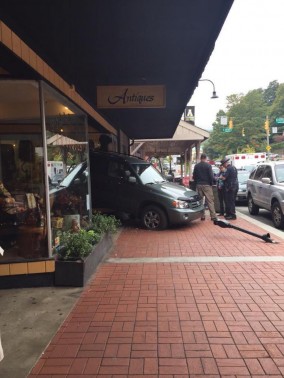 Photo: Kelli Symer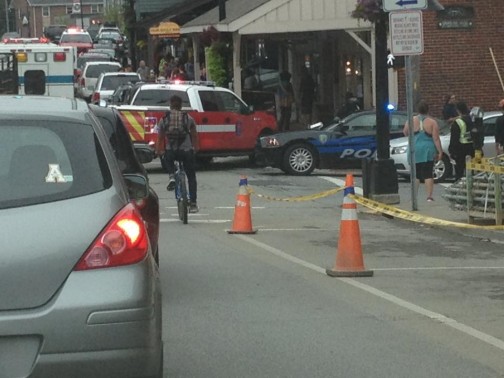 Video: James Milner