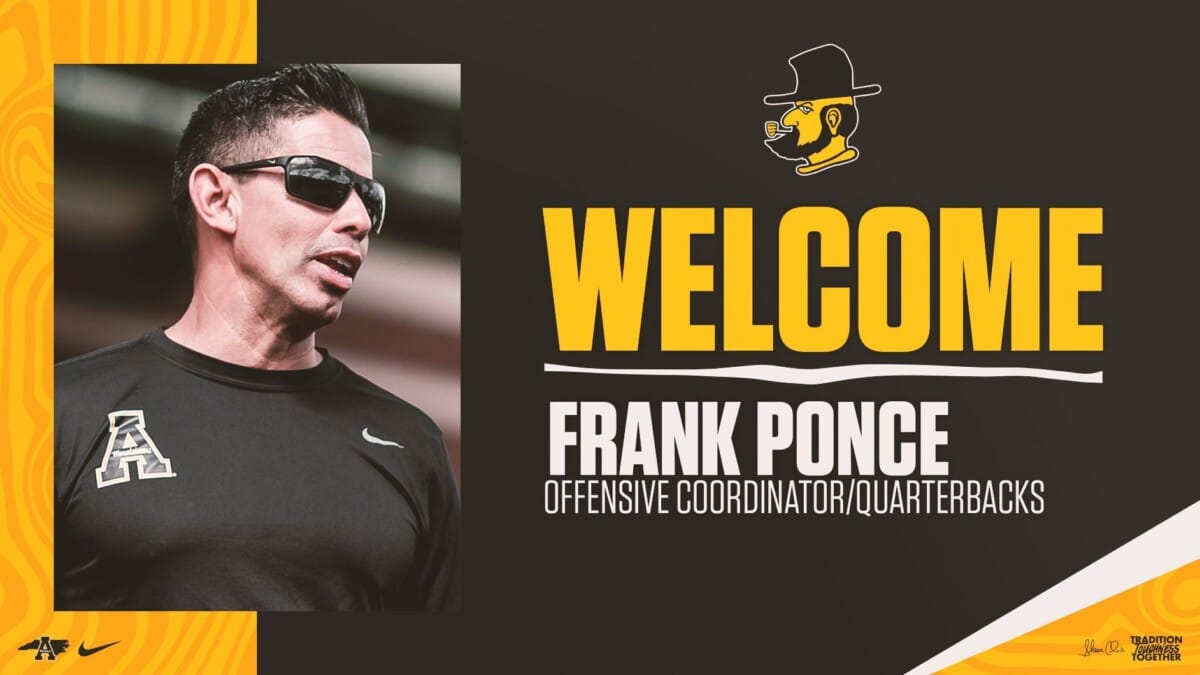 Last Updated on January 19, 2023 6:02 pm
BOONE, N.C. — App State has hired Frank Ponce to rejoin head coach Shawn Clark's staff as offensive coordinator and quarterbacks coach, Clark announced Monday.
Ponce served as the Mountaineers' co-offensive coordinator (passing game) and quarterbacks coach for six seasons from 2013-18 and then as offensive coordinator and quarterbacks coach in 2021. He was the passing game coordinator and quarterbacks coach for the Miami Hurricanes in his hometown during the 2022 season.
Over the course of his two previous stints in Boone, Ponce helped the Mountaineers win three Sun Belt Championships and reach another Sun Belt title game, as well as lead offenses that broke several school records.
"We're excited to welcome back a man that is very familiar to everyone in our program," Clark said. "Frank's resumé speaks for itself, and he knows what it takes to win championships at App State. I'm glad to have him back directing our offense and quarterback room."
As App State's offensive coordinator in 2021, Ponce oversaw quarterback Chase Brice set a single-season program record for passing yards (3,337) as the Mountaineers extended their FBS-leading streak of consecutive years with a 1,000-yard rusher to 10 while averaging 34.5 points per game. The offense helped App State post a 10-win regular season and win the Sun Belt's East Division title.

"I'm incredibly grateful to Coach Clark, Doug Gillin and Chancellor Everts for welcoming me back," Ponce said. "I'm truly excited to be back on the mountain. Boone holds many wonderful memories and moments for me, and I'm thrilled to have the opportunity to make more. Ready to give my all for Appalachian State."
After helping lead App State to a 48-16 record and three consecutive Sun Belt championships during his first five FBS seasons in Boone, Ponce followed Scott Satterfield to Louisville after the 2018 season and spent 2019 and 2020 as the Cardinals' quarterbacks coach and passing game coordinator.

The detail-oriented Ponce oversaw the 2019 development of Louisville quarterback and new full-time starter Malik Cunningham, who set the school record with a passing efficiency rating of 194.45 — a number that would have ranked No. 2 nationally with one more pass attempt.

Cunningham threw for 4,682 yards with 42 touchdowns, rushed for 1,091 yards with 13 touchdowns and completed 63.6 percent of his throws in his two seasons with Ponce, becoming the only Louisville quarterback to ever have four touchdown passes of at least 75 yards.

Three-year App State starter Zac Thomas was a relatively unknown commodity replacing record-breaking quarterback Taylor Lamb back in 2018, and Ponce helped Thomas make an immediate splash as a first-year starter who developed into the Sun Belt's Offensive Player of the Year with 2,039 passing yards, 504 rushing yards, 21 passing touchdowns, 10 rushing touchdowns and just six interceptions during an 11-2 season.

Ponce excelled as a high school coach in his home state of Florida from 1992-2006 before joining Mario Cristobal's staff at FIU as the wide receivers coach from 2007-12, with Satterfield working alongside both of them from 2010-11 as FIU's offensive coordinator. When Satterfield became App State's head coach in 2013, he hired Ponce to coordinate the Mountaineers' passing game and coach quarterbacks.

Under Ponce's mentorship, Lamb finished his App State career as the school and Sun Belt record holder with 90 touchdown passes. The only FBS quarterbacks in 2017 with career totals of at least 9,000 passing yards and 2,000 rushing yards were Lamb, Ohio State's J.T. Barrett and Louisville's Lamar Jackson.

With 27 touchdown passes and six interceptions as a senior, Lamb had the third-best season for an App State quarterback in terms of touchdown-to-interception ratio, and he led the conference in passing efficiency during three of his four seasons.

As a first-year App State assistant, one season before Lamb became the starter as a redshirt freshman, Ponce directed the Southern Conference's second-ranked passing attack (271.8 yards per game). He helped quarterback Kameron Bryant set a school record for single-season completion percentage (71.2) and throw for 2,713 yards even though Bryant came into the season with just 13 snaps under his belt.

Ponce is also renowned for his recruiting ability, as he was named the Sun Belt's top recruiter by ESPN.com in 2010.

He coached six of the top 10 receivers in FIU history during his six seasons with the Golden Panthers. His most notable pupil at FIU was three-time All-American T.Y. Hilton, who has played 11 years in the NFL with the Indianapolis Colts and Dallas Cowboys.

Prior to FIU, Ponce was one of the top high school coaches in football-rich south Florida, serving as the head coach and offensive coordinator at tradition-laden Miami Senior High from 2004-06 and the head coach at Coral Reef High from 2002-03. He began his coaching career with stints as an assistant at La Progresiva Presbyterian School (offensive coordinator – 1992), Coral Gables High (quarterbacks/wide receivers – 1993-96), Miami Northwestern High (quarterbacks – 1998), Miami Central High (offensive coordinator/quarterbacks – 1999-2000) and Miami Killian High (offensive coordinator – 2001). As a coach at Miami Central, he mentored Willis McGahee, who went on to become an All-America running back at the University of Miami and a two-time NFL Pro Bowler.

A native of Miami, Ponce enjoyed a decorated playing career as a quarterback at Miami Senior, where he was the team MVP and a finalist for the 1988 Miami Herald Hispanic Athlete of the Year Award. He went on to become the starting quarterback for two years at Arizona Western College, where he earned an associate's degree in arts in 1990. He earned a bachelor's degree in physical education from Florida International in 1997.

Ponce and his wife, Christine, are the parents of two daughters, Isabel and Leah, and a pair of sons, Frankie and Lucas.

PONCE AT A GLANCE

Coaching Experience
1992: La Progresiva Presbyterian School (Offensive coordinator)
1993-96: Coral Gables H.S. (Quarterbacks/Wide receivers)
1998: Miami Northwestern H.S. (Quarterbacks)
1999-2000: Miami Central H.S. (Offensive coordinator/QBs)
2002-03: Miami Coral Reef H.S. (Head coach)
2004-06: Miami Senior H.S. (Head coach/Offensive coordinator)
2007-12: Florida International (Wide receivers)
2013-18: App State (Co-Offensive coordinator, Passing game/QBs)
2019-20: Louisville (Passing game coordinator/QBs)
2021: App State (Offensive coordinator/QBs)
2022: Miami (Passing game coordinator/QBs)

Playing Experience
1989-90: Arizona Western (QB)

Alma Mater: Florida International, 1997
Hometown: Miami, Fla.
Birthdate: April 3, 1971
Wife: Christine
Sons: Frankie, Lucas
Daughters: Isabel, Leah
Twitter: @CoachFrankPonce