Last Updated on March 26, 2022 2:28 pm
Green Valley Principal Phil Norman has been named Watauga County Schools 2018-19 Principal of the Year. Norman was presented with the award March 5 in a surprise ceremony at the school.
 Norman, who has served at Green Valley since 2014 and Watauga County Schools since 2005, said he was honored to have been recognized by his fellow principals across the district.
 "I am truly humbled to be selected by my peers as Principal of the Year," Norman said. "I serve with the most amazing, professional and dedicated group of principals in Watauga County. I feel privileged to be in my position and do not take the honor lightly. All of the principals currently serving could be selected and I certainly don't think I stand out from this highly skilled group in any way. I learn from them all the time. I am grateful to have such a competent group to lean on."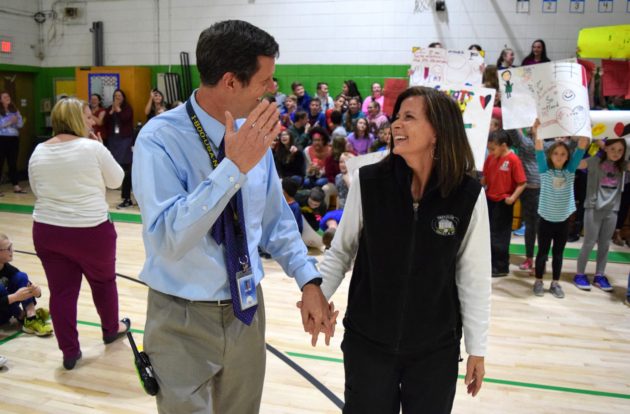 Superintendent Dr. Scott Elliott, who presented the award along with Norman's wife Candace and Assistant Superintendent Dr. Stephen Martin, congratulated Norman on being recognized by his peers.
"Mr. Norman is a true asset to Green Valley School. He cares deeply about his students and teachers and works tirelessly to support them both," Elliott said. "To be recognized by your peers is a great honor, and I am so proud of the work Mr. Norman does every day."
 Norman said he was privileged to work in Green Valley School.
 "Green Valley is an amazing place to work and learn," Norman said. "We have an awesome community of teachers, students and families. The teachers view their work as a calling. Everyone cares about what is happening to one another. Everyone is known here. People are proud to call Green Valley home. Teachers and staff who went here as students want to return to be part giving to others what was given to them as children."
With his award, Norman will now be in the running to receive the regional Northwest North Carolina Principal of the Year Award.