Last Updated on May 23, 2023 7:45 am
BOONE, N.C. — More than 3,600 students graduated at the Holmes Convocation Center on the Boone campus of Appalachian State University during Spring Commencement ceremonies, which were held May 12 and 13.
App State conferred degrees to 3,610 graduates — 3,046 undergraduate students from six colleges and schools and 564 graduate students from the Williams School of Graduate Studies, including 25 doctoral students. Recordings of the six commencement ceremonies are available on App State's commencement website.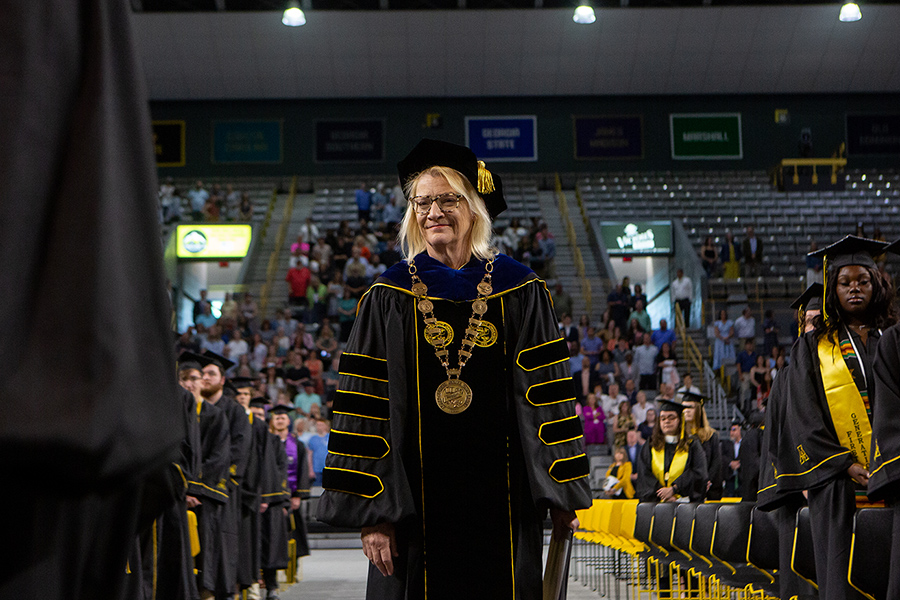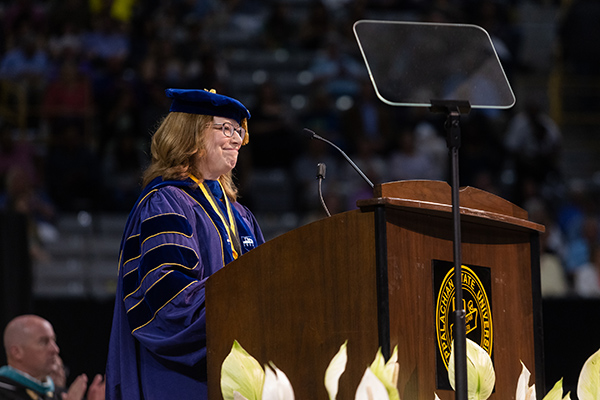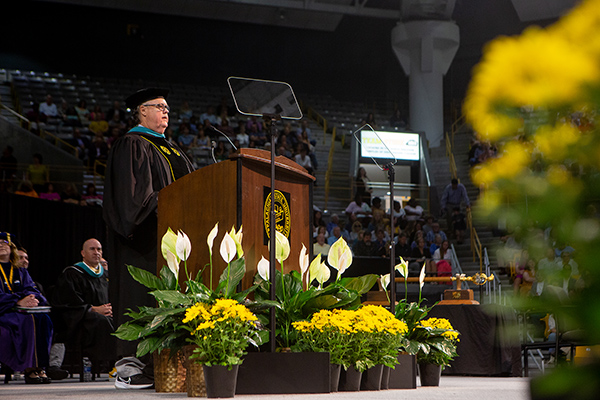 Chancellor Sheri Everts presided over the ceremonies, and Provost and Executive Vice Chancellor Heather Hulburt Norris presented the candidates for graduation. C. Philip Byers, an App State alum and University of North Carolina System Board of Governors member, shared congratulatory remarks on behalf of the board.
"Today marks a most defining moment in your lives and careers," Everts said, addressing the graduates. "On the path to earning your degrees, you have demonstrated incredible grace and perseverance to arrive at this momentous occasion, and we are so very proud of each and every one of you.
"You are our most enduring legacy," Everts added. "You will forever be a part of App State, and we invite all alumni to help shape our university for generations to come."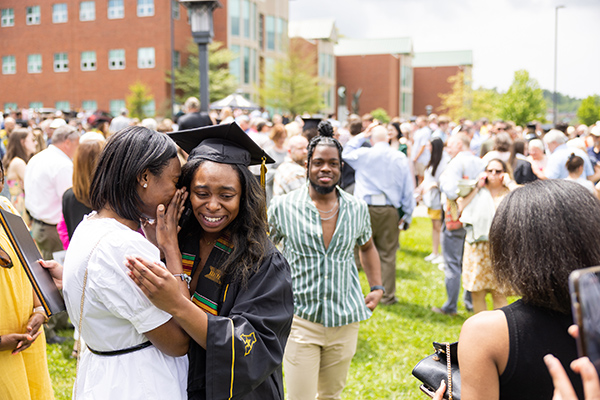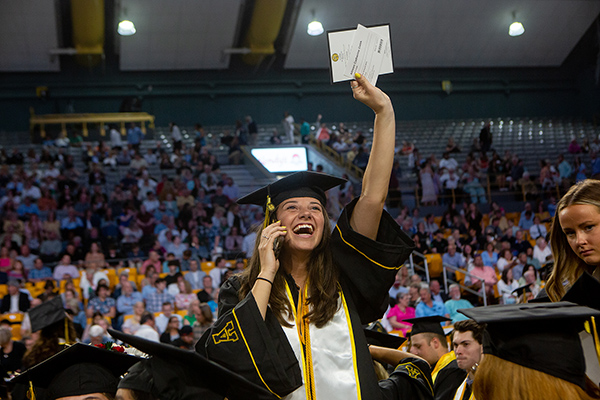 Byers brought greetings from the UNC Board of Governors, the UNC System Office and the App State Board of Trustees.
"Today, we celebrate you — the graduates — who have achieved a significant milestone in your lives," Byers said. "You are now ambassadors of this institution. Take tremendous pride in how you represent yourselves, your communities and Appalachian State University."
In her introductions, Norris thanked multiple individuals and groups for their roles in the commencement ceremonies, and she also recognized Mountaineer alumni, student veterans, military-affiliated students and first-generation college students who were in attendance.
"App State remains dedicated to the mission established by our founders nearly 125 years ago to provide access to education," Norris said. "We are so glad we are able to celebrate your hard work, perseverance and success."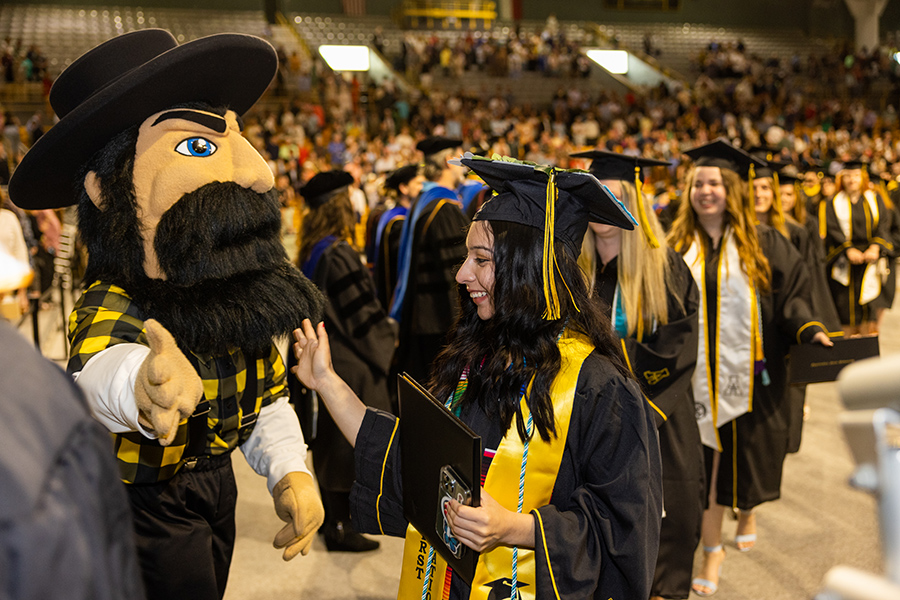 App State's commencement ceremonies concluded with a special performance of the university's alma mater, prerecorded by former App State student, Grammy Award-winner and two-time Country Music Association Entertainer of the Year Luke Combs.
Graduates represented each of the university's academic colleges as they walked across the commencement stage: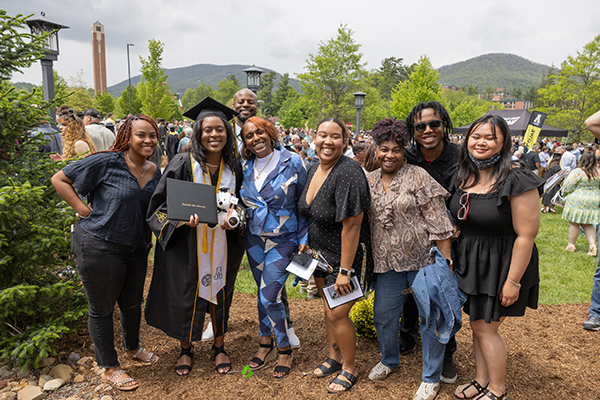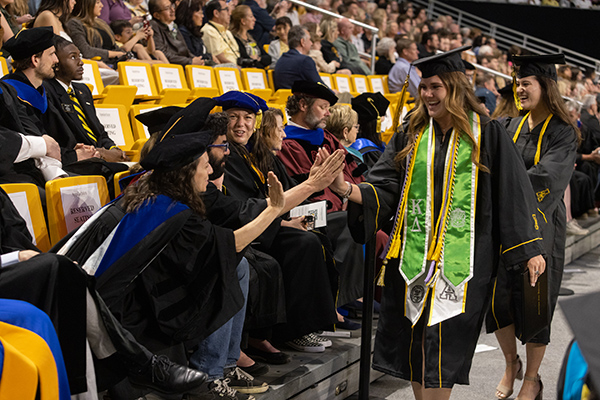 Meet 5 App State graduates
Every commencement and every graduate has a unique and special story. Learn more about five App State graduates who exemplify the Mountaineer spirit of diligence and perseverance.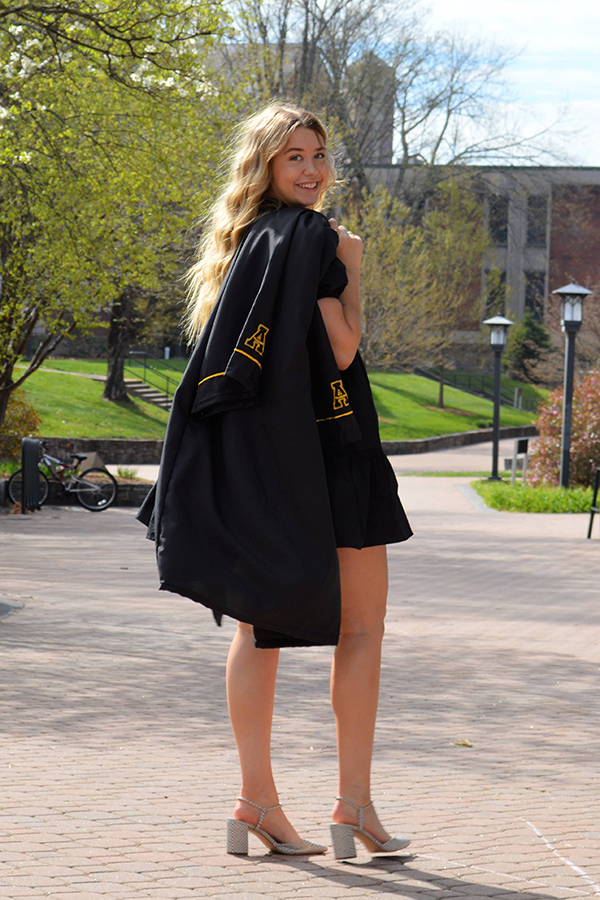 Haleigh Lawson
Haleigh Lawson, 19, of Boone, graduated from App State Saturday with a Bachelor of Science in Business Administration, specializing in management. Lawson earned her degree in two years, after graduating from Watauga High School in May 2021 with both a high school diploma and an Associate in Science from Caldwell Community College through the schools' dual enrollment program.
"I am a driven person with a high work ethic," said Lawson. "When other students were taking the required four high school classes each semester, I was taking seven to eight."
While working toward her degree over the last two years, she earned her North Carolina Insurance License and has been working at Peak Insurance in Boone.
Lawson shared that she works hard to be fully present in the lives of her loved ones, and finds motivation in her personal mottos of "put in hard work now to enjoy the reward later" and "if you want to be different, act different."
After graduation, she plans to take a break and travel before possibly pursuing a Master of Business Administration. She also aspires to own her own fashion or home decor boutique.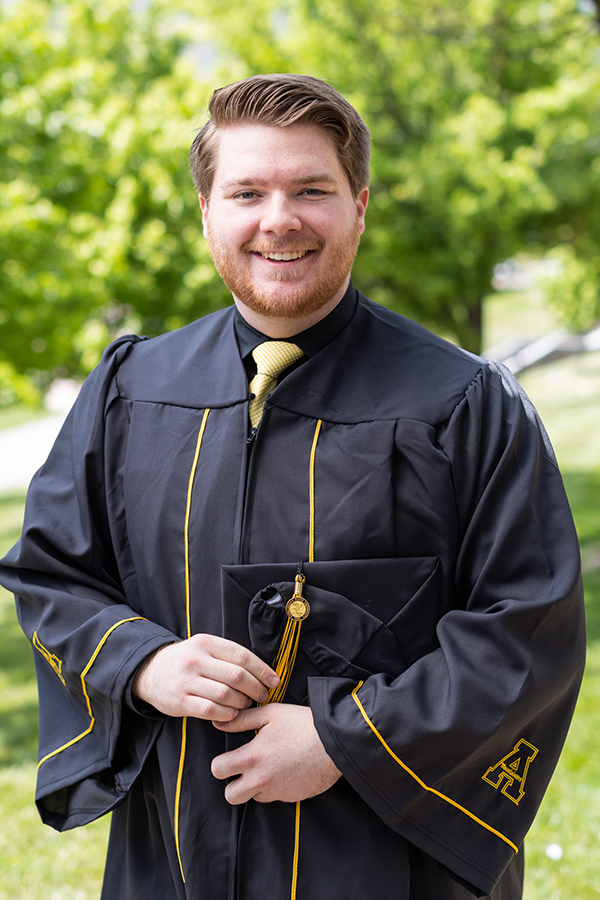 Aidan Keaveney
Aidan Keaveney, from Durham, graduated Friday with a Bachelor of Science in applied physics and a Bachelor of Science in mathematics. He will continue his studies at App State, pursuing his Master of Science in engineering physics through the Accelerated Master's Program.
He is a Chancellor's Scholarship recipient and a member of App State's Honors College. He has also been teaching honors and Advanced Placement physics classes at Watauga High School as a substitute teacher this semester. Keaveney won an Honors College research grant for his honors thesis on developing and implementing a model rocketry curriculum for home-school and alternative education groups. He also won several awards during his time at App State, including:
The Walter C. Connolly Endowed Award for Physics his sophomore year.
The George Dewey Bingham, D.D.S. Endowed Award for Mathematics his junior year.
The Karl C. Mamola Award for Outstanding Undergraduate Physics and Astronomy Research his senior year.
"Through App State and the Chancellor's Scholarship, I did not have the burden on me or my family to pay for college, which was an enormous deal," Keaveney said. "Because of this, I was able to accomplish so much and was able to pursue a lot of my interests. I am very grateful for that."
Keaveney was also a member of App State's College of Arts and Sciences Corps, served as president of the Physics and Astronomy Club from 2020 to 2022 and served on the National Council and Executive Committee of the Society of Physics Students. He received the Outstanding Leadership Scholarship through the Society of Physics Students.
Keaveney also completed two of the National Science Foundation's Research Experiences for Undergraduates. One experience was at Louisiana State University, where he studied gravitational waves, and the second experience was the study of dark matter at Purdue University. He was also an American Institute of Physics John C. Mather science policy intern in the U.S. House of Representatives in 2022.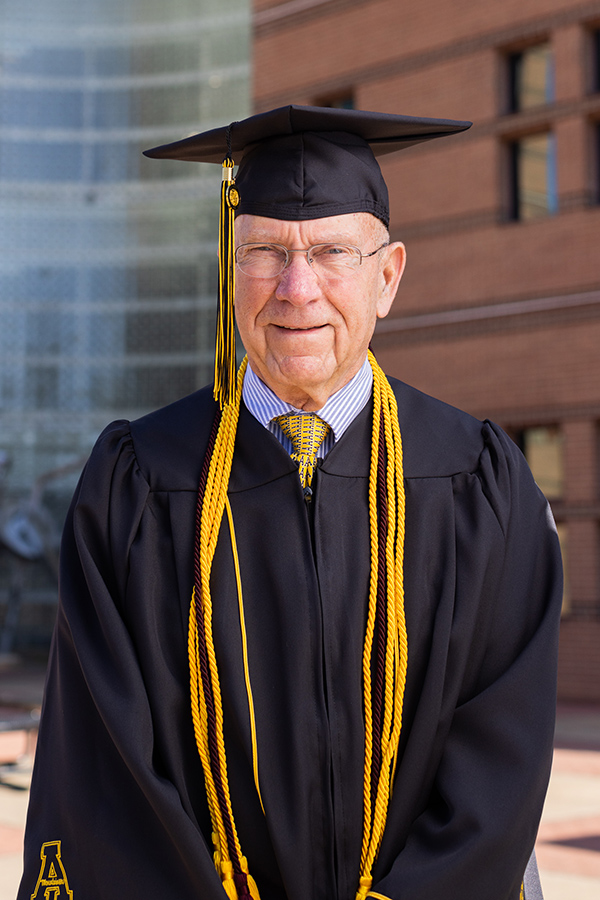 Craig Pergerson
Vietnam veteran Craig Pergerson, 78, walked across the stage Saturday to graduate from App State with a bachelor's degree in business administration, specializing in marketing.
"This has bugged me for decades — that I did not finish college," said Pergerson. "It was always in the back of my mind. Once you retire, you can only work around the house and yard so much. My wife finally said 'stop talking about college and go do it.' So I did."
Pergerson began his journey in 1963 at Lees-McRae College in Banner Elk in order to get his pilot's license — which required a college degree — but was told he was colorblind, which ended that dream at the time. He transferred to the University of North Carolina at Charlotte. In 1966, he received his draft notice for the Vietnam War and he served with the U.S. Army Security Agency.
After serving, Pergerson began his 42-year career in 1972. He sold life insurance before becoming the owner of his own financial planning business. He retired in 2014.
With his dream of a college education now complete, Pergerson plans to spend time with his wife of 57 years, as well as his children and grandchildren. He also plans to volunteer with Samaritan's Purse, headquartered in Boone.
Pergerson shared some words of encouragement for those who are still working toward their degrees: "Winston Churchill — during the Second World War — his favorite saying was 'never, never, never give up.' I adopted that decades ago," said Pergerson. "If you think you're going to get through college without having problems … it's going to happen. Just realize that, and stay focused on what your purpose is."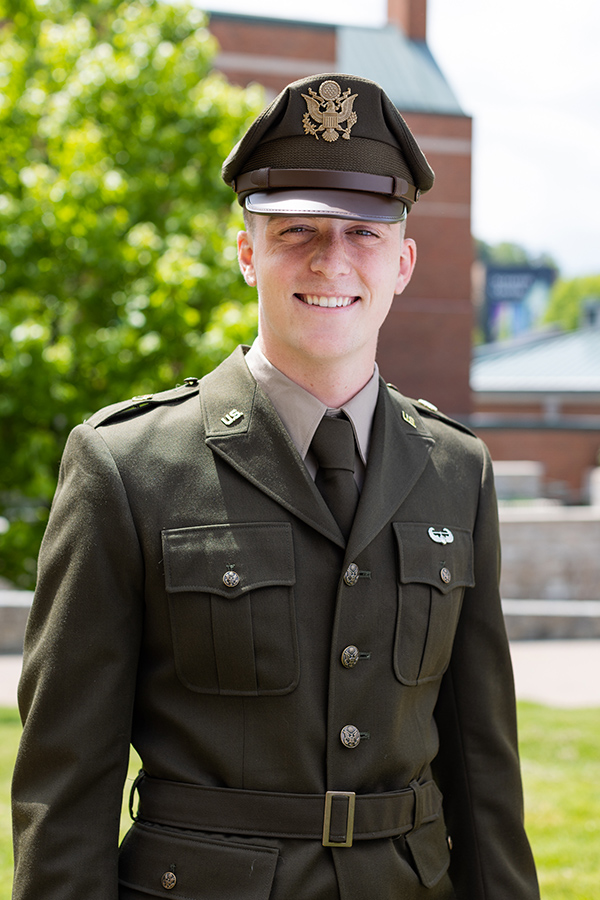 Jon Spaar
Jon Spaar, a Winston-Salem native, graduated Friday with a Bachelor of Science in criminal justice, with a concentration in international studies. He minored in military science and leadership. Spaar commissioned as a second lieutenant in the U.S. Army Infantry and begins his service this summer.
Spaar was the top cadet in the App State Reserve Officers' Training Corps (ROTC) and was active with Appalachian Commandos, a non-university funded organization sponsored by the Army ROTC department of military science that develops physical fitness, tactical decision-making and leadership.
Spaar participated in the 2022 Ranger Challenge hosted by the U.S. Army Cadet Command at Fort A.P. Hill in Virginia — an annual event that demands a high level of physical fitness, technical knowledge and teamwork. He led a team that competed against 38 other schools and placed third in the competition. Additionally, Spaar's team won first place in the 15th annual Mountain Man Memorial March, held in April 2022. The march is a competition honoring fallen service members and their Gold Star Families. Participants compete as a five-person team, with each member carrying a 35-pound backpack for the entire 26.2 miles.
Earlier this year, Spaar was selected for the U.S. Army Cadet Command George C. Marshall Award, which is awarded to the top cadets in the nation.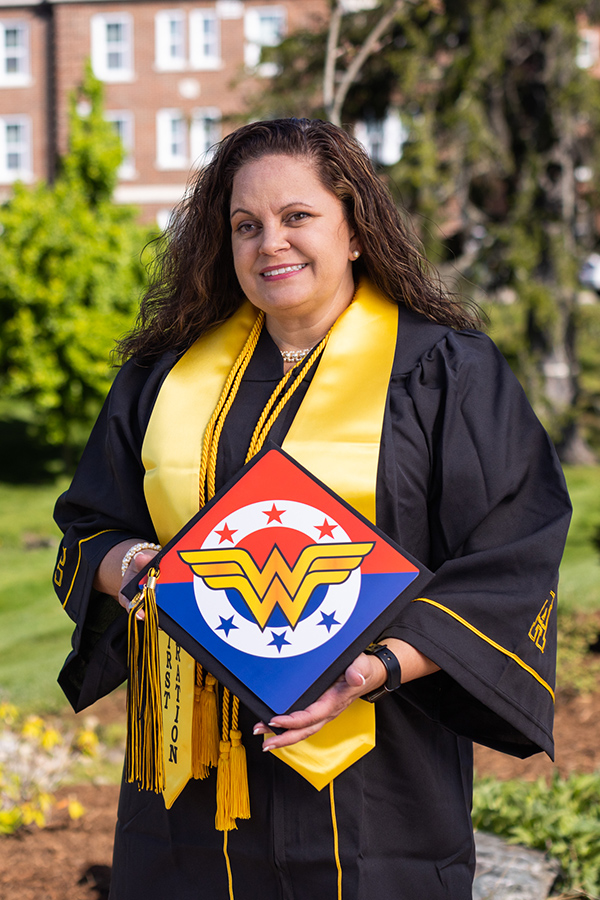 Wendy Wilt
Wendy Wilt's mortarboard was decorated with the emblem of DC Comics' Wonder Woman — a clever play on her "WW" initials and a nod to her successful completion of a Bachelor of Science in public health that culminated in her graduation on Friday from the Beaver College of Health Sciences.
Wilt, a Lenoir resident, began this educational journey approximately 10 years ago. The 46-year-old mother of two began by completing her high school education — which she put on hold when she was a teenager. At the age of 39, Wilt earned her high school diploma. Three years later she earned an Associate in Art from Caldwell Community College.
With support and encouragement from her co-workers and supervisors in App State's University Advancement office, Wilt began pursuing her bachelor's degree by taking advantage of App State's tuition waiver program for employees, taking six to nine hours each semester. Wilt also did so while owning and operating a private business in Caldwell County.
This nontraditional student gives a lot of credit to her former supervisor, Jennifer Perry Brown '17, for jumpstarting her drive for her degree. Wilt worked with Perry in the call center of App State's Office of Student Financial Aid.
"Jennifer saw something in me that I didn't see in myself. She encouraged me to complete my coursework and reminded me of what the bigger goal was," Wilt said. "She would tell me: 'In five years you can still be working here and wishing you could make a change — or you can start working toward your degree and in five years you'll have earned your degree and will be well on your way.'"
Following graduation, Wilt plans to work toward a certification in mental health and nutrition from the National Academy of Sports Medicine. She strives to work with athletes in the future.
Spring 2023 macebearers
The mace is carried by a senior faculty member and precedes the chancellor, both upon entering and leaving a ceremony. The mace serves as a symbol of authority just as it did during the Middle Ages, when a macebearer accompanied an official taking office or opening court. The App State mace symbolizes the university's mountain heritage, the rustic location and the sophistication of an emerging, national leader in higher education.
The following individuals served as macebearers during App State's Spring 2023 Commencement ceremonies: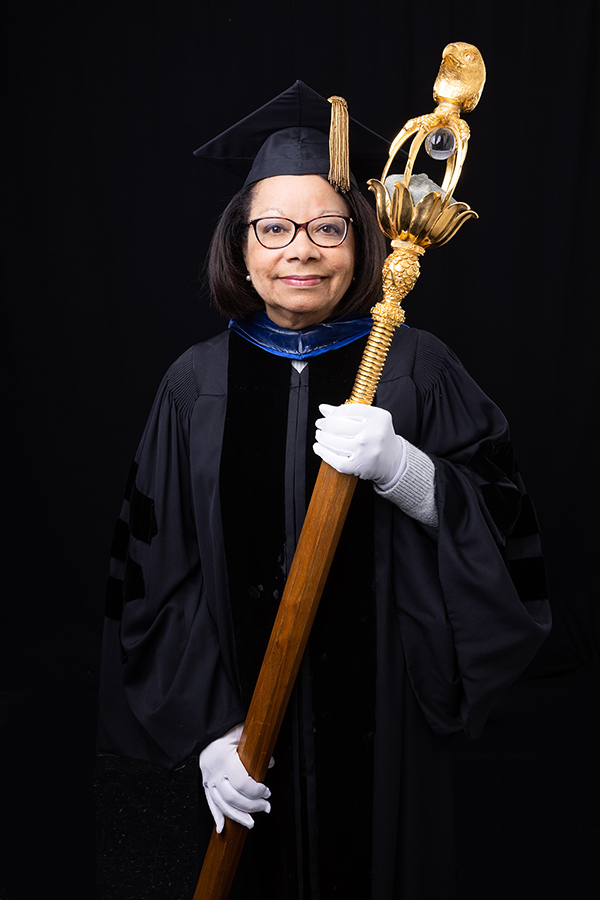 Dr. Claudia Cartaya-Marin
College of Arts and Sciences
Dr. Claudia Cartaya-Marin served as chair of the Department of Chemistry and Fermentation Sciences from 2005 to 2021. She received the Board of Governors Appalachian State University Excellence in Teaching Award in 1997 and an Inclusive Excellence Award in 2020. Currently, she is the faculty director for Hispanic/Latine Communities in the Office of Diversity.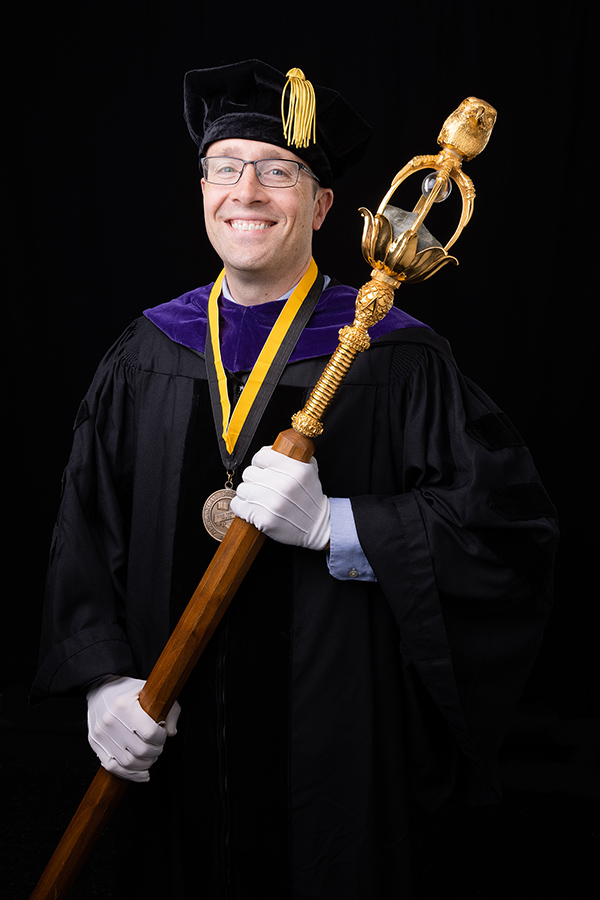 Austin Eggers
Walker College of Business
Austin Eggers is a 2002 graduate of App State. He joined the Department of Finance, Banking and Insurance in 2017 and is the 2022 recipient of the Walker College of Business Sywassink Excellence in Teaching Award.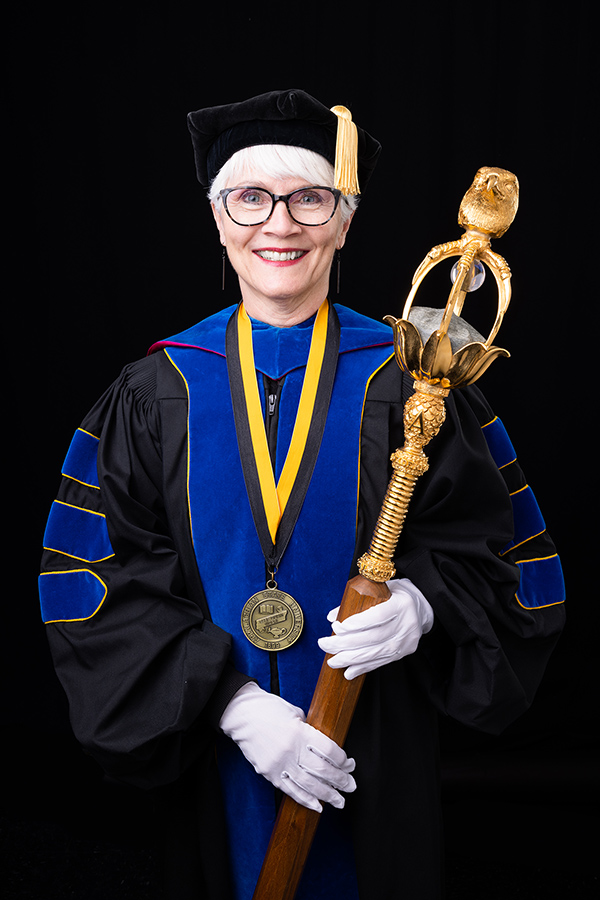 Dr. Pam Kidder-Ashley
College of Arts and Sciences
Dr. Pam Kidder-Ashley joined the Department of Psychology in 1993 and served as director of its school psychology graduate program from 2006 to 2018. She received the College of Arts and Sciences Jimmy Smith Outstanding Service Award in 2011.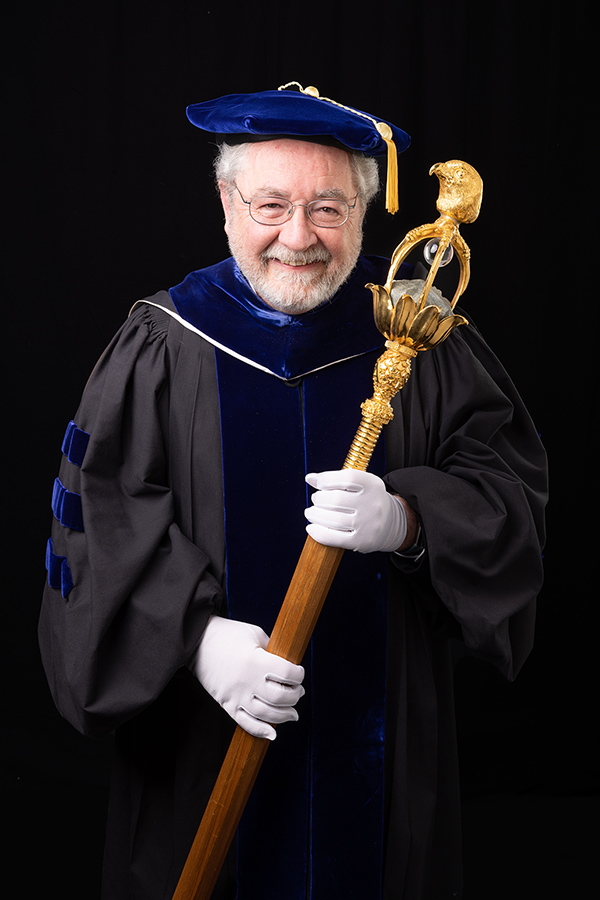 Dr. David Koppenhaver
Reich College of Education
Dr. David Koppenhaver is retiring after 19 years of service in the Department of Reading Education and Special Education. He is the 2022 recipient of the Chancellor's Award for Excellence in Research, Scholarship and Creative Activity.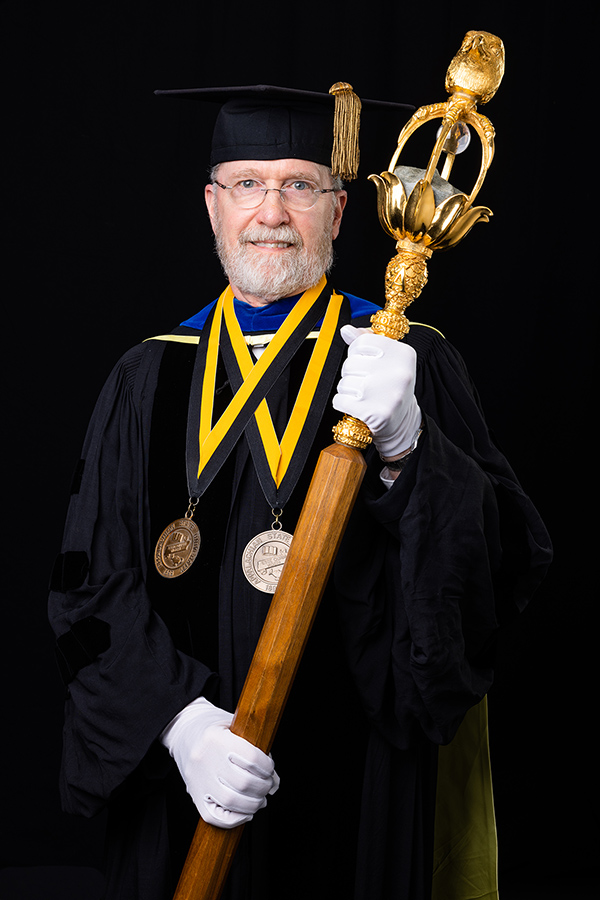 Dr. Victor Mansure
Hayes School of Music
Dr. Victor Mansure is retiring after 32 years of service in the Hayes School of Music. He received the school's Outstanding Teacher Award in 1999 and a Board of Governors Appalachian State University School/College Award for Excellence in Teaching in 2005.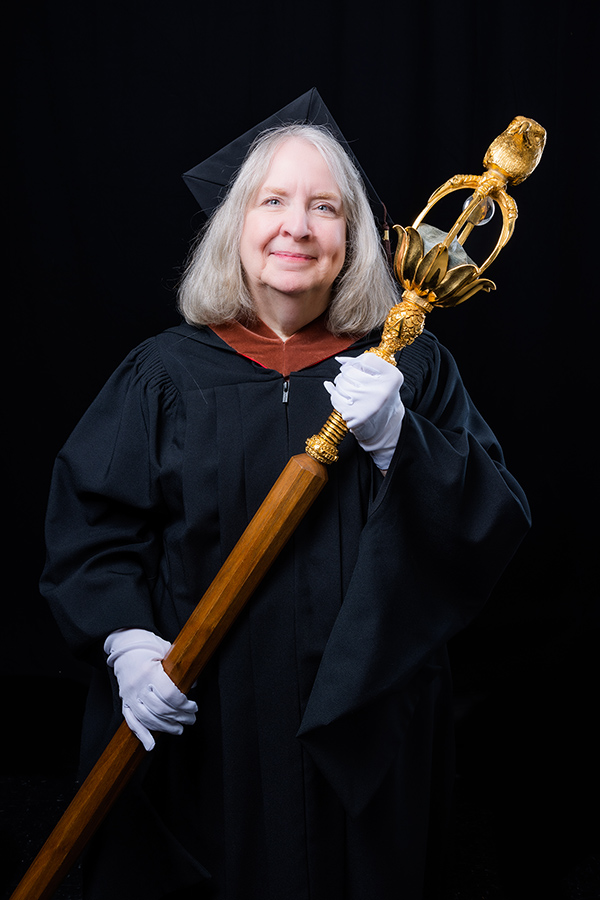 Sue Williams
College of Fine and Applied Arts
Sue Williams is retiring after 30 years of service in the Department of Theatre and Dance, where she has served as assistant chair for the past six years and co-leader of the theatre study abroad program since 2008. She has designed costumes for over 150 dance and theatre productions during her tenure.