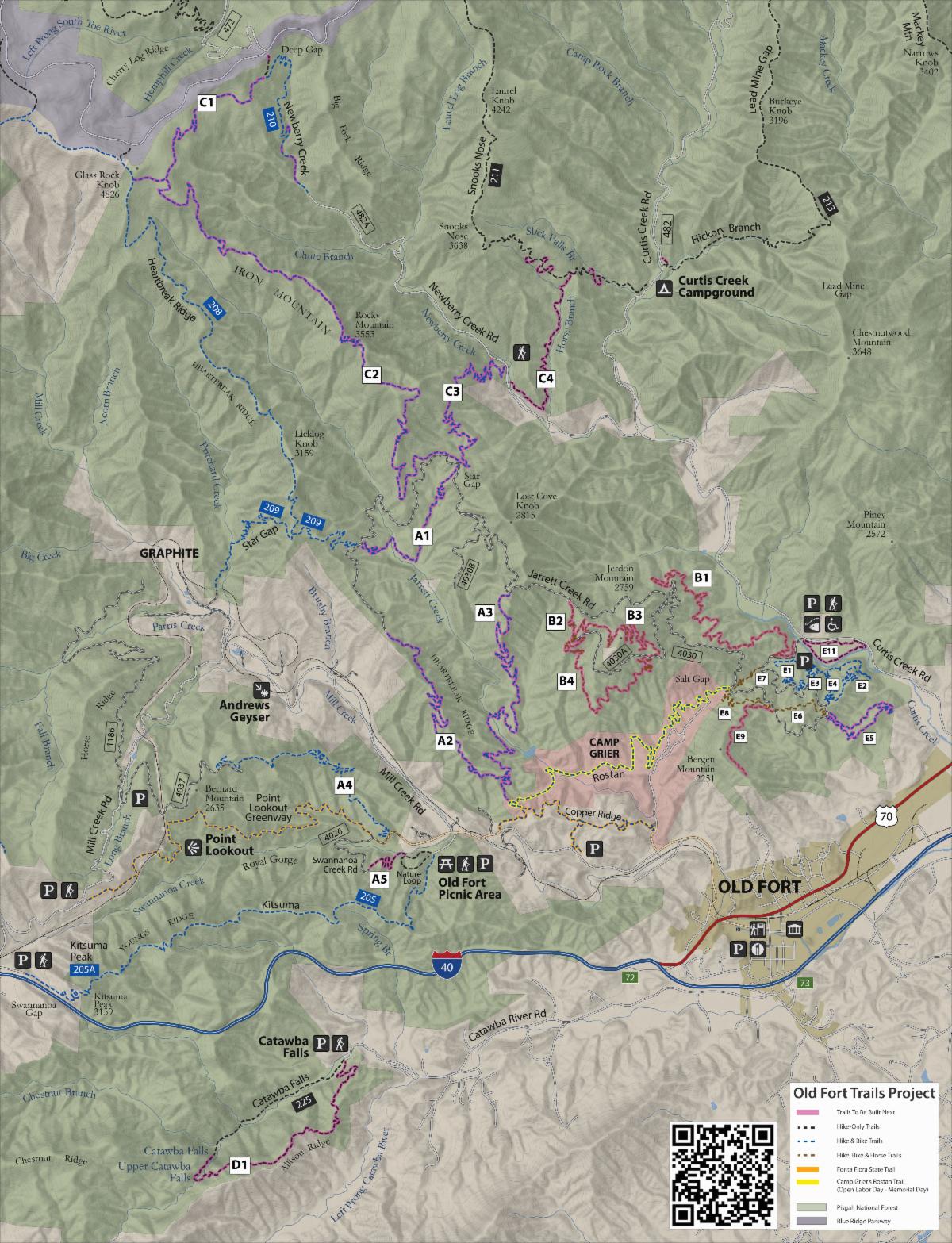 Last Updated on September 26, 2023 12:45 pm
Old Fort, NC, September 26, 2023— The U.S Department of Agriculture's Forest Service, along with its community partners, are delighted to announce a transformative step forward as Camp Grier and its G5 Trail Collective initiative receive an allocation of $2.5 million from the state of North Carolina to support the completion of the Old Fort Trails project.
Funding will be used for 25-30 miles of trail development over the next two years. Trails will be constructed on the Pisgah National Forest surrounding Old Fort, North Carolina, as a partnership between the G5 Trail Collective and the Grandfather Ranger District.
"This ground-breaking investment in Old Fort is a true testament to the importance of national forests as an asset for our local communities," says James Melonas, Forest Supervisor for the National Forests in North Carolina.
This funding represents more than just a trail development project; it demonstrates the power of collaboration, community spirit, and vision to drive innovation and growth in a community that serves as a gateway to the Pisgah National Forest.
'This appropriation is the culmination of years of private fundraising, planning, and community coordination. It would not be possible without our core partners–the U.S. Forest Service, People on the Move Old Fort, Eagle Market Street Development Corporation, and UNC – Chapel Hill," explains Jason McDougald, Executive Director of Camp Grier. "These partners have laid the foundation for Old Fort to be a model for equitable rural development centered on outdoor recreation."
The Old Fort Trails project is grounded in equity, supported by a grassroots effort and widespread citizen participation, to provide opportunities for all users in an accessible, sustainable, and connected trail system. The planning for the project was approved in late 2021 as a vision to build a total of 42-miles of new multi-use trails from Catawba Falls to Curtis Creek at the edge of the Blue Ridge Mountains. To date, 10 miles of trails have been opened, including the new Old Fort Gateway Trails. The additional 25-30 miles of construction funded by this allocation will bring the project close to completion by 2025.
"This funding allows us to accelerate backcountry trail building in partnership with the G5 Trail Collective. With a goal of 12-15 miles constructed per year, it's going to be an exciting time to be on the trails in Old Fort," says Lisa Jennings, Recreation and Trails Manager for the Grandfather Ranger District. Details on implementation of the trail builds will be announced as trails are contracted through professional trail builders and/or in partnership with conservation corps crews.
Beyond the benefits to Pisgah National Forest, this investment in trails will also pay dividends for generations to make Old Fort healthier, more connected, and more economically vibrant for all residents. Read more about how the community is benefiting from investment on public lands in the concurrent press release from Camp Grier's G5 Trail Collective and Eagle Market Street Development corporation HERE.

Photo: Map showing the proposed trails to be constructed in the Old Fort Trails Project (highlighted in pink and purple)