Last Updated on November 6, 2013 11:38 am
With just 2.39 inches of precipitation October 2013 became the 10th driest October on record for Boone based on data from 1980 to 2013. 14.20 inches in 1932 stands as the record for the month, followed by 12.05 inches in 1990 based on all data from 1929 til now. The driest October occurred in 2000 with just .16 recorded.
The first hint of winter returned on Wednesday Oct 23 as sleet and snow fell across much of the area, with some of the highest elevations recording as much as an inch of snow.
*Graphic from Southeastern Regional Climate Center*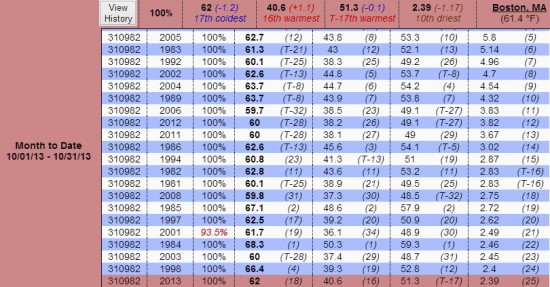 For the month from the Watauga Medical Center reporting station:
Highest temperature – 77.9 Saturday Oct 5, 77.54 Friday Oct 4
Lowest temperature – 19.22 Saturday Oct 26
Peak Wind Gusts – 38 mph at 8:15pm Thursday Oct 31
Other items of note:
Greatest one day temperature swing – Saturday October 26 from 19.22 to 51.08 difference of 31.86 degrees
Number of days with highs in the 30s – 1 , 40s – 2, 50s – 7, 60s – 15, 70s – 6
On Saturday Oct 26 a new record low was set for Boone as the Boone 1SE reporting station recorded 18 degrees. Record monthly low is 14 – Oct 21, 1952 & Oct 22,1930
Also on October 26 at 7:55am Boone at 20 degrees was colder than most of Alaska.
Before Friday Oct 25 high of only 35.42, the last day highs never got out of the 30s was April 4 with a high of 36.
At the Watauga Medical Center weather reporting station the highs ranged from 61 on Monday Oct 21 to 35 on Friday Oct 25.
On Friday Oct 25 Avery County Schools became the first school system to be impacted by winter weather for this season, opting for a 2 hour delay due to black ice.
*In keeping track of weather records (temperatures, rainfall, snowfall, wind) it's important to note that the records for Boone relies on three different sources. Boone COOP station 310977 from 1929-1980, Boone 1Se 310982 from June 1980-present and Watauga Medical Center reporting station KTNB*
Rainfall for the month