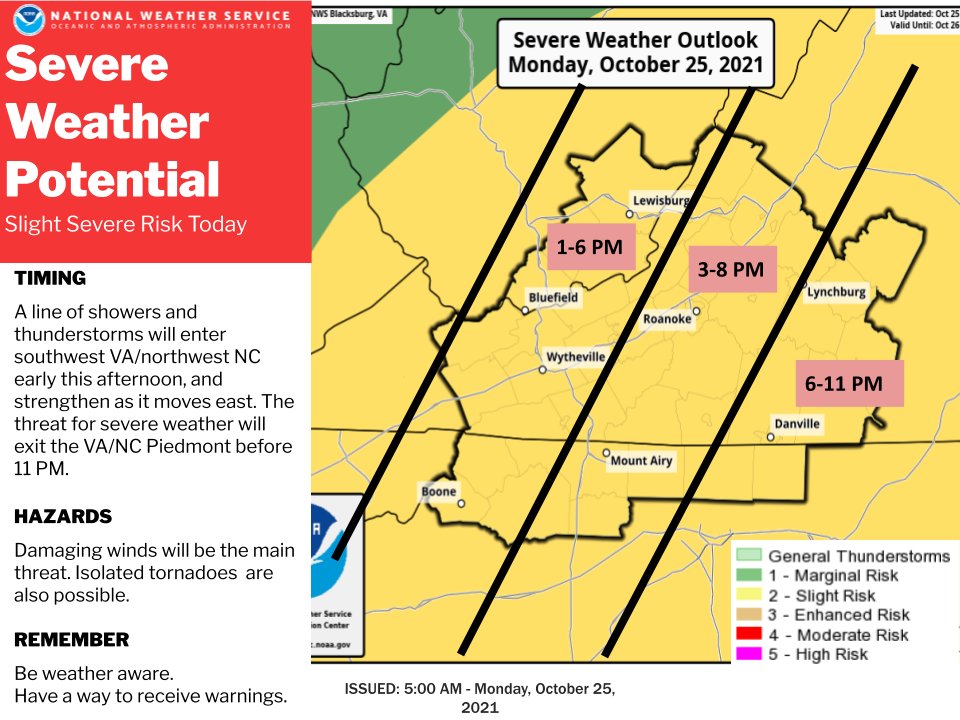 Last Updated on October 25, 2021 7:16 am
Hazardous Weather Outlook
National Weather Service Blacksburg VA
448 AM EDT Mon Oct 25 2021
NCZ001-002-018-VAZ007-009>020-022>024-WVZ042>044-507-508-260900-
Ashe-Alleghany NC-Watauga-Tazewell-Smyth-Bland-Giles-Wythe-Pulaski-
Montgomery-Grayson-Carroll-Floyd-Craig-Alleghany VA-Bath-Roanoke-
Botetourt-Rockbridge-Mercer-Summers-Monroe-Eastern Greenbrier-
Western Greenbrier-
448 AM EDT Mon Oct 25 2021
This Hazardous Weather Outlook is for northwest North Carolina,
southwest Virginia, west central Virginia and southeast West
Virginia.
.DAY ONE…Today and tonight.
There is slight risk of severe thunderstorms this afternoon and
evening. The main threat from any severe storms will be damaging wind
gusts. There is a smaller threat for an isolated tornado.
.DAYS TWO THROUGH SEVEN…Tuesday through Sunday.
Widespread rain is expected Thursday through Friday. Locally heavy
rainfall amounts may result in flooding.
.SPOTTER INFORMATION STATEMENT…
Spotter activation may be needed. Reports should be submitted by
phone by calling 1-866-215-4324, social media, by email at
rnk.skywarn@noaa.gov or online at www.weather.gov/rnk.