Last Updated on February 15, 2018 8:05 pm
Boone, NC – Do you know what your purpose is in life? For most of us, purpose is loosely defined as our reason to get up in the morning and our motivation to make a difference in the world. But what if something bad happens, can your purpose in life change or be stripped away?
After she survived a near-fatal car wreck 2009, Leslie Wilson, a nurse at Appalachian Regional Healthcare System (ARHS), found her answer to this question at The Cardiology Center.
All in the Family
A young Leslie Wilson is motivated. The seven-year-old Valle Crucis native is participating in Jump Rope for Heart to raise money and awareness for congestive heart disease.
"My father and grandfather both suffered from congestive heart disease," she said. "As a child, that awful disease hit close to home and I wanted to do what I could to make a difference."
Wilson comes from a long line of difference makers. Her mother worked in hospice care, her aunt worked at Watauga Medical Center, and her two sisters went on to careers in physical therapy and emergency management. After high school, Wilson chose to follow in her family's footsteps and pursue a career in nursing.
Overcoming obstacles
"I quickly learned that there was only one problem with my career choice," she said with a grin. "This nurse-to-be was afraid of needles."
As a Certified Nursing Assistant (CNA), Wilson's fear came to a head when she was hired at Watauga Medical Center. There, she met Evelyn Shelton, a beloved nurse supervisor who sympathetically helped the apprehensive aid overcome her anxiety.
"I truly believe God puts people like Evelyn in your path at different points in time to help fulfill his purpose for your life," she said.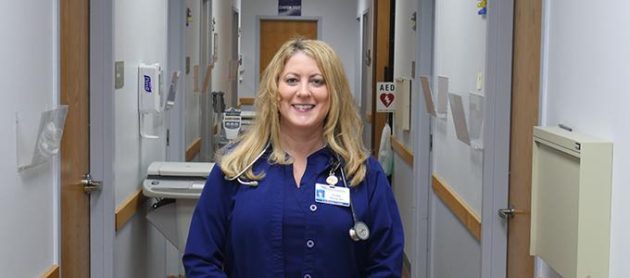 Wilson went on to become a registered nurse and worked for many years at both Blowing Rock Hospital (which was replaced by The Foley Center at Chestnut Ridge in 2016) and Watauga Medical Center. During that time, she met and married her husband Brad and together they have a son, Troy.
"Everything was going according to plan," she said. "And then something horrible happened. On the way home from work one day, I was hit by an out-of-control car going 100-miles-per-hour. My car flipped multiple times and I knew in that moment that my life would change forever."
Wilson's life was spared, but not without complication. Due to sustained injuries, she could no longer work as a floor nurse in the hospital or even for a time lift her nine-month-old son.
"This was a devastating season for me," she said. "I felt like my whole life purpose as a nurse and in part as a mother had suddenly been stripped away."
After several years of rehab and a few non-clinical position changes at the hospital, Wilson credits her family's support and ARHS for helping her return to patient care at The Cardiology Center.
A heart for others
"I was hired as a device nurse to help patients with monitors, pacemakers and defibrillators manage their congestive heart disease," she said. "Looking back, I marvel at how my car wreck actually made things come full circle. I traded my jump rope for two additional years of training and a Medtronic Programmer (a machine Wilson uses to monitor the status of her patients)."
At The Cardiology Center, Wilson works closely with fellow device nurse Kim Denny, RN, and Dr. Andrew Hordes, a Cardiologist who specializes in electrophysiology. Together, they diagnosis arrhythmia issues (abnormal heartbeat) and determine whether or not a patient would benefit from medication, an implantable device or surgery. Thanks to their efforts, this invaluable service is available to patients across ARHS clinics in Ashe, Avery and Watauga County.
"When you are working with matters of the heart everything becomes so personal," she said. "These patients are often able to get back to doing the things they love and thought they could never do again. Ironically, these tools of the heart have also allowed me a second chance at a repurposed life."
To learn more about The Cardiology Center, call 828-264-9664 or visit apprhs.org.