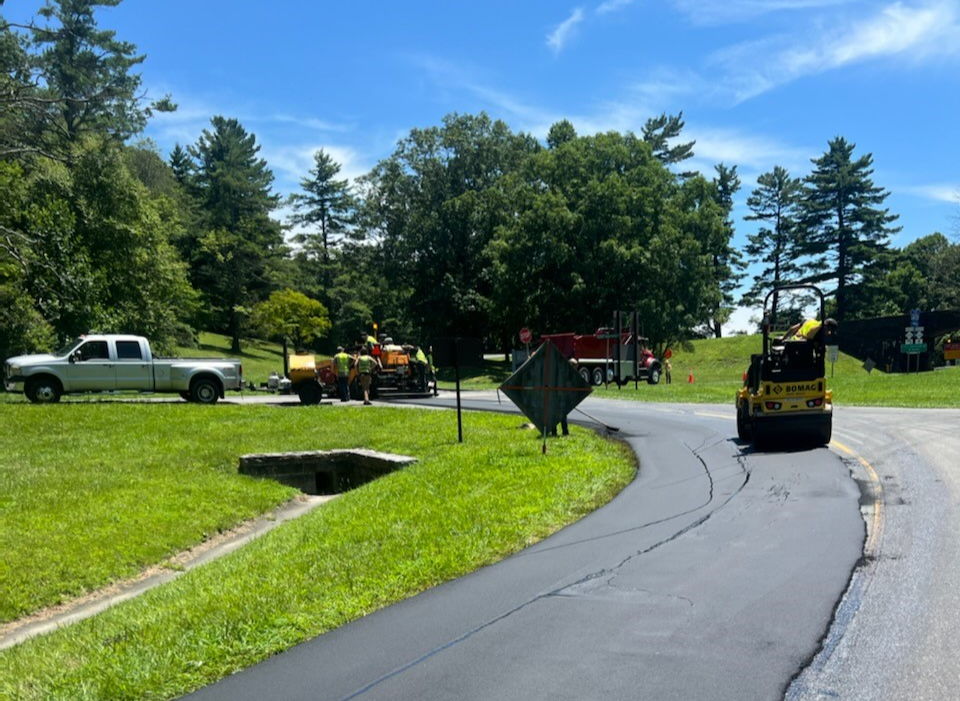 Last Updated on April 13, 2023 12:30 pm
(Blowing Rock, Other NC locations) – Pavement preservation work at Blue Ridge Parkway overlooks, parking areas and picnic areas from milepost 294 to 384 (between Blowing Rock and Asheville) and milepost 394 to 443 (south of Asheville to Balsam Gap) is planned for the 2023 visitor season. This work is expected to begin next week and continue through the fall of 2023 in multiple locations within the identified sections. Once underway, park visitors and neighbors can expect intermittent, short-term closures at individual sites with short, single-lane closures of the mainline road as needed.
Project work gets underway the week of April 17, 2023, at Bass Lake Drive, located off of US Hwy 221 in Blowing Rock, North Carolina. Visitors can expect Bass Lake Drive and the adjacent parking area to be closed throughout the week. The Cone carriage trail system will remain open for use. Parking will not be available at Bass Lake while paving operations are underway.
The following week, beginning April 24, 2023, and weather permitting, the Cone Manor House (milepost 294) parking lot will be closed for paving. On the days that paving is underway, Manor House operations, including the America's National Park bookstore and Southern Highland Craft Guild retail store, will also be closed.
Across the season paving operations will move to additional locations between milepost 294 to 384 and milepost 394 to 443. Project locations for pavement preservation work will be updated regularly on the road status page on the Parkway's website.
Pavement preservation applies a new surface to existing asphalt, helping slow deterioration, and allowing the road maintenance budgets to go further. The Blue Ridge Parkway manages 554 miles of paved road, including the iconic 469-mile-long mainline motor road. All pavement deteriorates over time and the parkway has many demands on its road surface as a heavily traveled, high elevation road subject to seasonal freeze-thaw cycles in winter and solar radiation in summer. Approximately 90% of the Parkway's maintenance backlog is attributed to maintenance needed on paved roads and areas in the park.
Multiple road projects are underway and planned this season, and as with any road project, park visitors and neighbors must exercise caution and observe closures. The Parkway website and road status page are important planning tools that provide milepost by milepost status information daily with links to additional project information or detour maps where applicable.
The Blue Ridge Parkway is one of the largest designed landscapes in the country, providing visitors with a wide variety of opportunities to experience southern Appalachian nature, history, and culture.  The park's drive-a-while, stop-a-while design enhances the experience; and whether at milepost 0 or 469, driving the scenic route, hiking a trail or taking in a concert or ranger program, Parkway officials remind visitors to have a plan and recreate responsibly. A complete schedule of facility seasons is also available on the Parkway's website.