Last Updated on August 15, 2015 10:27 pm
A pioneer in the agricultural field, both locally and nationally, passed away Friday afternoon.
Robert G. Shipley, Sr age 103, passed away at Oconee Memorial Hospital in Seneca, South Carolina, according to Hampton Funeral Service.
Shipley was an influential educator in Watauga, and the region, spanning 44 years in teaching agricultural. A career farmer, he spent more than 80 years raising cattle, tobacco, livestock and other crops.
In a July 12 article, Sherrie Norris of the Watauga Democrat noted Mr. Shipley's accomplishments and awards:
Graduated college in 1933 with a bachelor's degree in animal husbandry.
Began his teaching career in vocational agriculture at the Patterson School, assisted with the school's 1,300-acre farm and oversaw the dairy operations.
In 1934 he transferred to Boone High School, which became Appalachian High, where he started the first agriculture program.
In 1940, he received his master's degree in agriculture from Ohio State University and accepted work as an agriculture extension agent in Grayson County, Va.,where he met Agnes Davis. They married in 1942.
In 1943, Shipley entered the Air Force, served as a gunnery instructor on a B-24 bomber and was later assigned to the first hydroponics detachment in the South Atlantic's Ascension Island.
Upon discharge, Shipley accepted a temporary teaching position in Cove Creek, teaching vocational agriculture; after consolidation, he retired from Watauga High in 1977.
He also conducted a veteran's farm training program at the school two nights a week, with, at one time, 120 men enrolled and six instructors.
Shipley raised livestock, was active in organizing the Watauga County Hereford Association and served several terms as president and vice president of the N.C. Hereford Association.
He was requested by the N.C. Future Farmers of America to select bulls in Texas to improve the state's livestock.
Shipley was also an expert in sheep, having raised and showed them and taught sheep shearing. He led three students to win national shearing contests and served multiple terms as president of the N.C. Sheep Producers Association. He operated a sheep dipping business for many years to help local sheep breeders control parasites.
He raised horses and through the Cove Creek FFA organized and managed the Cove Creek Horse Show for 20 years.
A  Grange member for many years, helping launch the local chapter, and was honored in 1998 by the N.C. Grange with the Grange Community Award.
A longtime member of Watauga Farm Bureau board, Shipley served as president and state delegate to multiple national conventions.
He raised burley tobacco and served many years on the board of directors for the Burley Stabilization Corporation for North Carolina, Virginia and Tennessee. He chaired the N.C. Tobacco Growers and the county and community committee of the Farm Service Agency and served on the board for the Council of Burley Tobacco, Lexington, Ky.
In 2007, the couple was honored at the Watauga County Farm City's 50th anniversary with the establishment of the Robert and Agnes Shipley Foundation.
For more than 50 years, Shipley was involved with the Watauga County Farm Bureau, Rotary (60-plus years), Ruritan, Burley Stabilization Corporation and Henson's Chapel Methodist Church.
Early Saturday morning, the family of Mr. Shipley posted on the Shipley Farms Beef Facebook page.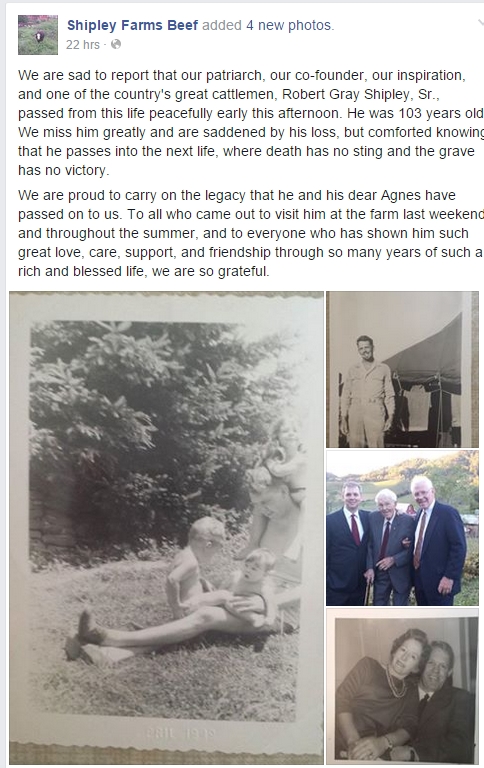 Funeral arrangements courtesy of Hampton Funeral Service:
Robert Gray Shipley, Sr., 103, agricultural and educational leader, of Vilas, NC passed away peacefully on August 14, 2015 surrounded by family. Mr. Shipley was born June 23, 1912 in Valle Crucis, NC. He spent his youth in Valle Crucis and in Wallace, VA.
In 1929 he entered Virginia Polytechnic Institute (Virginia Tech), working his way through college and graduating in 1933 with a Bachelor's Degree in Dairy Science. He began a 44-year career teaching vocational agriculture, as well as a career in farming that spanned more than 80 years of raising cattle, tobacco, and other livestock and crops. In 1940, he received his Master's Degree in Animal Husbandry from Ohio State University and accepted work as an agriculture extension agent in Grayson County, VA., where he met the love of his life, Agnes Davis. They married in 1942. In 1943, Robert entered the Army Air Corps, serving as a gunnery instructor and with a hydroponics detachment on Ascension Island. Following World War II, Agnes and Robert reared three children on the family farm in Vilas.
His social conscience, passion for education, generous spirit, and servant leadership led to his participation in and recognition from numerous local and national professional, civic and church organizations. He was a strong steward for God's earth, animals, crops, and flowers, as well as family, community, and church. Each of these has benefited from his strong grip and sound guidance. Many former students, grandchildren and colleagues will long remember the warm grip of his large hand, his sage counsel, good humor, and wise sayings. His efforts to help students of all ages succeed, in both the classroom and life, will be one of his enduring legacies.
Mr. Shipley was preceded in death by his wife, Agnes; parents, William Edwin and Minnie Woodie Shipley; infant daughter, Carol Shipley and six siblings, Ester and husband Claude Perry, Anna Mae and husband Tom Belk, Virginia and husband Paul Ward, Ruth and husband Foster Bryant, Jim Shipley and wife Henrietta, and Joe Shipley.
Mr. Shipley is survived by his children: Agnes Gray Shipley Moore and husband David of Greensboro; Robert Gray Shipley, Jr. and wife Virginia of Raleigh; Janie Davis Shipley and husband Michael Hammig of Seneca, SC; Grandchildren: Natalie Shipley Smith and husband Brian of Greensboro; Angela Shipley Risk and husband James Jeffrey of Belmont; David McDaniel Moore III and wife Hannah of Alexandria, VA; Robert Gray Shipley III of Birmingham, AL; Joseph Gray Moore and wife Christina of Greensboro; and Laurel Davis Hammig and husband Joseph Yanci of Woodbridge, VA; nine great-grandchildren, six nieces and nephews, and brother-in-law, Richard Weakley of Richmond, VA.
In lieu of flowers, donations may be made to: The Robert G. and Agnes D. Shipley Agricultural Endowment at NC Cooperative Extension Service Foundation, NCSU Box 7645, Raleigh, NC 27695-7645; Henson Chapel United Methodist Church, 120 Henson Hollar Road, Vilas, NC, 28692; or Heifer International.
Visitation will be held Friday, August 21, 2015 at Hampton Funeral Service in Boone from 6 to 8 pm. The funeral will be Saturday, August 22, 2015 at 1 pm at Henson's Chapel United Methodist Church, 120 Henson Hollar Road, Vilas, NC 28692. Officiating will be Reverend Katherine Cornell. Military graveside rites and burial, provided by the United States Army and American Legion Post 130, will follow in Cove Creek Baptist Church Cemetery.
Online condolences may be sent to the Shipley family at www.hamptonfuneralnc.com.
Hampton Funeral and Cremations Service is in charge of the arrangements.