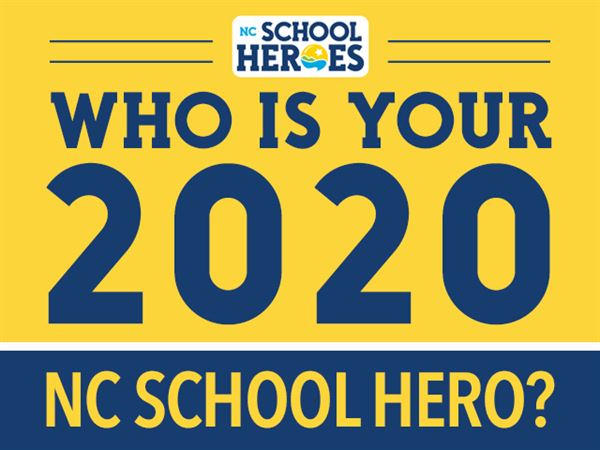 Last Updated on February 13, 2020 1:15 pm
For the second year, a program is underway to shine a spotlight on our NC School Heroes – those who help our students achieve their dreams – with awards of $10,000 to ten School Heroes and $10,000 to their schools.
The N.C. Education Lottery created the program as part of its support of public education in North Carolina. A large part of the money raised by the lottery this year, $385 million, provides support for many of the school staff who work at our public schools. The School Heroes program recognizes the important work those school employees do along with that of teachers, principals and others.
"Think back to your time in school and picture in your mind the person who made a difference in your life, someone whose kindness you've never forgotten or whose advice still rings true to you today," said Mark Michalko, executive director of the N.C. Education Lottery. "That's a School Hero."
The website, ncschoolheroes.com, allows people to post a story and photo about their School Hero and then vote on the ones they like the most. North Carolinians have until March 15 to post a nomination or vote on their favorites.
The first call for School Heroes came last year. North Carolinians responded with more than 6,750 nominations of teachers, principals, school staff and school workers and then cast 2 million votes for those they liked the most. Judges reviewed the 200 nominations with the most votes and selected the 10 School Heroes.
The 2019 class of School Heroes included a principal, two teachers, a teacher assistant and substitute bus driver, a school custodian, a high school band director, a high school basketball coach, a school crossing guard, and a school social worker.
In a proclamation issued today, Gov. Roy Cooper declared February as NC School Heroes Month in North Carolina and encouraged North Carolinians to share their stories of their favorite heroes. "Sharing the stories of North Carolina School Heroes," the proclamation said, "demonstrates the power that education has to change and improve the lives of North Carolinians."
As North Carolinians share their School Hero stories, they can discover on the website how money raised by the lottery benefits their own communities. All 100 counties of the state get support for education programs from money raised by the lottery.
Last year, the lottery raised more than $709 million for public education. In addition to support for school staff, the money raised by the lottery helps to build and repair schools, supports the N.C. Pre-K program for at-risk four-year-olds, provide college scholarships and grants based on financial need, and supports school transportation.