Last Updated on October 2, 2022 5:48 pm
Sheri Noren Everts, Provost and Vice President for Academic Affairs at Illinois State University since 2008, has been elected Chancellor of Appalachian State University by the Board of Governors of the 17-campus University of North Carolina. UNC President Tom Ross placed Noren Evert's name in nomination this morning (March 19) during a special meeting of the board. Noren Everts, 55, will assume her new duties July 1, succeeding Kenneth E. Peacock, who announced last April that he would step down this year after a decade in the post.
In recommending Noren Everts to the Board of Governors, Ross said: "Sheri Noren Everts brings to the task two decades of academic and leadership experience at highly respected public universities. At each step along the way, she has proven herself to be an energetic and effective leader who encourages creative problem-solving, promotes collaboration and inclusiveness, and demonstrates a passionate commitment to academic excellence and student success. She has also earned a reputation for great integrity, sound judgment, and a strong commitment to community engagement, outreach, and partnership."
Illinois State University is one of 12 public universities in Illinois. Located in Normal and chartered in 1857 as a school for training classroom teachers, it has evolved into a doctoral institution enrolling more than 18,000 students. Today it offers 189 undergraduate major/minor options in the Colleges of Applied Science and Technology, Arts and Sciences, Business, Education, Fine Arts, and Nursing, as well as 42 master's and nine doctoral degree programs. Its School of Education is the nation's largest producer of special education teachers. As ISU's chief academic officer, Noren Everts has been responsible for the administration, coordination, and development of all academic activities, academic support activities, research and graduate studies, and recruitment and enrollment of students.
A Nebraska native who attended elementary school in a one-room schoolhouse, Noren Everts graduated from the University of Nebraska-Lincoln in 1980 with a bachelor's degree in English instruction and secondary education. After teaching middle school and high school English in Kansas and Nebraska, she returned to UNL, where she earned a master's degree in literacy education and English (1991) and a doctorate in administration, curriculum, and instruction (1994).
Noren Everts began her higher education career in 1994 as an assistant professor in the Department of Teacher Education at the University of Nebraska Omaha. Rising through the academic and administrative ranks at UNO, she was named Assistant Vice Chancellor for Academic and Student Affairs in 2000, promoted to Associate Vice President in 2003, and named Interim Senior Vice Chancellor for Academic and Student Affairs in 2006. She served in that interim capacity until June 30, 2008, when she left Nebraska to become Provost and Vice President for Academic Affairs at Illinois State University.
In her current role, Noren Everts has been credited with improving graduation and retention rates at ISU, while increasing the racial diversity of its student body, faculty, and staff. As co-chair of the Educating Illinois task force, she has helped lead the development of the campus' five-year strategic plan for 2013-18. She also has co-chaired a Financial Sustainability Initiative and co-led the development of a new physical Campus Master Plan, ensuring its relevance to central academic programs. Under her leadership, ISU's general education curriculum has been revised; support for online learning and classroom technology has expanded; civic engagement has been integrated into the curriculum; and external funding for faculty research has increased by nearly 45 percent, from $18 million to nearly $26 million.
Noren Everts has written and spoken widely on the topic of educational curriculum and instruction. Much of her academic research has focused on student learning assessment, particularly portfolio assessment and its ability to assure continued emphasis on student learning outcomes. Named one of Illinois' Most Powerful and Influential Women by the National Diversity Council (2010), she is the recipient of several honors from the University of Nebraska Omaha, including the Del and Lou Ann Weber Award of Excellence (2006), the Chancellor's Medal for Service Excellence (2006) and the Chancellor's Commission on the Status of Women Outstanding Achievement Award (2008).
Noren Everts is married to Jay Noren, a physician and former President of Wayne State University in Michigan. Together, they have four adult children, Elizabeth, 27; Justin, 29; Olin, 36 and Kris, 41.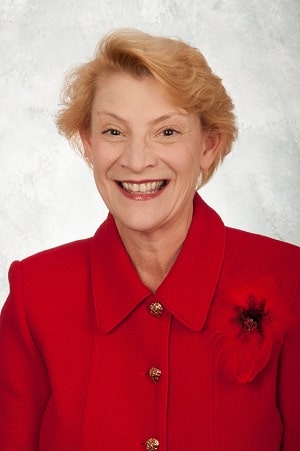 u
*Video below from Thursday March 20 from Yosef Mountaineer YouTube Page*

Students pose for a selfie with Dr. Everts on Wednesday March 19 after her confirmation by the UNC Board of Governors. Photo: Appalachian State facebook page

Photo from Thursday March 20. Photo: Appalachian State facebook page