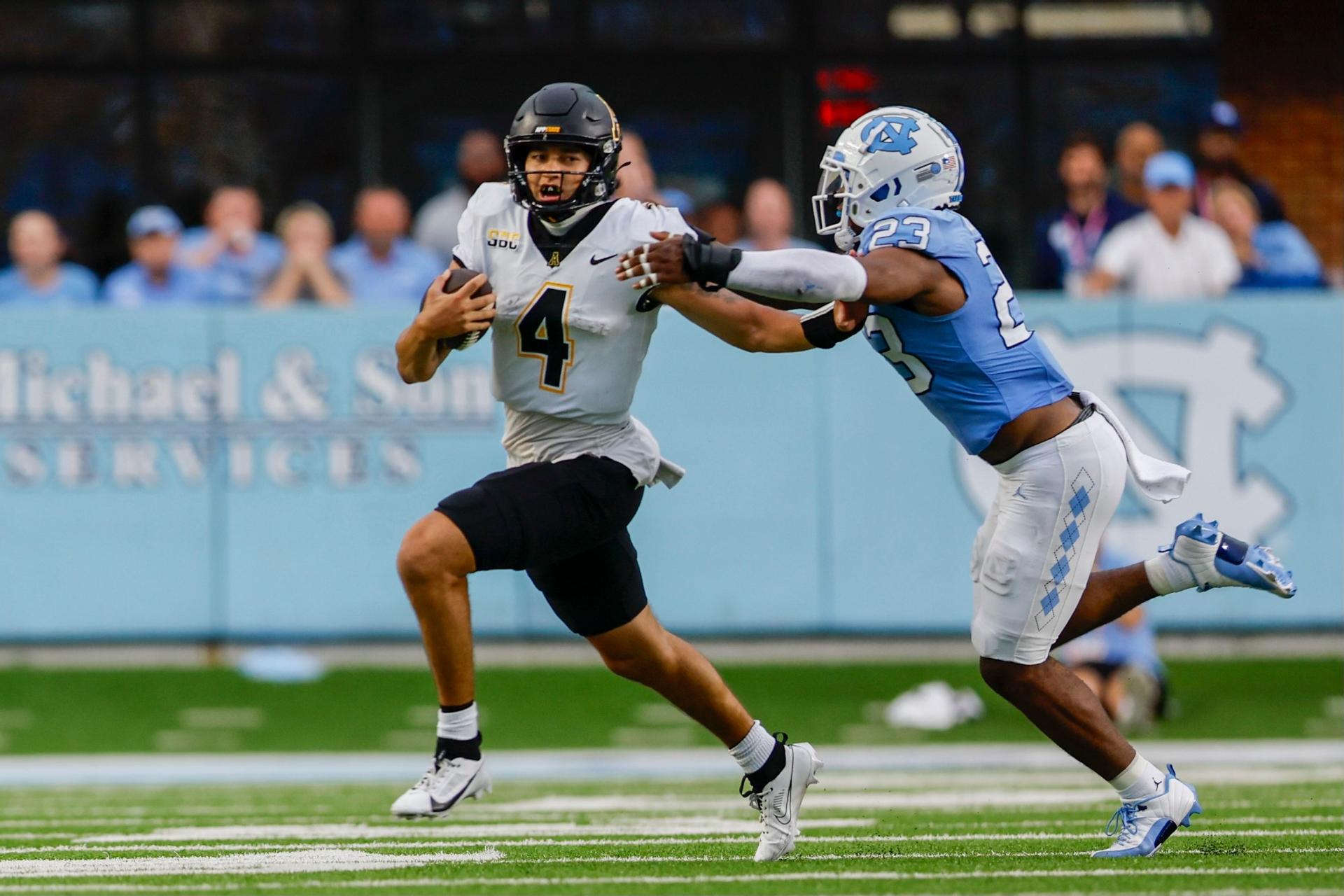 Last Updated on September 10, 2023 9:04 am
CHAPEL HILL — Another App State-North Carolina showdown. Another sold-out thriller going down to the final seconds — and, in this case, being decided with the clock no longer needed.

After the Mountaineers and 17th-ranked Tar Heels traded scores to begin overtime Saturday night, UNC opened the second overtime with a touchdown and made a defensive stop to cap a 40-34 victory against App State in a packed, rain-soaked Kenan Stadium.

The Mountaineers' last eight games against Power Five opponents have all been decided by seven points or less, a stretch that includes the 34-31 road win against the Tar Heels in 2019 and the 63-61 loss to them last year in Boone. That's no consolation for head coach Shawn Clark or anyone else in the program, as App State held five leads in the latest meeting and came painstakingly close to improving to 3-1 in its last four games against ranked opponents.

"I'm at a loss for words, but I'm very proud of our team," Clark said. "I'm never going to second-guess anything our players have done. They're hurting, but we're Mountaineers, and we'll bounce back from this. We're going to have a good football team this year."
Michael Fletcher and Brendan Harrington had sacks for an App State defense that made several big stops in short-yardage situations, including two big plays involving Jordan Favors.

Joey Aguilar completed 22 of 43 passes for 272 yards and two touchdowns in his first start for the Mountaineers (1-1). Dashaun Davis accounted for one of the touchdowns on a night in which he caught seven passes for a career-high 117 yards, and Nate Noel rushed a career-high 26 times for 127 yards with two touchdowns.
App State's offensive line paved the way for 219 rushing yards while allowing no sacks against a defense that recorded nine last weekend in a win at South Carolina. After making his App State debut late in the first half of the 2023 opener against Gardner-Webb, Aguilar has six touchdown passes in a little over six quarters. He also rushed six times for 42 yards Saturday.
"I wasn't nervous," Aguilar said. "Football is just a game, so you go out there and you play it."

A low-scoring start to Saturday's game gave way to a frantic finish, setting the stage for App State's seventh overtime game at the FBS level and 11th overall in program history.

Michael Hughes kicked a game-tying field goal from 33 yards out with 1:22 left in the fourth quarter, and the Tar Heels (2-0) missed a 39-yard attempt wide left as time expired to send the game into overtime tied at 27-all.

Three runs to begin overtime from Noel, including a 7-yard touchdown, gave App State a 34-27 lead before North Carolina answered back with a 17-yard touchdown run from Omari Hampton, who scored three times during a 234-yard night. With UNC having possession to start the second OT, quarterback Drake Maye scored a touchdown on a 13-yard keeper, but Favors and Caden Sullivan combined on an acrobatic, high-effort tackle to keep a leaping Maye out of the end zone on the required two-point try.

A second-and-10 run by Noel and third-and-8 completion to Davis preceded the game's final play from the UNC 20, an incompletion to Davis near the end zone.

Seven of App State's last eight games against AP Top 25 foes have ended with one-possession final margins, and the only exception was a 34-23 loss at Coastal Carolina in 2020 after App State held a lead going into the final three minutes.

After App State and UNC combined for 62 fourth-quarter points a year ago, there were only 17 in the final quarter Saturday. The Mountaineers moved ahead 24-20 on Noel's 7-yard touchdown run with 10:44 left, delivering big play after big play along the way.

Facing a fourth-and-1 scenario from the App State 44 early in the quarter, Aguilar faked a handoff and lofted a pass into the hands of well-covered tight end Miller Gibbs for 19 yards with no other options for Aguilar to target. Dalton Stroman went up high with one hand to snag a pass in traffic for a 18-yard gain to the UNC 18, and Milan Tucker's 10-yard reception set up Noel's go-ahead score.

North Carolina returned the favor, completing a 57-yard pass to J.J. Jones immediately before Hampton scored on a 7-yard run with 9:19 remaining. Aguilar then directed a 12-play, 69-yard scoring drive to tie it again.

Receiving to open the second half, App State moved ahead 17-10 thanks to a six-play, 75-yard touchdown drive. Davis had gains of 12 yards (catch) and 10 yards (run) before he followed Stroman's 16-yard gain with a 33-yard touchdown catch off a perfect strike from Aguilar.

Moments being pulled down for a third-down sack on the next series, Maye extended the drive with a creative flip for a conversion and later handed off to Caleb Hood for a game-tying touchdown run from 5 yards out. App State moved inside the UNC 35 on the next series before the Tar Heels came through with the first takeaway of the game and used a 31-yard field goal to take a 20-17 lead.

Similar to the way it controlled the clock almost a year earlier at Texas A&M, App State used a 19-play, 66-yard drive that chewed up more than eight minutes to take a second-quarter lead on Hughes' career-long field goal from 46 yards out. Noel gained 5 yards on a fourth-and-2 carry from near midfield to extend that drive.

The Tar Heels responded quickly, taking the lead two plays later on Hampton's 68-yard touchdown run. Unfazed, Aguilar led a nine-play, 75-yard touchdown drive in which he had a 13-yard scramble and threw a 34-yard pass to Davis to reach the UNC 10.

Aguilar hit tight end Eli Wilson for a 5-yard touchdown on a third-and-goal pass with 7:14 remaining before halftime, and North Carolina answered back with a nine-play scoring drive that ended with Ryan Coe's 47-yard field goal that accounted for the 10-all halftime time.

Four straight possessions produced points following a scoreless first quarter that was a far cry from how the final quarter of the 2022 matchup transpired.
Harrington, Nick Ross and others combined for a fourth-and-1 stop at the App State 13 in the opening minutes, and Favors' perfect read of the snap contributed to his third-and-1 stop for a 2-yard loss on the next UNC possession.

In the end, Favors was part of a crucial stop after the final touchdown, but North Carolina prevented App State from scoring and having the opportunity for two-point redemption, after UNC had stopped two in the final 30 seconds of last year's thriller.