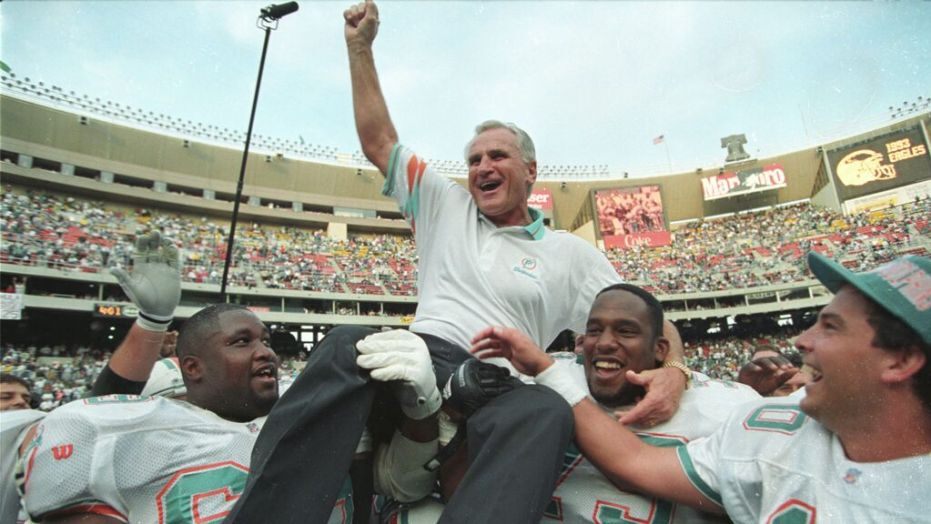 Last Updated on May 4, 2020 7:28 pm
Don Shula, former head Coach of the Miami Dolphins and NFL Hall of Fame member, passed away this morning at the age of 90. Coach Shula had strong ties to the High Country, as he and his family have owned homes here for many years.
Both past and present residents are recounting on social media about seeing Coach in the area over time.
To begin with, I will share my personal note. I met Coach purely by accident once in the Boone Walmart and in of all places the football isle as he was looking for a football pump. A friend and I were in the store and just happen to walk past the sports department when I saw Coach in the isle. I quickly backed up and made my way down the aisle, and as we did Coach very politely said, "Excuse me young man, do you know where the pumps for these are?" Needless to say you could have knocked me down with a feather. I did help him find one, while asking how he and the family were enjoying their stay in the mountains this time. I forget the exact year and time of year meeting him happen but I do recall it was the days before smart phones and selfies, I can't recall if I even had a flip phone at the time. I've always kick myself that I didn't get him to sign a football there on the spot and then buy it. He was very personable that day and as I watched him walk toward the checkouts nobody recognized who he was. Such a surreal moment and one I'll never forget.
Others on the WataugaOnline Facebook page also recounted seeing Coach in the area. Memories of seeing and meeting him in local restaurants were the most often commented on. A couple of people recounted seeing him and his family at Tweetsie Railroad on occasion.
The statement below is from the Miami Dolphins website regarding his passing.
---
Don Shula, the winningest coach in the history of the National Football League and the coach of the league's only undefeated team, passed away today. Born on January 4, 1930 in Grand River, Ohio, Shula was 90.
"If there were a Mt. Rushmore for the NFL, Don Shula certainly would be chiseled into the granite," said Miami Dolphins owner Stephen Ross. "He won more games than any coach in the NFL, and his 1972 "Perfect Season" team stands alone in the 100-year history of the league.
"His contributions to his sport, to the Miami Dolphins franchise, and to the South Florida community will have a lasting impact. We were so fortunate to have him associated with the Dolphins for 50 years, and he was a source of inspiration to me every time I was around him. There will never be anyone like him, and I want to extend my condolences to his wife, Mary Anne, and the entire Shula family."
Shula is survived by his wife, the former Mary Anne Stephens, who were married on Oct. 15, 1993. They were very active in charitable and community affairs together, including a joint visit to U.S. soldiers stationed in Iraq and Afghanistan as part of a USO tour to raise troop morale. At the time of his passing, their family together included eight children, 16 grandchildren and five great-grandchildren.
Shula's oldest son, David, 61, and his wife, Leslie, have three sons, Danny, Christopher and Matthew. David served as the head coach of the Cincinnati Bengals from 1992-96, and when Don Shula's Dolphins played David Shula's Bengals on October 2, 1994 and October 1, 1995, both at Cincinnati's Riverfront Stadium, it marked the only two times in the history of professional sports that a father and son faced each other as head coaches. David currently is an assistant coach at Dartmouth. His son, Chris, is the outside linebackers coach for the Los Angeles Rams, becoming a third-generation Shula to coach in the NFL, following his father and grandfather.
Shula's other son, Mike, 55, currently is in his first season as quarterbacks coach with the Denver Broncos. He spent the previous two seasons (2018-19) as offensive coordinator for the New York Giants. Previously, he spent seven years with the Carolina Panthers as the team's offensive coordinator (2013-17) and quarterbacks coach (2011-12). He joined the Panthers after serving four years as the QB coach of the Jacksonville Jaguars (2007-10). He spent four seasons (2003-06) as the head coach at the University of Alabama and led the Crimson Tide to a Cotton Bowl win and a 10-2 record in 2005. He had rejoined the Dolphins' staff as quarterbacks coach in 2000 after serving the four previous seasons as the offensive coordinator of the Tampa Bay Buccaneers; he also spent the 1991-92 seasons as a coaches' assistant under his father in Miami. Mike and his wife, Shari, have three daughters, Samantha, Brooke and Ryan.
Mike and David Shula presented their father for induction into the Pro Football Hall of Fame in 1997, becoming the first pair ever to present a Hall of Famer for induction.
Shula's oldest daughter, Donna, has five children, Alex, Lindsey, Tyler, and twins Calvin and Carly. Another daughter, Sharon, resides in New York, while youngest daughter, Annie, lives and works in Broward County.
A member of the Pro Football Hall of Fame, Shula took teams to six Super Bowls, five with the Miami Dolphins and one with the Baltimore Colts, winning twice (1972, 1973) with the Dolphins.
Shula's record as head coach of the Dolphins (1970-95) and before that as head coach of the Colts (1963-69) is unmatched in the National Football League. In 1995, he concluded his 33rd season as an NFL head coach and his 26th season as head coach of the Dolphins. He fashioned a career record of 347-173-6 (.665), including a regular season mark of 328-156-6 (.676), and his 347 victories are the most by any coach in the history of the NFL. On November 14, 1993 in Philadelphia, when the Dolphins defeated the Philadelphia Eagles 19-14, Shula won his 325th career game, moving him past the immortal George Halas (324-151-31) and setting the NFL career victory record, a mark once thought to be unreachable. Shula's 328 regular season wins also is an NFL record, surpassing Halas' former NFL mark of 318 regular season victories. Shula and Halas are the only NFL coaches to win 300 or more career games, as Shula recorded his 300th career win on September 22, 1991, with a 16-13 triumph over Green Bay in just his 29th year as an NFL head coach, as compared to 36 seasons for Halas to accomplish that feat.
In addition, Shula won Super Bowl titles in 1972 and 1973, one of only six coaches in NFL history to win consecutive Super Bowls. His 1972 team went 17-0, recording the only undefeated season in NFL annals. He remains one of only two coaches (along with New England's Bill Belichick) to appear in six Super Bowls, and is one of only two coaches (along with Buffalo's Marv Levy) to reach the Super Bowl three straight seasons (1971-73). He also advanced to the Super Bowl with the Dolphins in 1982 and 1984, as well as in 1968 as head coach of the Colts.
A remarkable 20 times in 33 seasons, Shula's teams reached the playoffs. His teams won at least ten games 21 times in those 33 years, and he suffered only two losing seasons (6-8 in 1976 and 6-10 in 1988) in that span. He averaged more than ten wins per season in his career (347 wins in 33 years as a head coach), and he was the youngest coach to win 100, 200 and 300 games.
During Shula's tenure with the Dolphins, from the time he replaced George Wilson on February 18, 1970 to become the franchise's second-ever head coach through his final season in 1995, his winning percentage of .658 (257-133-2) during that time was the best record in all of professional sports. The Dolphins either won or shared first place in the AFC East 15 times in the 26 years under Shula, and reached the playoffs 16 times. His ultimate achievement was the NFL's only unbeaten, untied record of 17-0 in 1972, capped by a 14-7 win over the Washington Redskins in Super Bowl VII. He won a second consecutive Super Bowl title in 1973, defeating the Minnesota Vikings 24-7 in Super Bowl VIII, and compiled an overall record of 32-2 in those back-to-back seasons, a two-year mark that has yet to be surpassed.
Among his many innovations in Miami, Shula introduced situational substitution to the NFL. A common practice now, Shula was the first to utilize it in the early 1970s by substituting linebacker Bob Matheson for a defensive lineman in certain situations to change their 4-3 defensive scheme (which was played by every team in the NFL) into the "53" defense (named in honor of Matheson's number 53 jersey) that featured a 3-4 alignment. Revolutionary at the time, that formation is now standard around the league. At the same time, on offense Shula alternated running backs Mercury Morris and Jim Kiick in the early 1970s alongside fullback Larry Csonka based on down and distance considerations, becoming one of the first coaches in the league to tailor his offensive personnel to specific game situations.
Shula always was looking for "The Winning Edge," the hallmark philosophy of his championship teams. Whether it was holding four practices a day during his first training camp with the Dolphins in 1970 or adjusting from a run-first offense to an aerial attack when he drafted Dan Marino, Shula left no stone unturned in his relentless pursuit of excellence. As Bum Phillips, the former head coach of the Houston Oilers put it, "Shula can take his'n and beat your'n and take your'n and beat his'n."
Before joining the Dolphins, Shula spent seven years (1963-69) as head coach of the Colts where he was a three-time winner of the NFL Coach of the Year award. In that span he compiled a record of 73-26-4 (.728) and advanced to the playoffs four times, including two appearances in the NFL Championship Game, in 1964 and 1968 after 12-2 and 13-1 campaigns, respectively. He became the youngest head coach (33 years old) in the history of the NFL when he was named the Colts' head coach in 1963.
Shula succeeded Weeb Ewbank as head coach in Baltimore after serving three years (1960-62) as defensive coordinator of the Detroit Lions, with the team going 26-13-1 in that period. Shula entered the coaching ranks with an assistant's job at Virginia (1958) and Kentucky (1959) before joining the Lions.
A ninth-round draft pick of the Cleveland Browns in 1951, Shula broke into the NFL as the lone rookie on Coach Paul Brown's defending NFL champions. He was involved in the largest trade in modern NFL history, a 15-player deal with Baltimore in 1953, and Shula played four seasons with the Colts (1953-56) and one season at Washington (1957) at right cornerback. He had 21 career interceptions for 247 yards in seven seasons.
Off the field, Shula also contributed to the growth of the NFL by serving from 1975 through 1995 on the league's influential Competition Committee (including the last two years in that span as co-chairman along with George Young of the New York Giants), which evaluates and recommends changes in playing rules. Shula had a particular concern about player safety and recommended changes in the rules designed to make the game safer.
Following his coaching career, Shula spent the last 20 years as Vice-Chairman of the Dolphins, having been named to that position on January 5, 1996. The 2015 campaign marked his 46th season with the Dolphins, going back to his first year as the team's head coach in 1970.
On July 26, 1997, Shula capped an illustrious career when he was inducted into the Pro Football Hall of Fame in Canton, Ohio, following his election into that shrine on January 25, 1997, his first year of eligibility. Shula's unanimous election to the Hall was the ultimate honor in a career full of them.
In addition to his own election to the Pro Football Hall of Fame, Shula was selected to present five other members for induction into the Hall (Larry Csonka, Bob Griese, Jim Langer, Larry Little and Dwight Stephenson), including two (Csonka and Langer) on the same day.
Shula also was enshrined on the Dolphin Honor Roll on November 25, 1996, and was inducted in the Dolphins Walk of Fame on December 4, 2011. On the same day as Shula's induction into the Walk of Fame, the Dolphins unveiled the "Perfect Moment in Time" statue in his honor. The ten-foot sculpture depicts Coach Shula raised upon the shoulders of two players, Nick Buoniconti and Al Jenkins, and captures the perfect moment in time immediately after the Dolphins completed their undefeated season in 1972. The statue adorns the entrance of the Dolphins' corporate headquarters at Sun Life Stadium, and that office bears the address of "347 Don Shula Drive" to reflect the total number of victories Shula amassed during his career.
Shula was further honored on January 31, 2010, when NFL Commissioner Roger Goodell announced the establishment of a new league award – "The Don Shula NFL High School Coach of the Year Award" – which honors high school football coaches that display the integrity, achievement and leadership that Shula exemplified throughout his NFL career. The Don Shula Award winner is recognized at the Super Bowl and receives $10,000 and his high school football program is awarded $15,000.
Along with his football responsibilities, Shula always gave considerable time, plus financial and emotional support, to many area charities. The Don Shula Foundation, formed primarily to assist breast cancer research, was established as a tribute to his late wife, Dorothy. Shula also has been active in the American Cancer Society, March of Dimes, American Red Cross, the United Way and Catholic Charities.
Shula was a member of the Class of 1951 at John Carroll University in Cleveland where he received a Bachelor's degree in sociology with a minor in mathematics. He also was a running back on the school's team and in 1950 he gained 125 yards when the Blue Streaks upset Syracuse, 21-15. Shula went on to help fund a $1 million chair in the University's Department of Philosophy and on September 27, 2003, John Carroll University showed its appreciation for Shula's support of the school by naming its new stadium Don Shula Stadium.
Shula went on to receiver a Master's degree in physical education at Western Reserve University in 1954 and also has received honorary doctorate degrees from John Carroll, St. Thomas University, the University of Miami and Florida Atlantic University.
Because of his success on the football field and his long-time civic and charitable service, Shula received countless prestigious awards recognizing his contributions, including the 1993 Sports Illustrated Sportsman of the Year Award and the 1994 Horatio Alger Award. In addition, along with Ken Blanchard, in 1995 Shula co-authored "Everyone's A Coach," a highly acclaimed book that outlines the application of their managerial philosophies for business and personal success. Shula personified those business principles himself, serving as an equity partner in two highly successful undertakings, Shula Enterprises, Inc. along with Don Shula's Steakhouse, LLLP. At age 82, Shula started a hamburger chain, "Shula Burger," that opened 10 stores in its first three years.