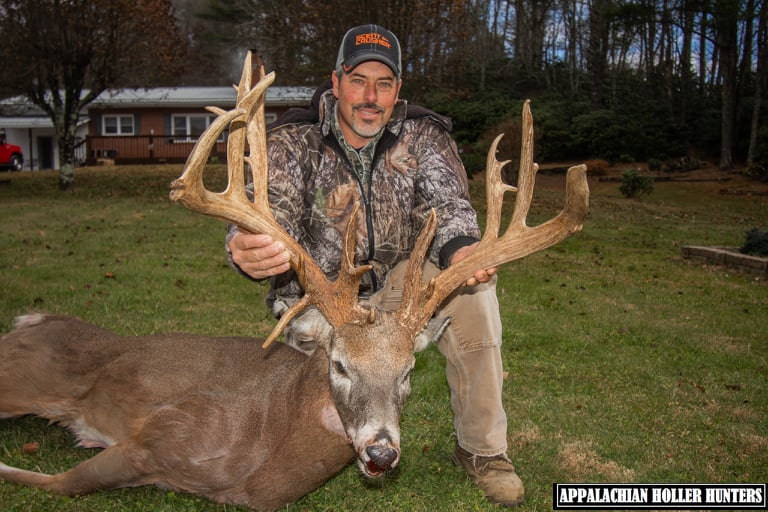 Last Updated on December 10, 2021 8:03 pm
Editor's Note – The following article is being published by WataugaOnline.com courtesy of Brian Cope and Carolina Sportsman.
---
Vincent Clark of Newland, N.C. killed a 23-point hammer of a buck in Avery County on Dec. 7, 2021. He hasn't had the buck scored yet, but it is sure to be one for the state's record list. Aside from having 23 points, the deer's rack was massive throughout.
Clark shot the buck with a 7mm Mag around 5 p.m. while hunting out of a box blind on the ground. The deer walked into the edge of a field bordering some woods when Clark spotted him about 100 yards away.
He had a small history with this buck. It showed up a few times on his trail cameras over the years, but he had never laid eyes on the buck while hunting.
"I only had this buck on camera a few times this year, and very rarely before in years past. This buck was not pattern-able at all," he said.
The closest he had come until this hunt was finding the deer's shed 2 years ago.
Clark credits pure chance with killing the 23-point hammer.
"We knew it would be a 'hunt a ton and get lucky' scenario. And it was just that. I set in the blind for the evening and just got lucky that he happened to walk out. I believe he was checking scrape lines," he said.
The deer made a short run after Clark pulled the trigger, leaving the hunter with a quick and easy tracking job.