Last Updated on February 12, 2022 7:05 pm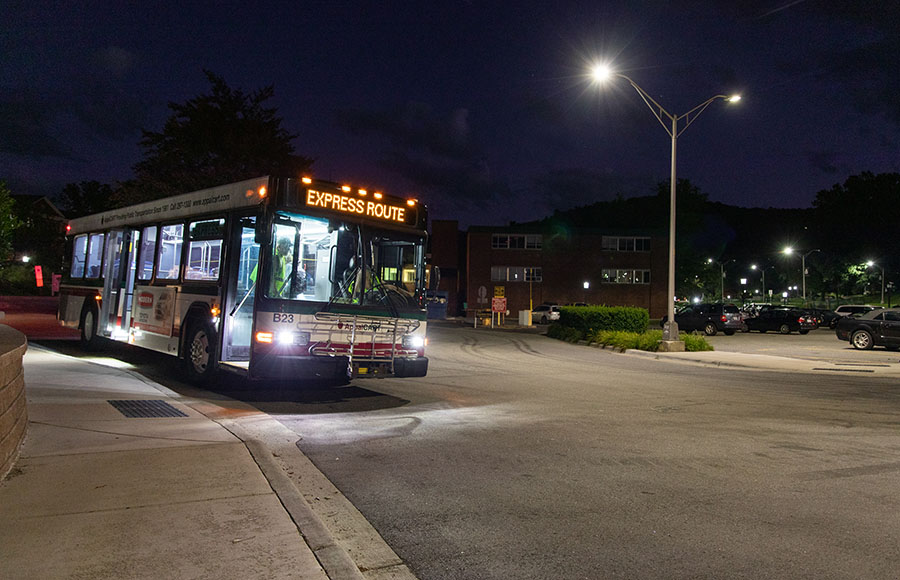 BOONE, N.C. — Late nights at the library or visiting with friends, the college experience is often a nocturnal one. AppalCART has recently added new options to accommodate late-night schedules.
AppalCART — a bus service that provides free public transportation for the town of Boone and Watauga County — began offering "Night Owl" routes during the first week of Appalachian State University's fall 2019 semester.
The Night Owl service operates in Boone from 10 p.m.–2:30 a.m. on Thursday and Friday nights and from 6 p.m.–2:30 a.m. on Saturday nights. Four routes are included: the Gold and Pop 105 routes, as well as slightly modified versions of the Orange and Express routes. Maps and schedules are available on the AppalCART website.
"Adding the Night Owl routes was a safety measure, providing a secure way to help students get around on weekends," said John Eckman, Appalachian's associate vice chancellor for campus services.
AppalCART is not part of the university, Eckman said, but a public transit authority. "They are an important partner because our students make up such a significant portion of their ridership," he said.
Night Owl is a pilot program, Eckman added. "We'll be evaluating this with AppalCART through the fall semester, looking at ridership numbers weekly to make sure we're getting the demand that makes those routes viable," he said.
Ridership was strong during the first weekend of operation, Eckman shared. "We're very interested in seeing what happens this weekend after the football game. We think the service will be used by all sorts of folks — not just students," he said.
Appalachian's Student Government Association (SGA) has been very supportive of the Night Owl service and its members are distributing posters and flyers to make students aware.
Victoria Moreno, a junior public health major from Charlotte and the SGA director of wellness, said, "I think this is a great initiative for our community and town to provide safe nighttime transportation. I have gotten feedback from students who are very happy with the program and find it helpful when trying to get home safely at night."
The availability of AppalCART's Night Owl routes is expected to lessen the demand for Appalachian's Mountaineer Safe Ride, a campus safety escort service available seven days a week (excluding holidays) from 9:45 p.m.–2:45 a.m.
For Andy Stephenson, director of public safety and chief of police at Appalachian, this is good news. Stephenson has been working to ensure Mountaineer Safe Ride is available for students uncomfortable walking alone at night, rather than for those traveling in pairs or groups, or simply wanting the convenience of a ride.
"Safety is our top priority at Appalachian," said Stephenson. "Mountaineer Safe Ride is designed to provide service to those who are alone and have safety concerns."
To access Mountaineer Safe Ride, students may call 1-828-262-RIDE (7433) and a passenger van prominently marked "Mountaineer Safe Ride" will be dispatched to meet the students.
Due to the large volume of students returning to campus on Sunday evenings, the Mountaineer Safe Ride service for the Appalachian 105 parking area doesn't begin until 1 a.m. on Sunday night. Instead, a dedicated shuttle from the AppalCART fleet operates every 30 minutes to transport students from this area to campus.
During the Night Owl service times, students are encouraged to use that service for transportation on and off campus.
Other Appalachian late-night safety initiatives include the following:
Blue light emergency telephones located in over 70 locations across campus, with a one-button call feature that rings the Appalachian State University Police. The caller's location is automatically identified so an officer can be quickly dispatched to assist the caller.
Surveillance cameras located at residence halls, in parking decks and other strategic locations on campus.
University Housing's Night Safety Program, which secures and monitors the residence halls between the hours of 11:15 p.m.–2:30 a.m.
Swipe cards required for entry to residence halls at all times.