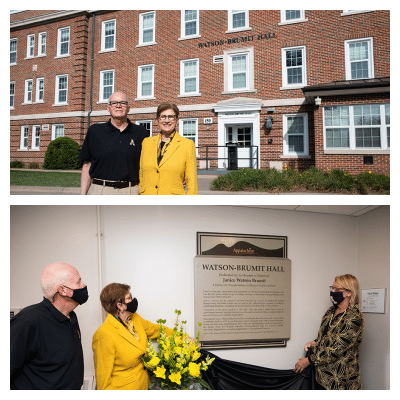 Last Updated on October 12, 2021 4:06 pm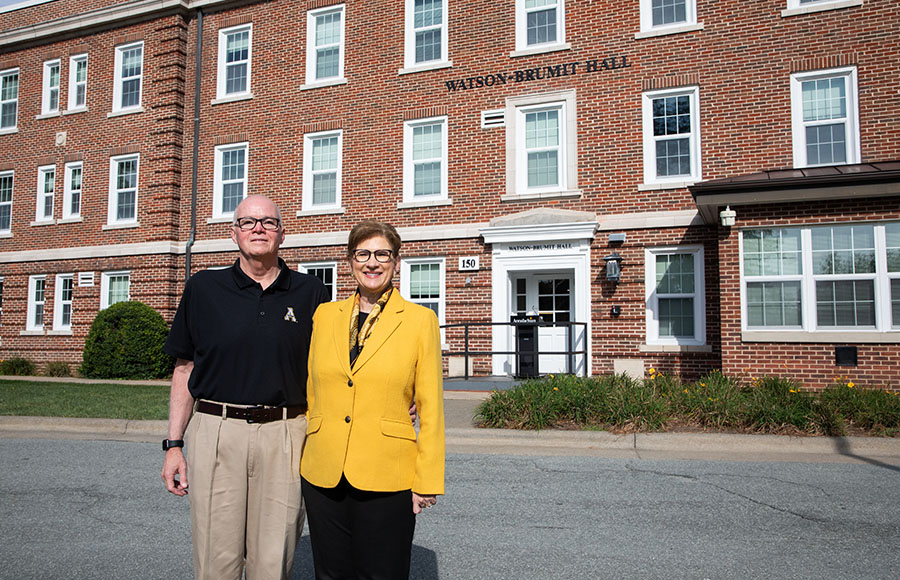 BOONE, N.C. — Appalachian State University's Founders Hall has a new name: Watson-Brumit Hall. The building was dedicated on Sept. 18, in honor of Janice Watson Brumit '75 — a distinguished alumna and benefactor.
A native of Boone, Brumit was born in Watauga County Hospital — located on the App State campus in the building that would later become Founders Hall.
Chancellor Sheri Everts said that upon meeting Brumit, she immediately recognized their shared belief: Education changes lives.
"That belief has proven true for me personally, and in my role as chancellor at App State, I have the privilege to see it come to fruition each day on our campus," Everts said.
She added, "Janice carries forth that belief through her ongoing philanthropy in education that transforms lives in Western North Carolina and beyond."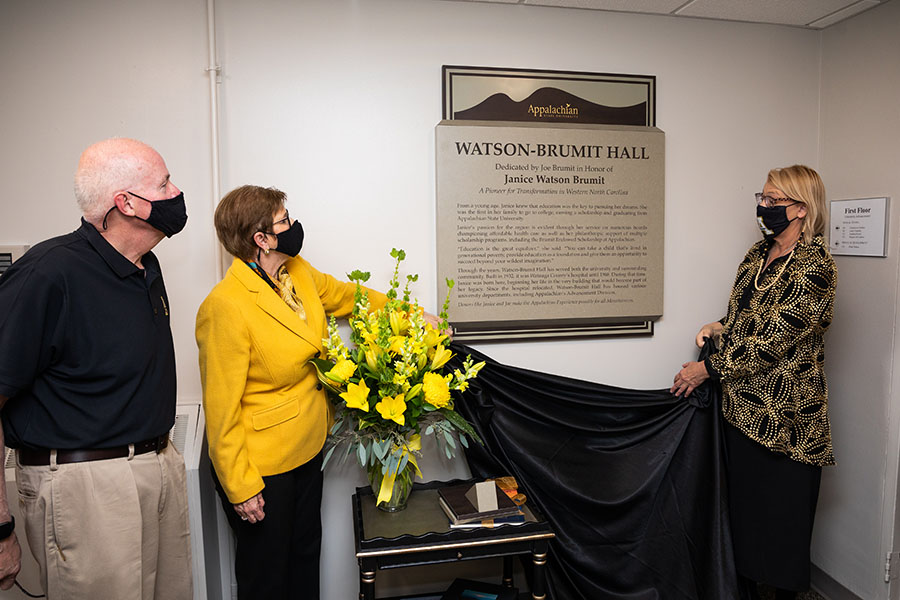 Brumit was the first in her family to go to college, earning a scholarship to attend App State. She graduated with a Bachelor of Science in Spanish, secondary education.
Now, Brumit and her husband, Joe Brumit, ease the financial burden for current Mountaineers. In 2019, to honor Janice, Joe initiated an estate commitment to fund the Brumit Endowed Scholarship — which will continue in perpetuity through their generosity.
The Brumits live in Asheville, where Janice chairs the board of directors of Dogwood Health Trust — a private foundation based in Asheville with the mission of improving the health and well-being of all people and the communities in Western North Carolina. She has held leadership roles in organizations such as United Way, the Community Foundation of Western North Carolina, the North Carolina Rural Center and others across the region.
The building, now bearing the name Watson-Brumit Hall, was originally the Watauga County Hospital, opened on App State's campus in the 1930s to treat both students and county residents. The hospital operated until the late 1960s, when the building was renovated as the Administration Building Annex. It was later named Founders Hall.
"As we dedicate this building, we bring Janice's story full circle and affirm that education does, indeed, change lives," Everts said.