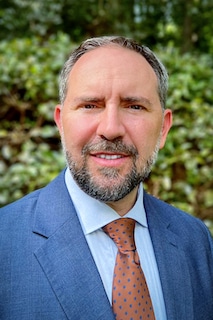 Last Updated on July 13, 2022 1:04 pm
NORTH WILKESBORO – An engineer who began his career in Division 11, and Caldwell County native, is returning to lead the eight-county region for the N.C. Department of Transportation.
Michael Poe, P.E., recently accepted a promotion to Division 11 Engineer following the retirement of Mike Pettyjohn, N.C. Transportation Secretary Eric Boyette announced at the recent Board of Transportation meeting.
"I'm excited to be returning to part of the state that I still call home and where I worked the first half of my career," Poe said. " What I love about working for the Department of Transportation is the impact our work makes on the lives of our citizens and visitors, and it is a great honor to be given the opportunity to do that in the area where I was born and raised."
Poe will oversee project development, maintenance and construction of state highway operations across Alleghany, Ashe, Avery, Caldwell, Surry, Watauga, Wilkes and Yadkin Counties. The Division consists of approximately 400 employees who are responsible for nearly 6,000 miles of road.
Poe, who graduated from N.C. State in 1999, began his career in Division 11 quickly working his way up to Caldwell County Maintenance Engineer. Then he accepted a position as District Engineer in Boone in 2007 before transferring to a Division 12 position in 2011 as District Engineer in Lincolnton. He rose to Division 12 Project Development Engineer in 2016.
"We have unique challenges up here, but I know that our entire staff will meet those challenges," Poe said. "I will advocate for the resources we need to provide the best road system we can for our citizens, our friends, neighbors and visitors.
"We want to deliver the projects and maintenance that citizens need to make their lives easier, safer and help expand the economy of the northwest region."
Poe and his wife, Liza, live in Catawba County and have 18-year old twins, Andrew and Vitória.