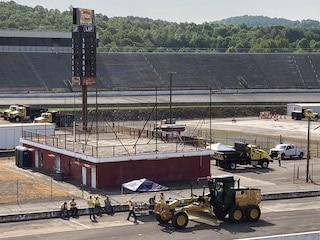 Last Updated on May 5, 2022 11:48 am
NORTH WILKESBORO – Some of the glory still remains amidst the dilapidated suites, roofless snackbar and score tower atop which the rusty Tyson sign rotes with the wind like a vane.
The finish line stripe remains, pit row spots are still marked, and only a little imagination is needed to see the winners circle at the North Wilkesboro Speedway roaring back to life in a not-too-distant future.
Nearly 50 N.C. Department of Transportation employees from the eight counties of Division 11 had their own experience Wednesday at the fabled racetrack. It's a place where Junior Johnson, Richard Petty, and Dale Earnhardt each won at least four races.
NCDOT employees weren't on the track. They were on the infield competing in a variety of events, showcasing the skills and safety precautions they take provide North Carolina residents and visitors with a safe transportation system.
The goals of Wednesday's Equipment Operator's Safety Conference include helping employees improve their skills with an emphasis on safety while operating heavy machinery. The competition also fosters team spirit within individual units and across the division while recognizing employees who excel at their jobs.
Winners from each event will represent Division 11 — Alleghany, Ashe, Avery, Caldwell, Surry, Watauga, Wilkes and Yadkin counties — at the State Equipment Operators Safety Training Conference in Raleigh on June 21.
It's likely, as more renovations are made over the next year, including $18 million from the state budget, the conference awards ceremony will be in that fabled winner's circle.
• Single Axle Truck Exercise: Patrick Terry, Elkin Bridge
• Tandem Axle Truck Exercise: Chris Welch, Watauga Maintenance
• Lowbow Truck Exercise: Travis Townsend, Watauga Maintenance
• Backhoe Exercise: Joseph Worley, Watauga Maintenance
• Motorgrader Exercise: J.R. Potter, Watauga Maintenance
• Tractor Mower Exercise: Dennis Foster, Division 11 Roadside Maintenance
• Crane Exercise: Adam Shores, Elkin Bridge