Last Updated on June 21, 2017 1:37 pm
THOMASVILLE – Family members of two of the 108 NCDOT employees who died while working to enhance the lives of travelers around the state helped pay tribute to those workers on Wednesday during a ceremony dedicating a plaque in their honor at the Interstate 85 North Davidson County rest area.
"This plaque allows everyone to see the sacrifice NCDOT workers and their families make on a daily basis. Please honor the lives lost by driving like lives ahead are in your hands because they are," said Millie Bailey, wife of Grey Bailey. He was killed in the spring of 2015 when a driver struck him in a work zone in Wayne County.
NCDOT Chief Engineer Mike Holder recognized the Bailey family, along with the family of David Cook.
"Pay attention in work zones, as these workers have families that are waiting for them at home. Respect them and honor their lives," said Ruth Cook. Her husband died in the fall of 2012 when he was struck by a driver while he was cutting trees in Watauga County.
"This memorial and the others that will be installed across the state will serve as a visible tribute to our fallen employees, and a reminder that the public plays a vital role in our workers' safety," said Holder.
Eventually, plaques paying tribute to the workers will be in place at all 61 rest areas across the state.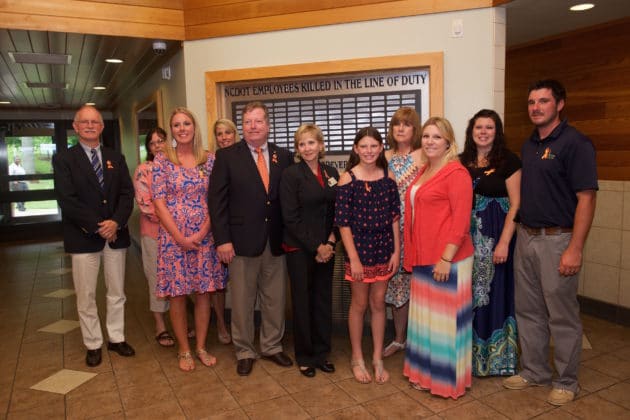 Statistics don't lie.
2016 Fast Facts:
Across North Carolina, there were 5,831 work zone crashes.
As a result of motor vehicle crashes, 3,095 people were injured in construction, utility and maintenance work zones across the state.
Twenty-six people – 24 travelers and two workers – died in state work zones.
Speeding and distracted driving accounted for more than 50 percent of all work zone crashes in the state.
Eighty-eight percent of reported work zone crashes in North Carolina occurred during dry road conditions.
More than 75 percent of reported work zone crashes occurred during daylight hours.
So what can drivers do?
Pay close attention to signs and work zone flaggers.
Turn on your headlights so workers and other motorists can see you.
Obey the posted speed limits in and around a work zone.
Do not change lanes in a work zone.
Minimize distractions: Avoid changing radio stations and using mobile phones while driving in a work zone.
To learn more about work zone safety in North Carolina, visit the NCDOT Work Zone Safety Program's website.