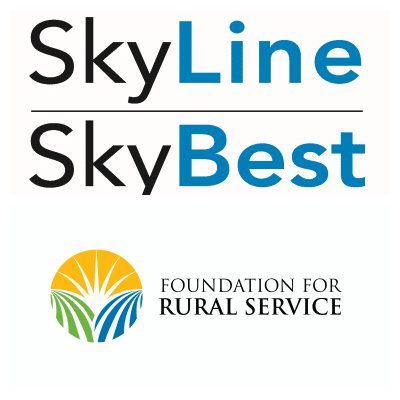 Last Updated on March 3, 2020 8:20 am
WEST JEFFERSON, N.C.–Area high school seniors whose parents are telecommunications customers of SkyLine Membership Corporation and SkyBest Communications may apply for national scholarships available through Foundation for Rural Service (FRS) and local scholarships through SkyLine/SkyBest.
This year, 30 one-time, $2,500 FRS scholarships will be awarded to rural high school seniors:  one per geographic region of the NTCA membership and one to a student sponsored by a NTCA associate member.  The remaining 19 awards will be distributed proportionate to the number of applications received per region.  FRS will fund $2,000 of each scholarship, with the sponsoring cooperative of each winning student providing a $500 match. 
Additional scholarships ranging from $500 to $5,000 in value to be awarded through this program include the following:
Staurulakis Family Scholarships. Students who are majoring in math, science, engineering or medicine will be given preference. 
TMS Scholarships.
Everett Kneece Return to Rural America Scholarship.
Roger Alan Cox Memorial Scholarships
Good Neighbor Scholarship
Herbert and Isabel Bitz Memorial Scholarship
According to the FRS, more than two-thirds of rural Americans with postsecondary degrees never return to their rural communities, so this program gives particular emphasis to those students who plan to return to their community following college. 
Other key eligibility requirements for this scholarship include the following:
Applicants must be children of SkyLine members or SkyBest customers who subscribe to either company's telecommunications services.
Applicants must be graduating from high school this year and reside full-time with their parent(s) in the companies' service area.
Applicants must have at least a "C" grade-point-average (GPA). FRS scholarships will be awarded to deserving students whose academic credentials fall within an average to above-average range.
Applicants must be accepted to an accredited two- or four-year college, university or vocational-technical school.
Applicants must express an interest to return to a rural community following graduation and be sponsored by SkyLine, an NTCA-member company.
Scholarship applications are available at all area high school guidance departments and at SkyLine Customer Service Centers in West Jefferson, Boone, Banner Elk and Sparta.  Scholarship information and application forms also may be accessed through SkyLine's website www.skybest.com/scholarships.   The FRS online scholarship deadline is March 6.
The Frank James-SkyLine Scholarship Program will award $25,000 in renewable college scholarships this spring to children of its customers who plan to attend an accredited four-year and two-year college or university.
Established by the cooperative's Board of Directors in 1987 and named in memory of former board president, educator and community leader Frank James, the scholarship program has presented more than a half million dollars in scholarship awards to date. To qualify, applicants must be children of current SkyLine or SkyBest telecommunications service customers (of at least one year), and be graduating high school seniors (including home-schooled students) in the co-op's five-county service area (Alleghany, Ashe, Avery, Watauga and Johnson). The scholarships will be awarded on the basis of scholastic achievement, financial need, demonstrated leadership and community involvement.
Applications are available at area high school guidance departments, all SkyLine Customer Service Centers and on SkyLine/SkyBest's website: www.skybest.com/scholarships. Please check with the guidance department for the local high school's scholarship deadline information, and the deadline for home school/private school applications is March 13.
For more information about either scholarship program, please contact Karen Powell, SkyLine Public Relations Administrator, at SkyLine's corporate offices at 1-800-759-2226.