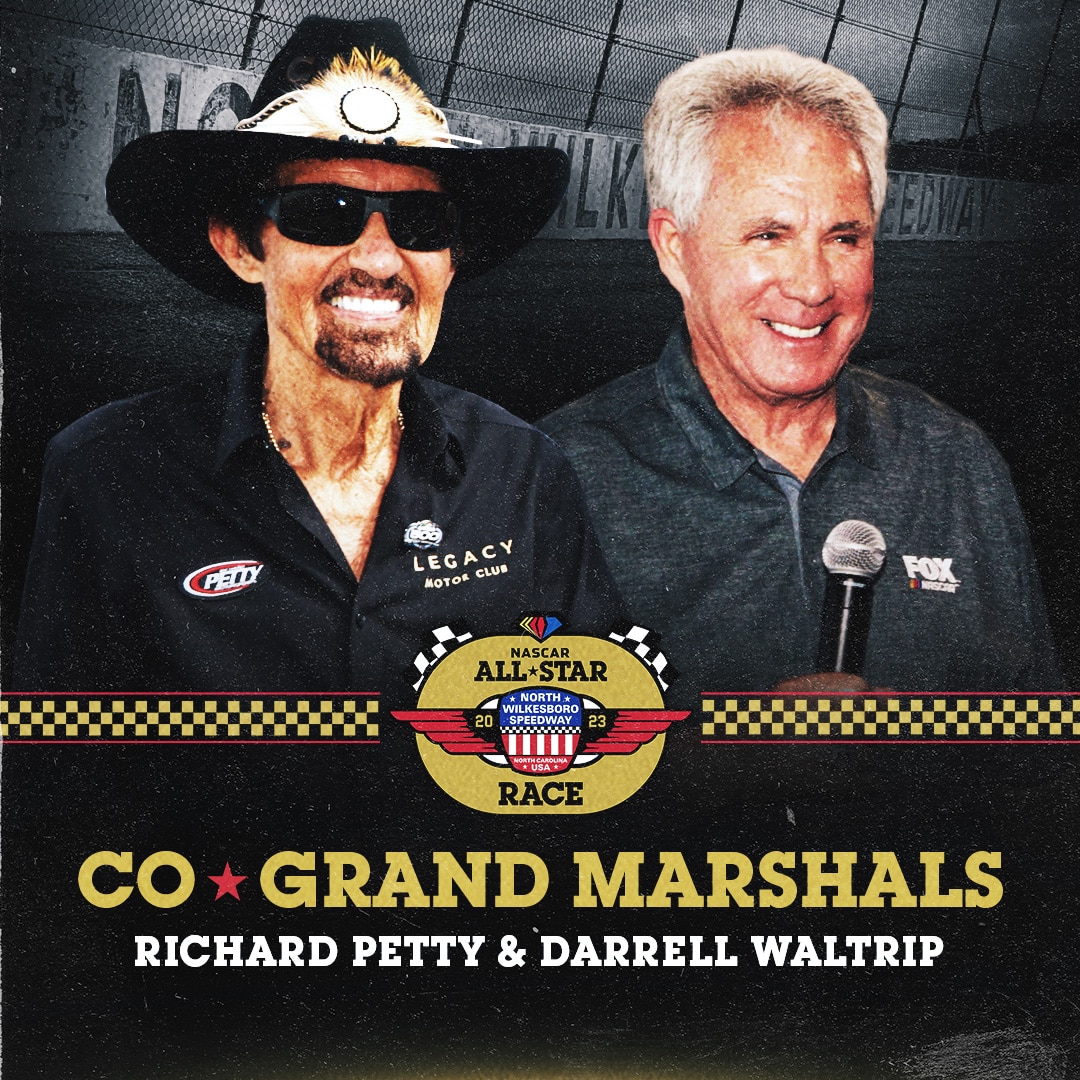 Last Updated on March 31, 2023 9:51 am
NORTH WILKESBORO, N.C. (March 30, 2023) – The winningest NASCAR Cup Series drivers in North Wilkesboro Speedway history, Richard Petty and Darrell Waltrip, will serve as co-Grand Marshals for the highly anticipated May 21 NASCAR All-Star Race.

NASCAR will return to the historic short track for the first time since 1996 with the two NASCAR Hall of Famers slated to give the command to start engines.
"Returning to North Wilkesboro Speedway during NASCAR's 75th anniversary season will be the most nostalgic highlight of a year where we remember the past by paying tribute in the present," said Speedway Motorsports President and CEO Marcus Smith. "We are honored to recognize and celebrate two true icons of NASCAR's history, Richard Petty and Darrell Waltrip, during an All-Star Race weekend that will feature the rebirth of one of our sport's original race tracks."
Both legends have plenty of history with the track, as Petty's 15 victories and Waltrip's 10 can attest. The pairing also collected a combined 284 points-paying NASCAR Cup Series wins (200 for Petty, 84 for Waltrip) and an incredible 10 championships (seven for Petty, three for Waltrip) in their storied careers. Additionally, Waltrip holds the honor of winning the inaugural NASCAR All-Star Race in 1985 at Charlotte Motor Speedway.
Today, Petty continues his service to the sport. He owned a NASCAR Cup Series team for decades and, this year, began serving as the team ambassador for LEGACY Motor Club. Waltrip retired from full-time driving at the end of the 2000 season and served as an acclaimed NASCAR on FOX color analyst from 2001-19.

The NASCAR All-Star Race format and additional dignitaries will be announced at a later date.
TICKETS:
NASCAR All-Star Race weekend ticket packages for all Friday/Saturday/Sunday activities including NASCAR Cup and CRAFTSMAN Truck Series practice and qualifying sessions; Midland, Chase Rice and Dierks Bentley concerts; NASCAR All-Star Open; NASCAR All-Star Race and Tyson 250 CRAFTSMAN Truck Series race are on sale. Single-day tickets for All-Star Friday presented by Raymer Oil and Saturday's Tyson 250 are also on sale, as well as late model tickets to the May 16 ASA Stars National Tour ECMD 150 and the May 17 Solid Rock Carriers CARS Tour's Window World 125 and Crossroads Harley-Davidson 75. Tickets can be purchased online at www.northwilkesborospeedway.com. 
BROADCAST INFO:
The NASCAR All-Star Race will be broadcast live on FS1 at 8 p.m. ET on May 21. MRN Radio and SiriusXM will provide live radio broadcasts.