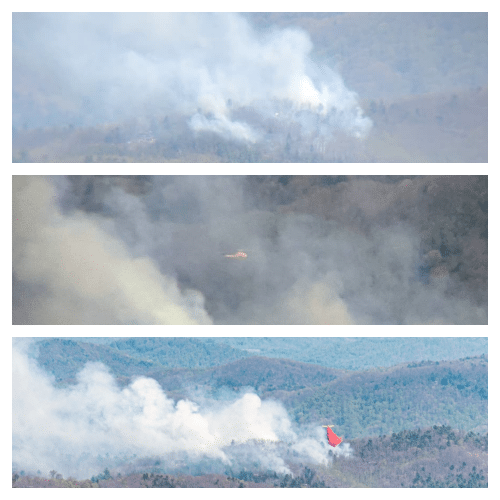 Last Updated on April 14, 2020 4:07 pm
UPDATE Tuesday April 14 3:50 pm – Andrew Harsey, Watauga County Forest Ranger, tells WataugaOnline.com that the total acreage was approximately 15 acres and the cause is not yet determined.
Initial responding agencies were: Stewart Simmons Fire, North Carolina Forest Service (NCFS), Boone Fire, Blowing Rock Fire, Watauga Emergency Management, Watauga Sheriffs Dept. Watauga Rescue Squad. Local responding fire departments provided multiple apparatuses and personnel, Ranger Harsey also stated.
NCFS had on scene: Watauga County staff, several NCFS District 2 district staff, a task force, BRIDGE crew, scout plane, helicopter, SEATS (single engine air tanker), and a dozer.
Also requested were nighttime fire watch resources which came from Meat Camp Fire and Zionville Fire.
The fire was contained at approximately 7 PM on Saturday night. Enough rain fell on Sunday to close the incident.
"Watauga County agencies and other responding NCFS resources provided such a huge help, we would not have been as successful if it weren't for the knowledge and response from everyone." Ranger Harsey stated.
---
As of 6:55 pm, fire crews from multiple agencies continue to battle a woods fire that started this afternoon.
Crews were dispatched out around 2:40 pm to a brush fire in the area of Rocky Top Road. First arriving crews estimated the fire to be around 10 to 12 acres, according to scanner dispatches at the time. With windy conditions, the fire quickly increased in size jumping a road and some containment measures.
A scout plane, helicopter and bulldozer were also dispatched to the scene. Some structures were threaten at the time of the original dispatch.
A partial list of known agencies responding to the scene include: Stewart Simmons Fire, Blowing Rock Fire, Boone Fire, NC Foresty Service, Ferguson Fire (Wilkes County), Watauga Fire Marshal's office, Watauga County Sheriff's Department.
The situation is still unfolding and WataugaOnline.com will update as more information becomes available.
Residents are also reminded that a burning ban is in effect for Watauga and 31 other western North Carolina counties. Click here to learn more.
Photos courtesy of Watauga County Emergency Management
Photo courtesy Andy Toms Photography
Photos courtesy Lance Dotson