Last Updated on November 16, 2014 8:30 pm
Here's a breakdown of the much colder conditions moving into the High Country from the National Weather Service and Brad Panovich of NBC Charlotte.
From the National Weather Service:
Most areas to avert any significant winter precipitation, but bitter cold Arctic air on the way for Tue-Wed. Another surge of Arctic air by Friday…but finally it appears much warmer weather may be on the way for the end of next week into the beginning part of the next week.
A strong Arctic cold front will bring bitter cold Arctic air to the region beginning Monday night. Widespread rain is expected in advance of the front tonight and Monday…but it appears any winter precipitation will be limited to far northern areas this evening and not cause any problems as temperatures warm above freezing.
Behind the front Monday evening into Tuesday morning, snow showers are expected across the upslope areas of the Alleghanys in eastern West Virginia into far southwest Virginia. Snow accumulations of 1-3 inches…locally 4…will be possible in these areas…with up to 1 inch possible across the mountains of northwest North Carolina. Temperatures by Tuesday morning will be in the single digits with wind chillls to at least -5F in these same areas…with temperatures elsewhere in the teens west to the lower 20s Piedmont…also along with significant wind chills!
Another less impressive Arctic surge is expected by Thursday…but warmer weather is finally on the way for next weekend and into early the following week. We might even see temperatures back in the 60s across the Piedmont and possible even a thunderstorm the first part of the week of Thanksgiving!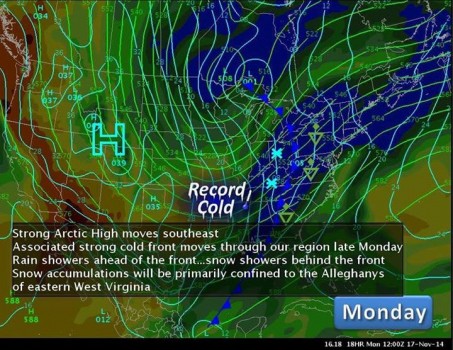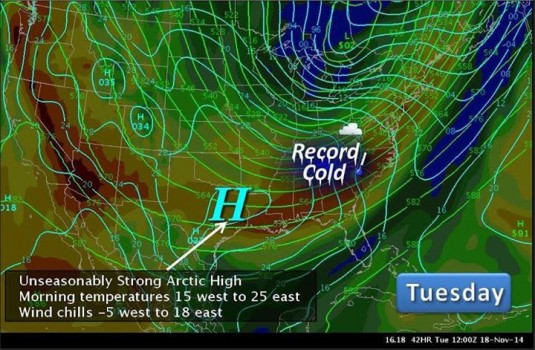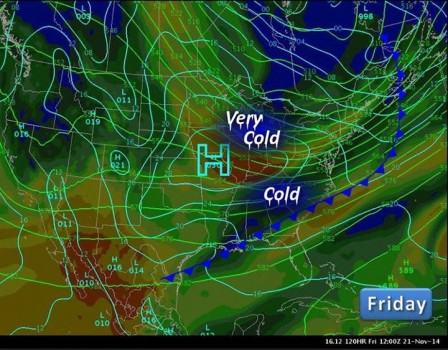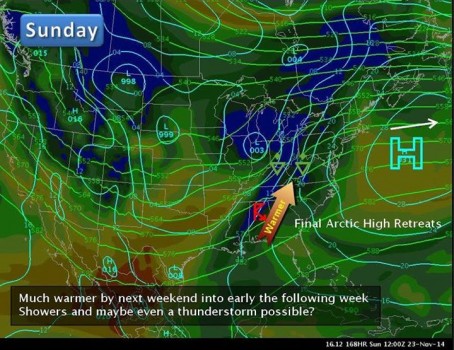 Brad Panovich – NBC Charlotte