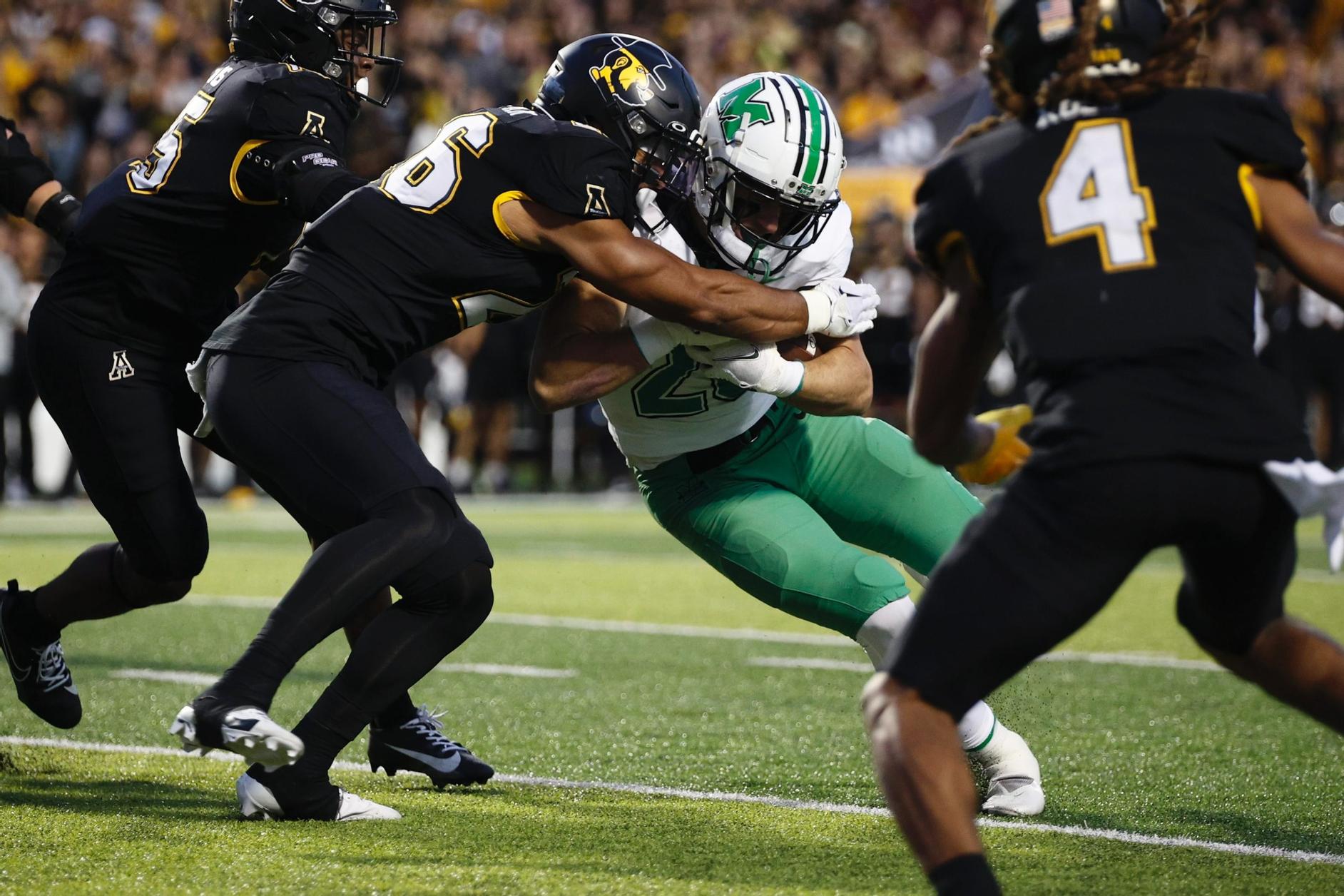 Last Updated on November 5, 2023 10:14 am
BOONE, N.C. — A historic nighttime appearance at The Rock coincided with a resounding victory over a longtime rival.
Playing a post-October night game in Kidd Brewer Stadium for the first time and facing Marshall in a home conference game for the first time since 1996, App State rolled to a 31-9 victory against the Thundering Herd on Saturday in front of 34,057 fans, plus an NFL Network audience.
It was App State's third-largest margin of victory in the series and the largest since a 40-0 win in 1985.
The Mountaineers (5-4, 3-2 Sun Belt) held a 28-3 lead midway through the third quarter thanks to three touchdown passes from Joey Aguilar, with the first App State touchdowns by receivers Michael Hetzel (16 yards) and Makai Jackson (29 yards) following a 24-yard scoring reception from Kaedin Robinson.
Rasheen Ali's 43-yard run set up a field goal on Marshall's second drive, but App State's defense held the Thundering Herd offense in check until a 43-yard scramble by quarterback Cam Fancher set up a short touchdown that cut into the 25-point deficit. That accounted for Marshall's only points on a night when the Mountaineers intercepted three passes and recorded three sacks.
Jordan Favors had two fourth-quarter interceptions, including one in the end zone, and Donovan Spellman's diving pick at the Marshall 17 set up App State's second touchdown of the night. Spellman also recorded a sack with help from pressure from Kevon Haigler, while Shawn Collins and Trenton Alan Yowe were responsible for the other two sacks.
Andrew Parker Jr., Marshall transfer EJ Jackson and Santana Hooper made big contributions as the Mountaineers totaled seven tackles for loss.
Marshall (4-5, 1-4) had a chance to rally with the ball down 28-9, but Spellman and Alan Yowe had sacks during an extended drive that moved into App State territory before Favors picked off a fourth-and-long pass.
Aguilar's touchdown pass to Robinson gave App State 7-3 lead early in the second quarter, and the Thundering Herd started the next drive inside its own 10 before Spellman made his diving interception of a second-down throw. Four plays later, receiver Milan Tucker took an end-around pitch and scored from the 3 for the first rushing touchdown of his career.
Hetzel scored with 1:29 left in the first half to help produce a 21-3 halftime lead, and Jackson's touchdown midway through the third quarter gave App State its biggest lead of the season.