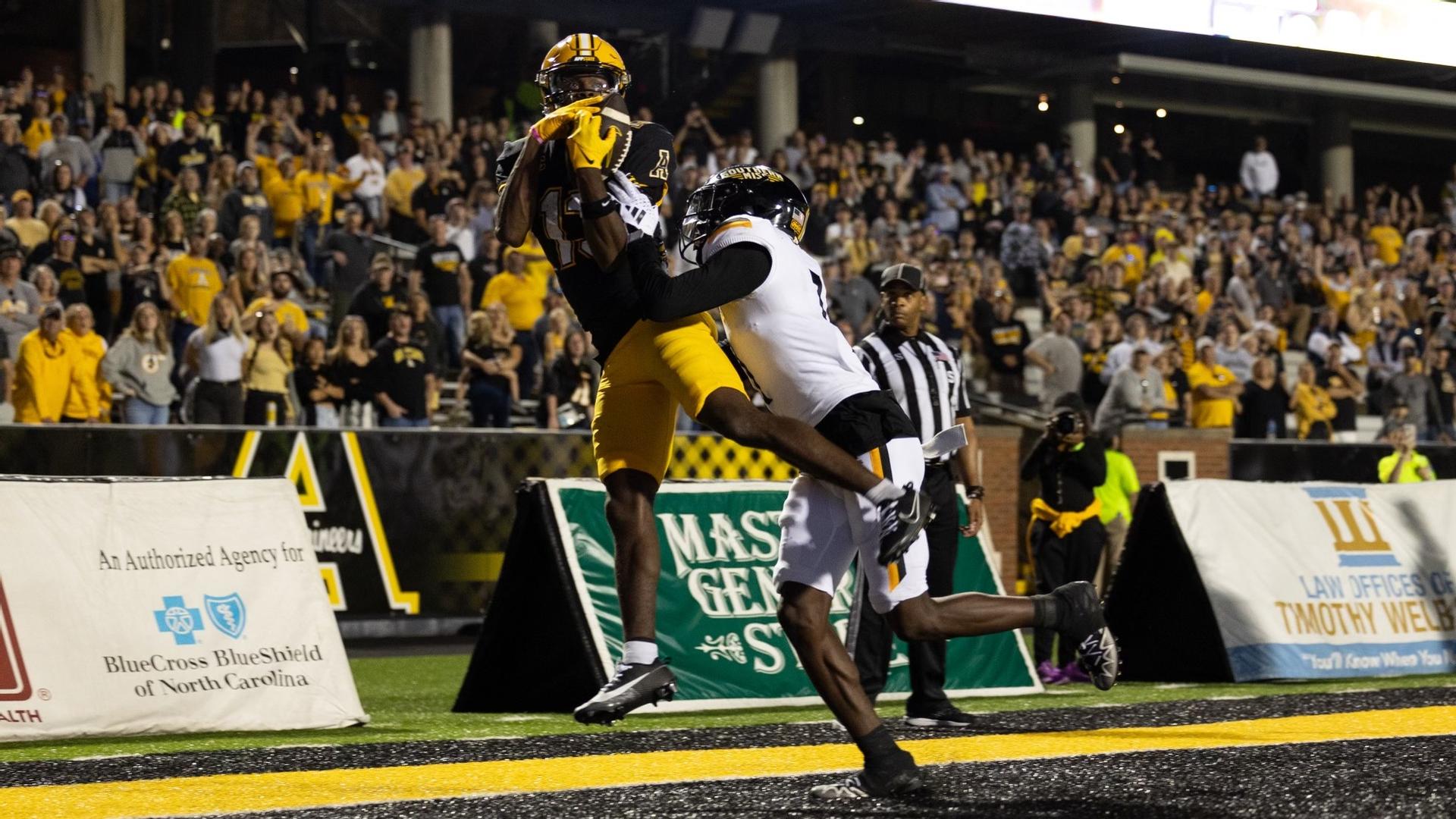 Last Updated on October 29, 2023 1:43 pm
BOONE, N.C. — In a season with so many down-to-the-wire finishes, sealing a victory with eight seconds remaining almost felt pedestrian, giving App State's coaches and players at least a moment or two to exhale.

Trailing almost the entire game, App State took its first lead with 6:37 remaining and scored 20 unanswered points over the final 12 minutes to pull out a 48-38 homecoming win against Southern Miss on Saturday night in front of 32,601 fans at Kidd Brewer Stadium. The final touchdown occurred after the Mountaineers — looking to either extend their lead, run clock or accomplish both — dropped back to pass on a fourth-and-8 snap from the Southern Miss 21 with 14 seconds left.

Five straight App State games and six of the last seven have been decided in the closing seconds.
"I'm very proud of our team," App State head coach Shawn Clark said. "They really continued to fight. All the credit goes to our players to find a way to win. Our mantra all week was to keep digging — that we were close to getting through — and our kids did that. We didn't play a very good first half on both sides of the football, and we came in and said we'll either find a way or make a way. Our players made a way today."

Joey Aguilar bounced back from committing two turnovers late in the first half to finish with four touchdown passes and a season-high 391 passing yards on 23 completions, while Christan Horn scored two fourth-quarter touchdowns in a career-best performance that included eight catches for 165 yards. Kanye Roberts rushed for 86 of his 109 yards on back-to-back carries in the fourth quarter.

Defensively, Caden Sullivan made one of the game's biggest plays by delivering a second-half sack and forcing a fumble that teammate Michael Fletcher recovered at the Southern Miss 1 to set up a touchdown. Andrew Parker Jr. had 13 tackles and E.J. Jackson added 11 to lead a defense that came up with two critical fourth-quarter stops.

With the Mountaineers (4-4, 2-2 Sun Belt) trailing 38-28 early in the fourth quarter, the comeback began on Aguilar's 49-yard touchdown pass to a tackle-breaking Horn on a third-and-9 throw. Jackson's tackle short of the sticks on a third-and-10 throw by Southern Miss forced a punt, and Roberts' 61-yard touchdown run on the third play of the next series helped put App State ahead 42-38.

Southern Miss (1-7, 0-5) drove all the way to the App State 30 before Jordan Favors used a powerful hit to break up a fourth-and-2 pass and give the Mountaineers' offense the ball back with 2:44 remaining. Roberts' 25-yard run that ended with a personal foul produced one important first down at the Golden Eagles' 23, and App State faced a third-and-6 scenario from the 19 when Aguilar tossed a pass in the flat to open tight end Eli Wilson.

Just as Wilson crossed the 13-yard line for an apparent first down, Southern Miss forced a fumble with a jarring hit. Aguilar pounced on the loose ball in a crowd of bodies, but the recovery at the 21 took away the first down and created a fourth-and-8 situation with 14 seconds left.

Instead of attempting a field goal that, at best, could extend the lead to seven points, or wasting time before giving Southern Miss possession with a four-point deficit, App State decided to go for a touchdown and possibly bring pass interference into play. Aguilar fired a perfect strike to a well-guarded Horn, who managed to catch the ball and get one foot down in the right-corner of the end zone.
"If you kick a field goal, and they block a field goal, we've been there before (at Wyoming)," Clark said. "Go score a touchdown, the game is over. If you get a field goal, you're only up seven. Go for a touchdown, you might get a (pass interference) or you score a touchdown. That's the mentality we had."
From the time Southern Miss scored less than three minutes after the opening kickoff until Roberts' touchdown run with 6:37 left, the Mountaineers trailed for essentially 40 of the next 51 minutes, pulling even at 7-all and 14-all.

App State's one official takeaway was a huge one.

The Golden Eagles had possession with a 10-point lead in the closing minutes of the third quarter before a blitzing Sullivan jarred the ball loose on an up-the-middle sack, and Fletcher's recovery at the Southern Miss 1-yard line set up a short touchdown run from Ahmani Marshall.

Southern Miss did answer with a 13-play, 75-yard touchdown drive that ate up more than six minutes, helped by a third-and-2 conversion and third-and-3 conversion in advance of Jakarius Caston's 11-yard touchdown run early in the fourth quarter. From there, the Mountaineers had a 213-64 in yardage gained, as Aguilar completed six of his next seven passes for 93 yards and two scores.

App State trailed 24-14 at halftime, with the Golden Eagles breaking a 14-all tie on a 10-yard touchdown run to finish a drive that included a third-and-9 run for 10 yards and a 43-yard run from the Wildcat formation by Frank Gore Jr., who rushed for 247 yards and two touchdowns on 24 attempts.

An App State turnover on an intercepted pass preceded Southern Miss' 42-yard field goal with 2:05 left in the half, and App State committed another turnover on a lost fumble from the USM 42 in the final minute. Fortunately for the Mountaineers, the Golden Eagles missed a field goal for the second time in the half, failing to convert from 50 yards as the half expired.

Maquel Haywood's 8-yard touchdown run — his first score as a Mountaineer — helped tie the game late in the first quarter, and App State used some pre-Halloween trickery to even the score midway through the second quarter. With the quarterback and running back standing side-by-side at the Southern Miss 26, they shifted over a step so Haywood could take the direct shotgun snap, and he then handed the ball off to Aguilar.

Aguilar rolled right and threw to a wide-open Wilson, who scored easily with blockers ahead of him down the right sideline.

Getting the ball to begin the second half, App State overcame some early drive struggles, benefited from a personal foul on a sack and cut its deficit to 24-21 on Aguilar's 57-yard touchdown pass to Dashaun Davis.
The Golden Eagles responded immediately, with Gore rushing for a 75-yard touchdown on the first play of the next series, but the Mountaineers limited Southern Miss to 17 yards on the six rushing attempts during the two fourth-quarter drives in which App State made stops to help secure a win on Homecoming Saturday.
"There's a lot of pride here, and that's what makes Appalachian State different," Clark said. "This is home, and when people come back to Boone, they come home. We're very fortunate we were able to give the fans a victory and all the alumni, so it's a good day to be a Mountaineer.
"I say this all the time, that nothing comes easy when you're a Mountaineer. We weren't born on third base. We had to work for everything we had. That's not just the football program; that's everyone who's come to Appalachian State. That's what makes this place special and what makes these victories special."