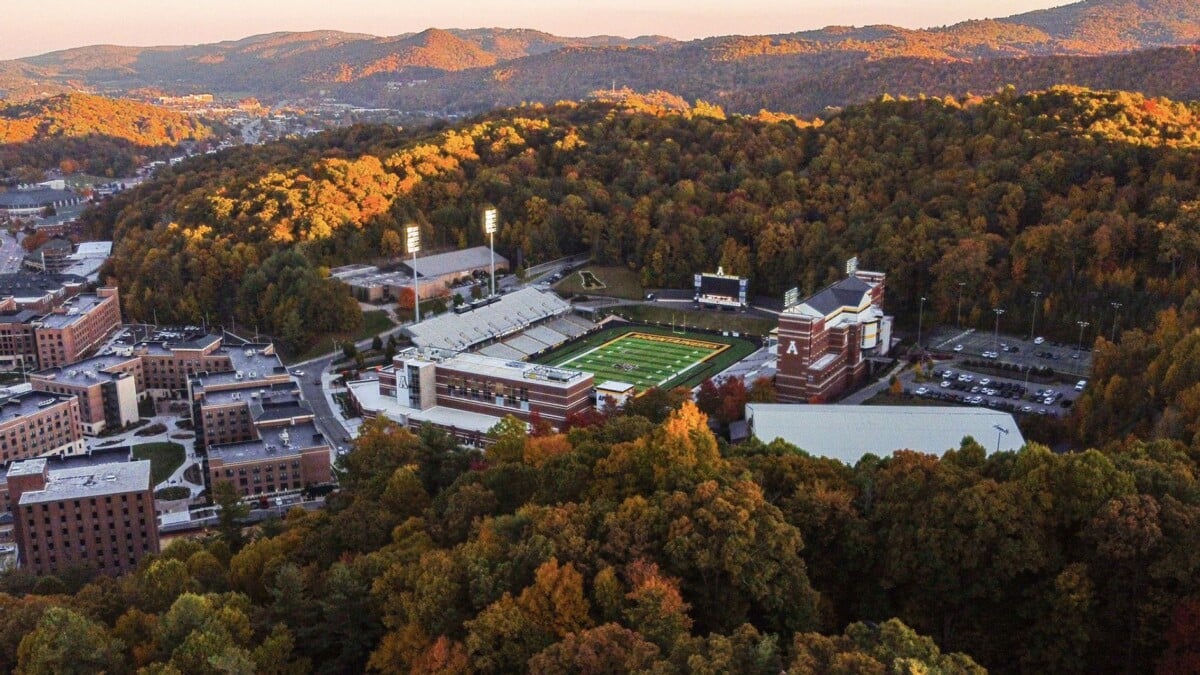 Last Updated on January 19, 2023 5:54 pm
BOONE, N.C. — App State Football has added eight transfers as early enrollees with the 2023 spring semester beginning next week, head coach Shawn Clark announced Thursday.

The newcomers with previous Division I football experience are, listed in alphabetical order: Shawn Collins (DE, Rutgers), Michael Fletcher (DE, Michigan State), Scoobie Ford (WR, Mississippi State), Tyrek Funderburk (CB, Richmond), Maquel Haywood (RB, Navy), Makai Jackson (WR, Saint Francis), Jack Murphy (OL, Marshall) and Jarrett Paul (SAF, Kansas).

Additionally, 11 members of the December signing class (high school prospects and junior college transfers) are enrolling early and starting classes next week. Those newcomers are, listed alphabetically: Joey Aguilar (QB), Kason Boston (DE), Jaylon Calhoun (RB), Cahari Haynes (LB), Nate Johnson (DE), Mitchell Lake (P), Chris Lawson Jr. (WR), Mason McHugh (QB), AJ Mebane (DE), Jalik Thomas (SAF) and Trenton Alan Yowe (CB).

With 19 total newcomers enrolling this month, plus eight December signees who will arrive later, that group of 27 newcomers to date includes five defensive ends, four safeties, four receivers, three cornerbacks, three linebackers, two quarterbacks, two running backs, two offensive linemen, one tight end and one punter.

Below are bios for the eight Division I transfers. Click HERE for bios on the 19 signees from December.

Shawn Collins — DE
6-5, 250
Montclair, N.J. (Rutgers)
Prior to App State: Member of Rutgers' program for three seasons and appeared in six games during a 2022 season that was officially his redshirt freshman season … Didn't appear in any games as a redshirting player in 2021 and was with the Scarlet Knights during a 2020 season that didn't count against a player's eligibility … Recovered a fumble and broke up a pass against Penn State before finishing the 2022 season with six tackles … Season-high four tackles against Wagner and also had a stop against Ohio State … Five of six appearances came against Power Five programs, with four appearances in Big Ten play … Gained nearly 25 pounds during his three years at Rutgers … Played for head coach John Fiore at Montclair High School … Started at tight end and along the defensive line for the Mounties … Caught eight passes for 125 yards and three touchdowns … Added 28 tackles, including 5.5 for loss and four sacks … Named to the 2019 Jersey Sports Zone All-Zone Team as a tight end … Caught a pair of touchdowns, including the game-winner against Irvington … Named First Team All-SFC Liberty Blue Division by NJ.com … Earned All-Essex County first-team honors on defense … Rated a top-40 recruit in New Jersey by 247Sports and top-30 prospect by Rivals.

Michael Fletcher — DE
6-6, 260
Flint, Mich. (Michigan State)
Prior to App State: Member of Michigan State's program for four seasons, with three sacks (including two in one game against Ohio State), four tackles for loss and 31 stops in 22 career games (three starts) from 2019-22 … As a redshirt sophomore in 2022, had 13 tackles in eight games, contributing to a tackle for loss against Ohio State and blocking a kick against Indiana … Season-high four tackles at Michigan with multiple stops in four more Big Ten games … Played in one game as a redshirting true freshman in 2019 and had three sacks while playing in all seven games during a 2020 season that didn't count against his eligibility … Played in six games during the 2021 season … Multi-year Academic All-Big Ten honoree … Ranked the No. 1 high school defensive end prospect in the state of Michigan by 247Sports and ESPN.com . . . Listed among the best overall players in the state of Michigan by 247Sports (No. 9), ESPN.com (No. 13) and Rivals.com (No. 16) . . . Rated one of the top defensive ends in the nation by 247Sports (No. 25) and Rivals.com (No. 46) . . . Ranked one of the best 50 players in the Midwest (No. 45) by ESPN.com . . . Two-time MLive Flint Dream Team selection . . . First-team all-state selection (Division 1-2) by the AP and Detroit Free Press as a junior . . .  Also a standout basketball player, starting all four years and leading Carman-Ainsworth to three straight Saginaw Valley League Championships.

Scoobie Ford — WR
5-11, 175
Atlanta, Ga. (Mississippi State)
Prior to App State: Member of Mississippi State's program for three seasons, with 17 game appearances and 19 catches for 247 yards … Played in the last nine regular season games as a redshirt junior in 2022 and totaled eight catches for 66 yards, with three multi-catch games … Made one start (at Auburn) in eight games as a redshirt sophomore in 2021, when he totaled 19 catches for 247 yards … In 2021, had four catches for 40 yards in a win at Texas A&M, five catches for 63 yards against Vanderbilt and 65 receiving yards against Arkansas … Did not appear in a game as a Mississippi State newcomer during a 2020 season that didn't count against his eligibility … Began collegiate career at Georgia Southern in 2018 (redshirted) and spent the 2019 season at Iowa Western Community College, where he caught 14 passes for 304 yards (25.3 average) with two touchdowns … Prepped at Marietta High School under head coach Richard Morgan … Three-star prospect per Rivals and 247Sports … Tabbed team MVP as a senior … As a senior, caught 43 passes for 602 yards and six touchdowns … As a junior, made 37 catches for 517 yards and two scores … Born Christian Armin Ford and is nicknamed Scoobie … Father, Glenn, lettered in football at Georgia from 1994-98 … Has seven siblings, including one brother, Jordan, who was a running back at Tulsa during the 2022 season.

Tyrek Funderburk — CB
6-0, 185
Indian Trail, N.C. (Richmond)
Prior to App State: North Carolina native was a member of Richmond's program for five seasons from 2018-22 and used three seasons of eligibility while totaling seven interceptions and 77 tackles in 41 game appearances (19 starts) … Made four interceptions and defended 14 passes during a redshirt junior season in 2022, when he also had 39 tackles and two forced fumbles in 13 games (starts in nine of the last 10 games) … Had two interceptions apiece against Sacramento State (in the FCS playoffs) and Stony Brook (a game in which he scored on a 30-yard interception return and also broke up three more passes) … Season-high eight stops against William & Mary in 2022 … Officially redshirted in 2018 (after playing in four games) and played in 12 games as a 2019 redshirt freshman before being a second-team All-CAA selection during a 2021 spring season that didn't count against his eligibility … Made five starts in eight games during a fall 2021 season in which he was named to the CAA's academic honor roll … Three-year varsity starter and two-time all-state performer at Metrolina Christian Academy in North Carolina … Triple jump state champion in high school and three-time state medalist … Also a conference champ in the long jump, 100 meters and 4×100 relay … School record-holder in the triple jump, long jump, 4×100 relay and 4×200 relay … First name is pronounced TIE-Reek.

Maquel Haywood — RB
5-8, 190
Wake Forest, N.C. (Navy)
Prior to App State: North Carolina native played running back for Navy during the 2021 and 2022 seasons … Over 20 games, totaled 1,334 all-purpose yards with three touchdowns, including 916 all-purpose yards as a sophomore in 2022  … Rushed for 473 yards on 73 carries (6.5 average) in 12 games during the 2022 season, when he also returned 17 kickoffs for 306 yards and caught eight passes for 137 yards and two touchdowns … Scored on touchdown receptions of 20 yards against Notre Dame and 25 yards in overtime against Army and had a long run of 44 yards at SMU … Career-high 95 rushing yards (on eight attempts) against SMU in addition to 67 yards against ECU and 54 yards (on eight rushes) against Memphis … Ranked ninth in the AAC with 18 Mak of 10-plus yards (or on 24.6 percent of his carries) … In eight games as a freshman, had a 98-yard kickoff return for a touchdown against East Carolina en route to 372 yards on 12 kickoff returns (31.0 yards per return) … Had a 48-yard return against Cincinnati, with returns of 35-plus yards against SMU and Tulsa … In 2021, also had nine rushing attempts, one reception and five tackles … At Wake Forest High School outside of Raleigh, scored 33 touchdowns and rushed for more than 2,000 yards, including 1,222 as a junior and 809 during an injury-shortened senior year … Helped Wake Forest win state titles in 2017 and 2018 … After graduating from Wake Forest in 2020, attended the Naval Academy Prep School during the 2020-21 year … First name is pronounced Muh-KEL.

Makai Jackson — WR
6-0, 190
Croydon, Pa. (Saint Francis)
Prior to App State: In 2022, had 85 catches for 991 yards with nine touchdowns in 12 games as a college newcomer at Saint Francis in Pennsylvania, contributing to HERO Sports Freshman All-America recognition from a 9-3 team that went 7-0 in league play and reached the FCS playoffs … Northeast Conference Rookie of the Year as well as a first-team all-league performer … Had five 100-yard receiving games in 2022, highlighted by 11 catches for 117 yards against Wagner and eight catches for a season-high 123 yards against Richmond … Totaled 1,125 all-purpose yards, including a 79-yard kickoff return for a touchdown … All-league standout at Harry S. Truman High School, where he played for coach Benjamin Johnson … Three-sport athlete also played basketball and baseball.

Jack Murphy — OL
6-4, 290
Fairfax, Va. (Marshall)
Prior to App State: Member of Marshall's program for three seasons … Used first year of eligibility in 2022 (when he made one appearance against Gardner-Webb) after redshirting in 2021 and being part of the Thundering Herd during a 2020 season that didn't count against his eligibility … Rated a three-star prospect out of Bishop O'Connell by 247Sports.com before spending a year as the left tackle at Fork Union Military Academy … Played on both sides of the ball in high school and earned first-team all-state honors as a senior.

Jarrett Paul — SAF
6-1. 200
Brooklyn, N.Y. (Kansas)
Prior to App State: Totaled 40 game appearances and 20 starts as an FBS defensive back from 2018-22, playing three seasons that counted against his eligibility … Played in the first four games of the 2022 season for Kansas, totaling four tackles, with three coming in the season opener … Member of Rutgers' program from 2018-19, with 41 tackles and eight starts at free safety in 2019, before sitting out the 2020 season and posting 46 tackles (28 solo) for Eastern Michigan in 2021 … Appeared in 12 games as a Rutgers true freshman in 2018 and 11 more as a sophomore … In 2019, had eight stops against Michigan and 10 tackles against Boston College … During the 2021 season for EMU, had seven stops against Ball State and five against Wisconsin … Coached by Dan Sabella at Paramus Catholic, the same program that produced All-Sun Belt tight end Henry Pearson … Ranked as a three-star recruit by 247Sports … Rated No. 24 overall recruit in New Jersey by Rivals.com … Finished senior season with 23 solo tackles (35 total) … Honorable mention All-Metro in 2017 by News12 Varsity … Top-rated 2018 cornerback in New Jersey according to 247Sports.com and Rivals.com.