Last Updated on November 4, 2015 9:01 pm
The second of two Thursday night home football games for Appalachian State takes place this week. On Tuesday (Nov 3, 2015), officials with ASU sent out an email to faculty and staff about parking changes. The information is below.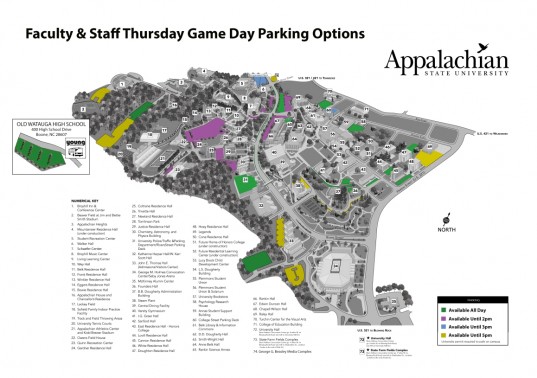 IMPORTANT FACULTY/STAFF PARKING INFORMATION FOR FOOTBALL GAME DAY THIS THURSDAY, NOVEMBER 5, 2015
The faculty, staff and students who comprise the parking committee thank the campus community, fans and the Town of Boone for partnering with us to navigate the first Thursday night football game held on our campus.  The committee met last week to review and discuss opportunities for improvement. We thank everyone for following the parking plan and offering solutions for improvement. Following is the game parking detail for faculty and staff.
FACULTY/STAFF
All Day:
Rivers Street Parking Deck
Rivers Street Parallel Parking
Hill Street Lot
Greenwood Lot (Upper Side; spaces 1-­126)
Half of the Peacock Lot (formerly Raley Lot ­ Rivers Street side; spaces 1-­150)
Edwin Duncan Octagon
East Howard Street Lot
Turchin Center Lot
Administration Lot
East Hall Lot
Lovill Lot
Cannon Lot
Founders Hall Lot
Academy Street (in front of IG Greer)
Parking lots available until 2pm. All cars need to be moved to an alternate location after this time.
Edwin Duncan Lot
Half of Peacock Lot (formerly Raley Lot- Howard Street side; spaces 151-302).
Schaefer Center Lot
Broyhill Music Lot
Garwood Hall Lot
Quinn Center Lot
Parking Lots available until 3pm. Only game day parking permits admitted after 3:00 pm.
Library Deck
Student Recreation Center
Parking Lots available until 5pm. All cars need to be moved to an alternate location after this time.
Holmes Center Lot
John Thomas Lot
University Drive
Beasley Lot
Legends Lot
NOTE:
Park and ride options will continue at the Old Watauga High School parking lot located off NC 105 (at NC 105 and High School Drive), near McKethan's Barbeque Restaurant. Faculty and Staff may park their vehicles at no expense and ride a shuttle to the Peacock Circle every 15 minutes from 7 a.m. to 3 p.m. At 3 p.m., the shuttle will change over to a Game Day shuttle service that will run from the Old WHS Lot to the East Gate Circle at Kidd Brewer Stadium. Faculty and Staff may leave their vehicles at the lot at no charge until after the game.
MAP – Click on the link below for a map that shows Faculty/Staff Thursday Game Day Parking Options: