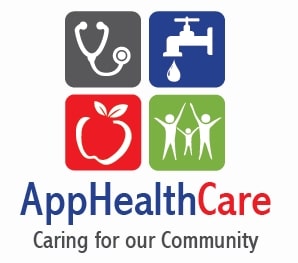 Last Updated on November 21, 2023 4:01 pm
Welcoming a new baby is an exciting and sometimes challenging time. AppHealthCare offers the Mother-Baby Home Visiting program to provide support for families of newborns within the comfort of their own homes because we all need a little support from time to time.
The program is coordinated by highly skilled and compassionate nurses and staff who come alongside families and provide support and resources based on the family's unique needs. This support is available to all families of newborns in Ashe, Watauga, and Avery Counties. AppHealthCare hopes to expand to Alleghany County in the near future. For Spanish-speaking families, a Spanish-speaking nurse is available.
AppHealthCare is appreciative of the strong partnerships with hospitals, pediatrician offices, and obstetric and gynecological practices that help make the Mother-Baby Home Visiting program successful and able to serve families in the High Country.
How does the program work?
At 3 weeks postpartum or at any point within the first 3 months after delivery, a nurse will visit your family at your home to check on mom, baby, and the whole family. The visit includes:
Weight and vitals check-up for baby
Check-up on mom's health
Information and tips on bath time, changing diapers, and safe sleep
Screening for postpartum anxiety and depression
Information about local childcare
Feeding support
Helpful tips for moms planning to go back to work
And more!
The program also provides a meal for the family and a gift bag. A big thanks to F.A.R.M. Cafe and Stick Boy Bread Co. for providing the food for the family meals.
All Mother-Baby Home Visiting nurses are highly trained and are passionate about caring for families of newborns. They have many years of experience and are invested in supporting families as they welcome the newest members of our communities.
The Mother-Baby home visit is a separate and additional visit from routine healthcare provided by pediatricians, Ob-Gyns, and other healthcare providers. The Mother-Baby home visit is intended to enhance healthcare that is already being provided to newborns and their families.
How do families register for the program?
Families can complete the online registration form (forma en Español) and a member of the Mother-Baby Home Visiting team will reach out to schedule an appointment. All families are welcome to participate.
AppHealthCare extends its sincere thanks to The Children's Council in Watauga County for starting this program and administering it for the last few years. With the support of a Preschool Development Block Grant, the Children's Council and AppHealthCare partnered for a three-year pilot of the Family Connects program. The partnership with AppHealthCare and the Children's Council over the last few years has provided home visits that have helped hundreds of local families with needed support as they welcome the newest little members of their families. AppHealthCare is excited to announce this program will be able to continue growing and serving families in the High Country.
For questions or more information about the Mother-Baby Home Visiting program, visit AppHealthCare's website, email motherbaby@apphealth.com, or call (828) 264-4995 ext. 2229 (BABY).
For additional information about AppHealthCare or other community resources and health-related data, please call AppHealthCare at – Alleghany (336) 372-5641, Ashe (336) 246-9449, Watauga (828) 264-4995 or visit www.AppHealthCare.com and follow them on Twitter and Facebook.