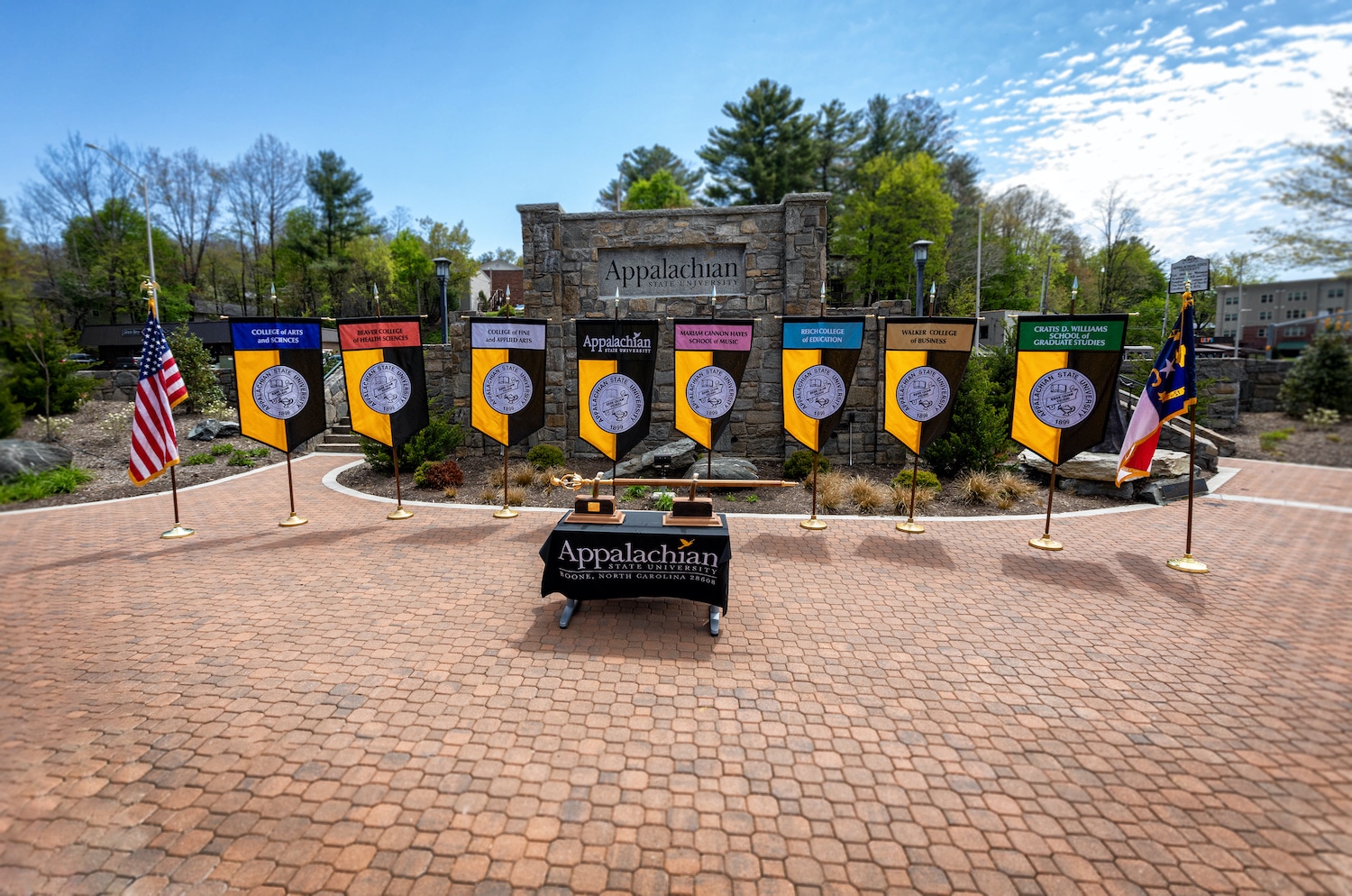 Last Updated on February 12, 2022 6:44 pm
BOONE, N.C. — As 2020 comes to a close — a year marked by the global pandemic — Mountaineers near and far will celebrate more than 1,700 Class of 2020 graduates during Appalachian State University's virtual Fall 2020 Commencement. A total of 1,348 undergraduate and 361 graduate students who have applied to receive their degrees in December will be recognized.
In a letter congratulating December's graduating class, App State Chancellor Sheri Everts commended students for their academic achievement and perseverance during the pandemic. "Although you will not physically cross the commencement stage this December," her letter stated, "you are taking part in a defining moment in our university's history. Your accomplishments have prepared you to make positive changes in our world."
The virtual commencement, to take place Friday, Dec. 11, at 4 p.m., will be available on App State's commencement website. A permanent YouTube video link will be available after the event, allowing graduates to continue sharing the momentous occasion.
The name of each candidate who has registered for Fall 2020 Commencement will be read and displayed during the event.
The event's keynote speaker is App State alumnus and WBTV News anchor John Carter '79. Carter is a 34-year veteran of Charlotte-based WBTV and co-anchors the station's morning and noon news shows.
Two members of the graduating Class of 2020 will also speak:
Hayes School of Music performer Samantha Latino, a senior from Charlotte, will sing "If There Were Dreams to Sell," composed by John Ireland. Dr. James Douthit, dean of the Hayes School of Music, will accompany her on piano. Latino will graduate with a Bachelor of Music (B.M.) music education–general music education (K–12), a B.M. in music education–choral music education (K–12) and a B.M. in music performance–voice.
Prior to the virtual ceremony, graduates received a commencement packet that included the diploma cover presented to all App State graduates during the university's in-person commencement ceremonies, as well as additional items to help graduates augment individual celebrations and remember and share their achievement.
About keynote speaker John Carter
After graduating from App State in 1979 with a bachelor's degree in communication arts with a concentration in broadcasting, John Carter began working as a news assistant at Charlotte's WBTV. From 1979–89, Carter worked as a general assignment reporter, consumer reporter, western bureau chief/reporter, news producer/consumer producer and news producer/managing editor. He was also host of the WBTV show "Carolina Camera," traveling across North and South Carolina as a feature reporter.
Over the next seven years, Carter formed his own video production business and opened a comic book shop in Lincolnton. He was elected to the North Carolina Senate, representing the state's 25th District, and served as a public information specialist for Mecklenburg County. He eventually returned to WBTV in 1996 to anchor its morning news show and later "WBTV News at Noon."
A survivor of prostate cancer — the No. 1 cancer in U.S. men — Carter routinely shares informative news and feature reports about the disease and works closely with the American Cancer Society to share its message about the life-saving importance of early cancer detection.
Carter has received numerous awards and honors for his video and journalistic work. He is also a 1992 recipient of the Order of the Long Leaf Pine, North Carolina's highest civilian award. In spring 2014, he delivered the commencement address for App State's College of Fine and Applied Arts, of which he is a graduate.
About the student speakers and musical performer
Wendell Addy is graduating from App State as 2020's top computer information systems (CIS) student in the Walker College of Business. The 4.0 GPA senior, who was born in Liberia and grew up in Texas, holds an associate degree from Wake Technical Community College and will earn his BSBA in computer information systems.
Since transferring to App State in summer 2019, Addy's success as a Mountaineer has been on a fast track: In addition to a scholarship he received for the top 2020 CIS student honor, Addy was awarded merit-based scholarships when he was accepted to App State, which he said enabled him to focus on his coursework and professional development. In the 2019–20 academic year, he earned a spot on the Chancellor's List — awarded to full-time students with a GPA of 3.85 or higher. He also was inducted into Beta Gamma Sigma, a national honor society for business students.
After engaging in three virtual internships this summer, Addy secured a job offer from Citrix Systems Inc., a multinational computer software company. After he graduates in December, he will serve as a technical analyst at the company's Fort Lauderdale, Florida, headquarters.
"Being able to live out my dreams — I will attribute that to App State," he said.
Hayes School of Music (HSOM) senior Samantha Latino, of Charlotte, will graduate from App State with Latin honors, receiving her B.M. in music education–general music education (K–12), B.M. in music education–choral music education (K–12) and B.M. in music performance–voice.
Latino was introduced to App State by the university's Cannon Music Camp, a three-week, residential course of musical instruction course for high school students offered during the summer. Latino was a "Cannon camper" for three years. "The camp allowed me an inside look on what being a music student at App State would be like, in addition to getting to know App State's faculty, campus and culture," she said.
While at App State, she has been involved with HSOM's Chamber Singers and University Singers choirs, as well as the Knitting and Crocheting Club. She has also represented vocal performance students as a member of HSOM's Student Advisory Board.
After graduating, Latino aims to teach music in North Carolina at the elementary level. She is also considering pursuing a future master's degree in vocal performance.
Latino is a recipient of the Joe and Anna Phelps Music Scholarship and the Mariam Cannon Hayes Endowment for Music Excellence Scholarship. "My scholarships provided me with not only financial assistance but the knowledge that other people believed in me," she said.
Jennifer McCracken, who is among the Hickory cohort of students in App State Online's MPA distance education program, will earn her MPA with a concentration in public management.
McCracken serves as health director of Catawba County Public Health (CCPH), a position she has held since mid-March, when the county announced its first case of COVID-19. A registered nurse, McCracken joined CCPH in 1998 and was named the department's assistant director in 2016 before being named interim director in 2019.
She said her pursuit of App State's MPA has exposed her to broader areas of government and provided her with advanced knowledge in finance, budgeting, health policy, personnel administration and program evaluation — knowledge she can apply directly in her current role to reimagine local public health both during and in the aftermath of the pandemic.
"The relationships I have built while at App State are some of my most valuable," McCracken said. "I not only have lifelong colleagues but lifelong friends."
Upon graduating, McCracken will be inducted into App State's Cratis D. Williams Society, which recognizes the top 2% of graduates from the Cratis D. Williams School of Graduate Studies for their academic success in research, professional practice, leadership and community engagement.
She holds a Bachelor of Science in nursing and a certificate in public health leadership from the University of North Carolina at Chapel Hill.