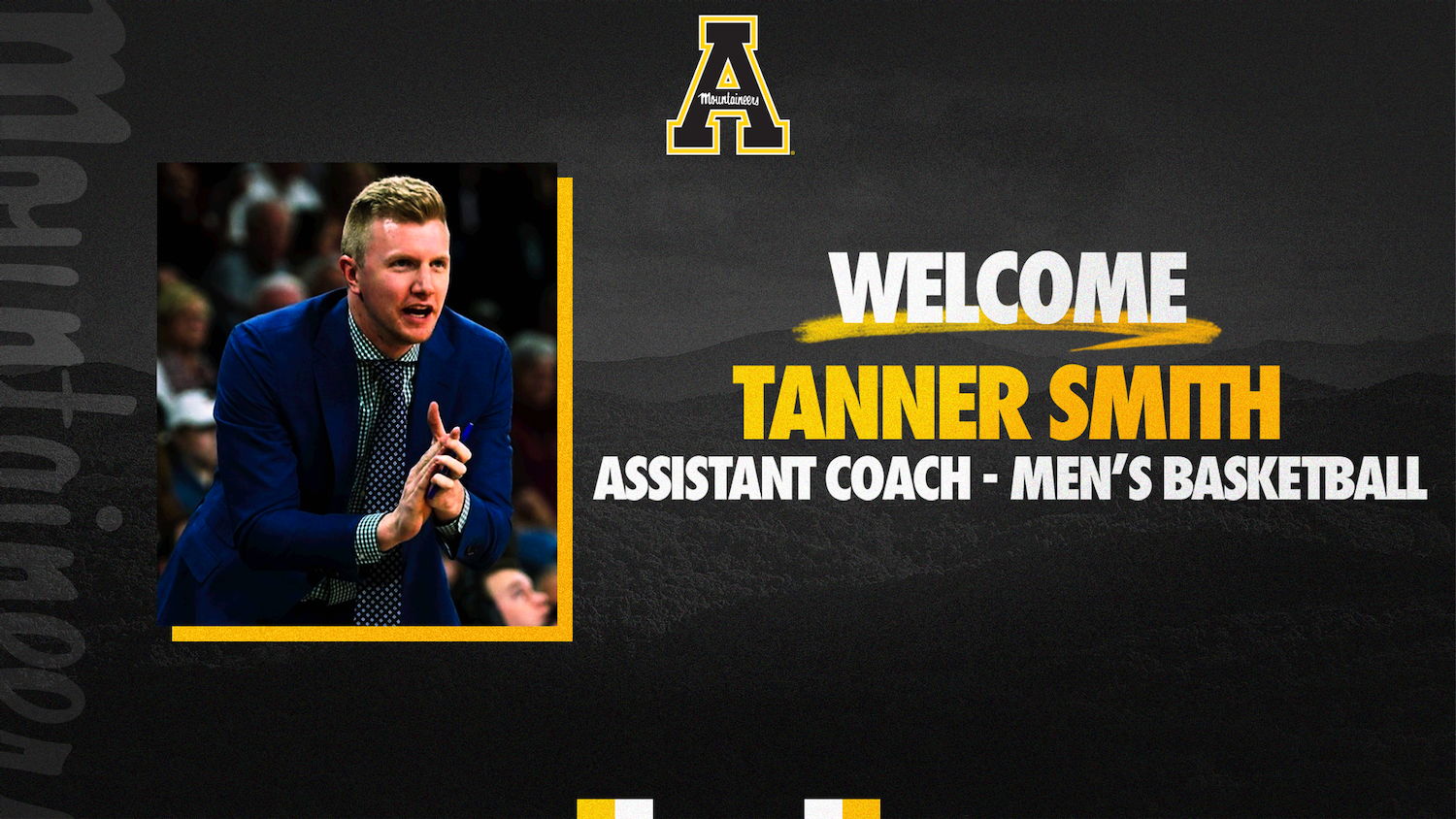 Last Updated on June 4, 2023 10:53 am
BOONE, N.C. – App State head men's basketball coach Dustin Kerns has made an addition to his coaching staff for the upcoming 2023-24 season with the hiring of Tanner Smith.
"Tanner Smith is the full package," Kerns said. "He is a great fit for App State, a great fit for our staff and a great fit for our players. Tanner has a bright mind and will help our program in many ways. Not only is he a tireless recruiter and great at player development, but most importantly, he is a great person who will develop great relationships with our players. He and his wife, Julia, will have a positive impact in the Boone community."
Smith comes to App State after a two-year stint at Stephen F. Austin, where he also served as an assistant coach. During his first season with the Lumberjacks, they were the regular season champions in the Western Atlantic Conference.
In the 2022-23 season, Smith helped lead Stephen F. Austin to finish in the top 25 in the nation in turnovers forced (18.1, 3rd), bench points (28.2, 8th), 3-point percentage (38.2, 14th) and steals (8.9, 15th). He primarily worked with the guards and wings while also serving as the coordinator of defense for the Lumberjacks.
"I'm humbled and honored to be joining the staff at App State," Smith said. "Coach Kerns and his staff have done a fantastic job in Boone over the last four years. I'm excited to be a part of such a special culture with special young men. My wife and I look forward to investing our time, energy and effort into the community, university and our players."
A former standout player at Clemson, Smith finished his illustrious career with 986 points, 459 rebounds, 320 assists and 159 steals while helping Clemson earn three NCAA Tournament bids. He was the first player in Clemson history and the only ACC player in 2012 to average at least 10 points, five rebounds and four assists.
Following his career at Clemson, Smith played two seasons overseas, first with Dutch club Landstede Basketball and then with MHP Risen Ludwigsburg in Germany. He joined the coaching ranks as a director of basketball operations with the Charlotte 49ers, eventually earning a promotion to assistant coach in 2017. From there, he transitioned to Mississippi State, serving as director of operations while the Bulldogs earned their first NCAA Tournament bid in 10 seasons.
Smith then joined the staff at Kennesaw State and helped the Owls land a top-50 recruiting class in the nation in 2020 before heading to Stephen F. Austin for the following two seasons. That same recruiting class helped lead Kennesaw State to its first-ever NCAA Tournament appearance, its first-ever ASUN regular season championship, and its first-ever ASUN tournament championship this past season.
In addition to coaching, Smith founded the non-profit organization Tanner's Totes, which provides care packages and support for kids battling cancer. He was recognized as a Community Hero by the Atlanta Braves in 2017 for his work with Tanner's Totes.
Smith graduated from Clemson with a bachelor's degree in marketing in 2012. He and his wife were married on May 4, 2018, in Atlanta.