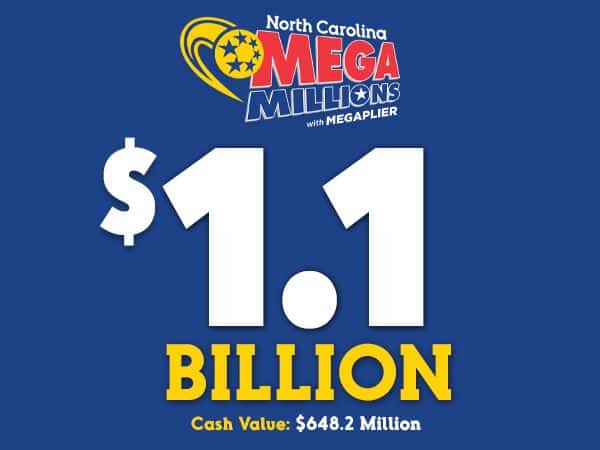 Last Updated on July 29, 2022 6:42 am
Friday's Mega Millions jackpot just crossed a major milestone as it now stands at an estimated $1.1 billion.
A North Carolina winner on Friday night would have the choice of taking home the $1.1 billion as an annuity or $648.2 million in cash. The jackpot ranks as the second largest in the 20-year history of Mega Millions and third-largest jackpot in U.S. history.
In addition to paying out millions in prizes for North Carolinians, the current Mega Millions run has raised more than $16.5 million for education in the state.
"We love to see a jackpot north of $1 billion but what we love even more is how much money the fun of playing for this jackpot has raised for education in North Carolina," said Mark Michalko, executive director of the N.C. Education Lottery. "Let's hope we are all celebrating a new billionaire here Friday night."
Tuesday's drawing did not have any jackpot winners but over 180,000 total winning tickets were sold to North Carolinians.
The drawing also produced a number of big wins in the state, including:
• Two $30,000 wins with tickets sold at the Minuteman Food Mart on New Britton Highway in Whiteville and from Online Play in Lexington.
• One $10,000 win with a ticket sold at the Kangaroo Express on Mallard Creek Road in Charlotte.
The odds of winning a Mega Millions jackpot are 1 in 302.5 million.
Players can buy Mega Millions tickets at any lottery retail location or through Online Play on the lottery's website, www.nclottery.com, or with the lottery's app, the NC Lottery Official Mobile App.
Ticket sales from draw games make it possible for the lottery to raise more than $2.5 million a day for education. For details on how lottery funds have made a difference in all of North Carolina's 100 counties, click on the "Impact" section of the lottery's website.