Last Updated on May 7, 2013 9:22 am
Below you'll find information regarding the rain and floods from Monday May 6, 2013. This page will be updated through out the day as more data comes in. See also this article for a real time account. Click on any image below for a larger view that will open in a new window or tab.
The two images below show rainfall amounts. Images via National Weather Service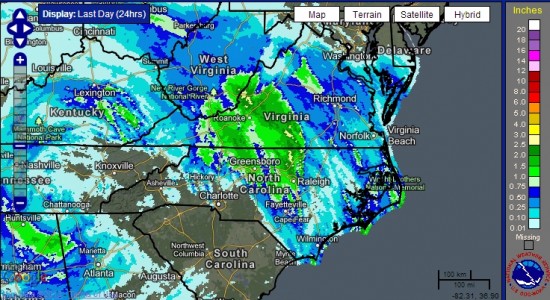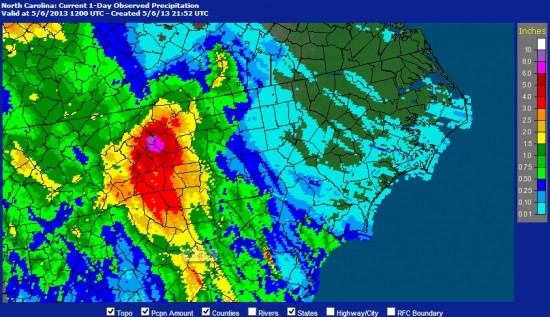 These images show rainfall from Sunday and Monday (May 5 & 6)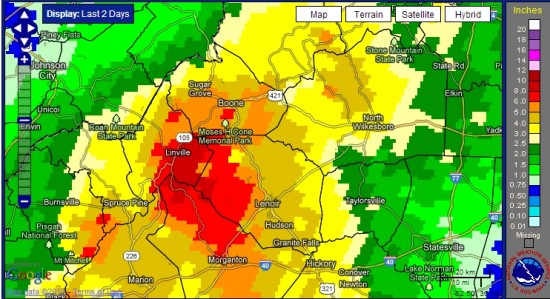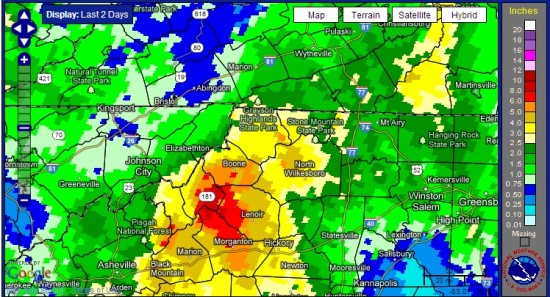 Watauga River water levels
NATIONAL WEATHER SERVICE BLACKSBURG VA
1117 PM EDT MON MAY 6 2013
…PRECIPITATION TOTALS…
THE FOLLOWING IS A LIST OF UNOFFICIAL PRECIPITATION TOTALS FOR A 39
HOUR PERIOD ENDING AT 11 PM MONDAY. THESE REPORTS ARE FROM A
COMBINATION OF SOURCES INCLUDING COOP OBSERVERS…IFLOWS GAGES…AND
ASOS AND HAVE NOT BEEN QUALITY CONTROLLED.
NORTH CAROLINA
…ALLEGHANY COUNTY…
3.33 LITTLE R/SPARTA IFLOWS
…ASHE COUNTY…
5.72 JEFFERSON 2 E COOP
5.09 LAUREL SPRINGS RAWS
3.77 BUFFALO CREEK IFLOWS
3.31 NF NEW/ASHLAND IFLOWS
3.26 NF NEW R. / CLIFTON IFLOWS
2.46 TRANSOU COOP
…STOKES COUNTY…
2.00 DAN RIVER AT PINE HALL
…SURRY COUNTY…
1.67 RAVEN KNOB RAWS
1.54 ARARAT R. AT ARARAT
…WATAUGA COUNTY…
6.36 MF NEW RIVER IFLOWS SG
5.82 SANDY FLATS IFLOWS
5.40 PARKWAY SCHOOL IFLOWS
5.15 TRIPLETT RG DCP
4.90 BOONE 1 SE COOP
4.59 BOONE RG (TVA)
3.53 SHAWNEEHAW FD IFLOWS
2.16 WATAUGA R/FOSCOE IFLOWS
…WILKES COUNTY…
5.02 RENDEZVOUS MTN RAWS SITE
4.23 ELK CREEK AT ELKVILLE DCP
4.10 WILBAR RG DCP
3.16 W KERR SCOTT RESV COOP/DCP
2.82 ROARING RIVER DCP
2.32 NORTH WILKESBORO COOP
3 day rainfall totals. Around Linville (in Avery County) got more than 9 inches of rain. Graphic via NWS Greenville-Spartanburg office