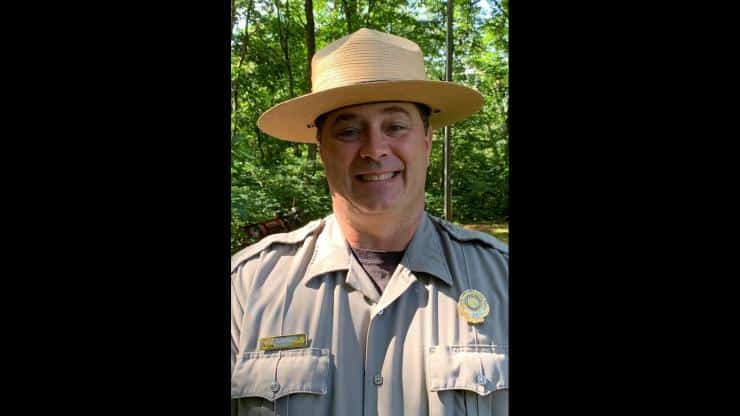 Last Updated on July 14, 2022 5:33 pm
Jeff Matheson is the new park superintendent at Rendezvous Mountain in Wilkes County. The lands were previously managed by the N.C. Forest Service as a state educational forest, but legislation returned the property to the state park system in 2021. Since then, the lands have been managed as a satellite of Stone Mountain State Park.
Matheson began his career as a seasonal law enforcement ranger, interpreter and fire technician with the National Park Service. He joined the N.C. Division of Parks and Recreation in 2000, and has since worked as a park ranger at New River State Park and Mount Jefferson State Natural Area. There, Matheson managed operations under the direction of New River State Park Superintendent Joe Shimel.
Matheson has experience as an acting park superintendent at multiple state parks. He has a bachelor's degree in parks and recreation and a minor in criminal justice from Appalachian State University.
"Jeff is taking on the challenging tasks of planning and establishing Rendezvous Mountain as well as protecting this unique resource," said Deputy Director of Operations Kathy Capps. "We know he is up to the challenge, with decades of experience in northwestern North Carolina's parks under his belt, and the management skills he has developed in our state parks."
Rendezvous Mountain in the Blue Ridge Mountains showcases magnificent mountain hardwoods in one of the state's most scenic areas. It was established as North Carolina's third state park in 1926, before becoming a state forest in 1956. In the 1930s, Civilian Conservation Corps (CCC) workers built a road and trails and managed the forest. Rendezvous Mountain is thought to be a rallying point for several companies of men from Wilkes County who were organized for the Battle of Kings Mountain. The Battle of Kings Mountain in 1780 proved to be pivotal in the Revolutionary War. The Division of Parks and Recreation is also working with the National Park Service to develop the Overmountain Victory Trail as a State Trail.
For more information, visit: https://trails.nc.gov/state-trails/overmountain-victory-state-trail.