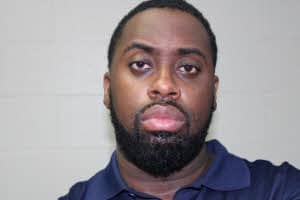 Last Updated on February 17, 2023 3:44 pm
On Thursday, February 16, 2023, at 7:35 pm, Boone Police Department Patrol Officers responded to East King Street for two separate vehicle crashes involving a 2021 Freightliner tractor trailer.  East bound lanes on East King Street were shut down and traffic was diverted approximately 45 minutes while officers investigated the crash. 
The first crash occurred when the tractor trailer made a right-hand turn from NC Highway 105 Extension onto East King Street and traveled left of center, striking multiple vehicles.  After striking multiple vehicles, the tractor trailer continued traveling east on East King Street towards Jefferson Road.  Watauga County Sheriff's Deputy observed the initial crash and attempted to stop the tractor trailer.  The driver of the tractor trailer, later identified as Tobias Marquell Jones, age 30 of 464 Bishop Street, Atlanta, Georgia, failed to stop for the deputy.  Mr. Jones continued traveling east and crashed into multiple vehicles at the intersection of East King Street and Jefferson Road.  After the second crash, Mr. Jones was taken into custody by deputies with the Watauga County Sheriff's Office.
Fortunately, there were only minor injuries reported as a result of the crashes, with one driver being transported by ambulance to Watauga Medical Center.  Nine vehicles were extensively damaged during the crashes, including the 2021 Freightliner.  
Subsequent to the investigation, Mr. Jones was charged with Driving While Impaired, Resisting a Officer, Failure to Heed Lights and Sirens, Hit and Run, and Carless and Reckless Driving.  Mr. Jones appeared before a Watauga County Magistrate and was issued a court date of March 31, 2023, in Watauga County District Court.  Mr. Jones was placed in the custody of the Watauga County Detention Center under a $10,000.00 secured bond.
The Boone Police Department would like to thank the Watauga County Sheriff's Office, the North Carolina Highway Patrol, the Appalachian State University Police Department, the Boone Fire Department, and Watauga Medics for their quick response and assistance.