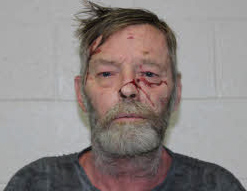 Last Updated on November 9, 2023 2:15 pm
UPDATE from Boone Police, Thursday, November 9:
On November 8, 2023, investigators with the Boone Police Department obtained a warrant charging Peter Modiene Gabaree, 59 years of age, of Lenoir, with two counts of Possession of a Firearm by a Felon, a felony.
Mr. Gabaree was given a $50,000 secured bond pending a December 20, 2023, appearance in Watauga district court.
These charges stem from felony convictions in the State of Connecticut in 1992 and the November 7, 2023, incident in downtown Boone.   
---
Boone, NC – On November 7, 2023, at approximately 12:32 AM, the Watauga County 911 Emergency Communications Center received a report of a man brandishing a firearm outside of 489 W King Street, Boone Saloon. When officers arrived, they located an individual wearing a tactical style vest brandishing a shotgun. Officers were able to gain control of the individual and take him into custody.     
An investigation revealed that the man, Peter Modiene Gabaree, 59 years of age, of Lenoir, had earlier been in Boone Saloon. Mr. Gabaree was asked to leave the establishment. Once outside, Mr. Gabaree went to his vehicle and donned a tactical vest along with retrieving a shotgun, a handgun, and ammunition for both weapons. Passersby saw these actions and immediately called 911.
"I would like to commend our officers for their quick actions and preventing a potential mass shooting here in Boone. This was obviously a dangerous situation. We are grateful to the citizen who saw this suspicious activity and called us. Our officers interrupted a man who had put on a ballistic vest and was loading weapons in his car. I am thankful to Sergeant Scott Mackler and his patrol shift for their courage in confronting and taking into custody this armed individual to safeguard our community." – Chief of Police, Andy Le Beau
Mr. Gabaree was charged with the following:
Going Armed to the Terror of the Public (common law)
Resisting Officers – NCGS 14-223 (misdemeanor)
Mr. Gabaree was taken before a Watauga County Magistrate where a $10,000 secured bond was set pending a December 20, 2023, in district court.