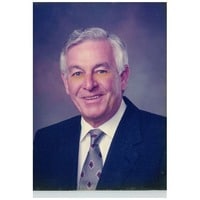 Last Updated on November 16, 2020 3:08 pm
One of the men behind the long running local theme park Tweetsie Railroad has passed away.
Spencer Robbins, age 93, of Boone, passed away Friday, November 13, 2020 at Watauga Medical Center, according to Hampton Funeral Home.
Robbins leaves behind a long list of developer and tourism marks across the High Country. Spencer, along with brothers Grover and Harry, brought Tweetsie Railroad to life as a theme park in the summer of 1957.
Among the other properties the Robbins brothers had a hand in include the Land of Oz, Beech Mountain, Linville Land Harbor, Hound Ears Club, and Elk River Club.
With the passing of Grover in 1970 Spencer and Harry, who passed away in September 2007, continued their developer and tourism endeavors along with creating residential neighborhoods like University Village in Boone, and resurrecting historical properties like The Green Park Inn in Blowing Rock.
Spencer was also known as being a health care advocate. He served on the Board of Directors for Watauga Medical Center for a number of years and began the annual Grover C. Robbins Memorial Golf Tournament, which has raised more than $10 million to support the creation of the Cancer Imaging Center at the hospital.
In the 1960s Robbins managed a theme park in Pigeon Forge, Tennessee and what was Goldrush Junction is now Dollywood.
Born in the family home in downtown Blowing Rock, which today is home to the Blowing Rock Chamber of Commerce, he also served his country aboard a navy ship in World War II.
He is survived by his wife of 64 years, Grace Macauley Robbins, five children, nine grandchildren and three great-grandchildren. He is also survived by two sisters and numerous nephews and nieces.
A celebration of his life and legacy will be held when Covid-19 restrictions have been lifted and it is safe to gather. Until then, the family is planning a private graveside memorial service.
In lieu of flowers, the family asks that individuals make donations to a charity of their choice, or to one of the places that Spencer suggested: the pastor's discretionary fund at Rumple Memorial Presbyterian Church in Blowing Rock; Wake Forest Care at Home Hospice Wilkes; or Appalachian Regional Healthcare Foundation (PO Box 2600, Boone NC 28607, 828-262-4391) for the capital campaign to support the new Watauga Medical Center expansion. 
Online condolences may be sent to the Robbins family at www.hamptonfuneralnc.com