Last Updated on February 13, 2022 8:48 am
"Give what you can, take what you need." That's the motto behind the Little Free Pantry, a national project that has now made its way to the High Country. The Little Free Pantry is designed to help those in need as participants can donate and take from the pantry anonymously.
Brittney Tensi, a native of Boone, tells WataugaOnline.com that she woke up one morning in April with the idea to bring the Little Free Pantry to Boone. Tensi says, "It's been a long road, but with so much support from the community, the pantry is now a reality." Tensi says she got the inspiration after seeing the idea online. "I kept seeing the articles (about Little Free Pantry) show up in my Facebook feed. People have created pantries for their neighborhoods, their churches, their communities. There was nothing stopping me from bringing this idea to my home town."
Tensi, along with her boyfriend, Travis Potts, began the process of building their first pantry by going to the Boone ReStore to get the supplies. They bought an entertainment center and repurposed it to the pantry that was unveiled over the weekend.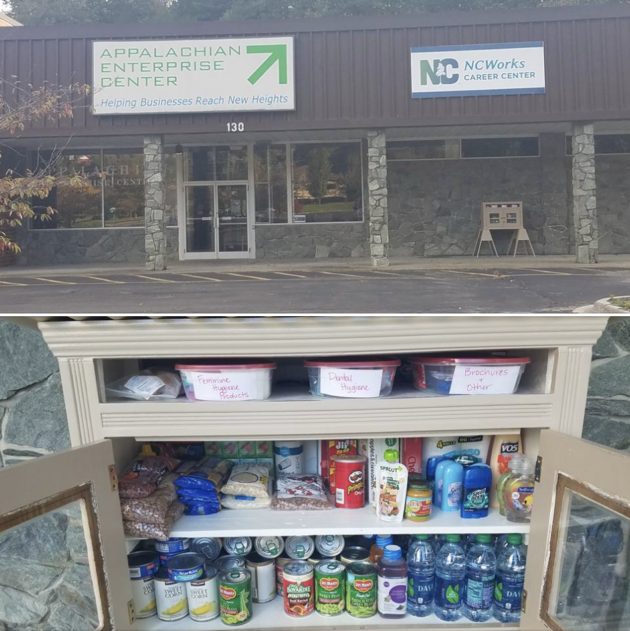 After numerous meetings with local government officials to gain approval of the concept and pantry design, the pantry became a reality on Sunday September 17, 2017 just after 12 noon, and folks in the community can now make their donations.
Tensi said the list of donations could include: canned goods, non-perishable items, baby food, and toiletry items such as feminine products, toothbrushes, toothpaste, and socks. "People don't really think about hygiene related items when they think about a food pantry." Tensi went on to say. "A poverty-stricken woman may get help with food, but she still needs basic feminine hygiene products."
US Census Bureau statistics, provided to WataugaOnline.com by Tensi, shows that for Watauga County in July 2016, 25.3% of the population are considered persons in poverty.  That's 1 in 4 people. 
Many community members have expressed their support for the project via emails and the pantry's Facebook page: 
"My desire in being a part of the little free pantry of Boone is to encourage community support for anyone who needs a little help with their groceries and non-food basics. It can be challenging to know where to go or who to ask for basic needs, especially when they're because of an unexpected expense. The pantry is for anyone and everyone that has a small need and is a great way for those who have plenty to anonymously help out those with a need." – Danielle Jacques
"Having a little pantry would ultimately communicate to the community that we're in this together. You might have extra in one moment and need extra another." – Rachel Anderson
The pantry is located at 130 Poplar Grove Road Connector, at the NC Works building. You can follow the pantry's updates on their Facebook page: Little Free Pantry of Boone.