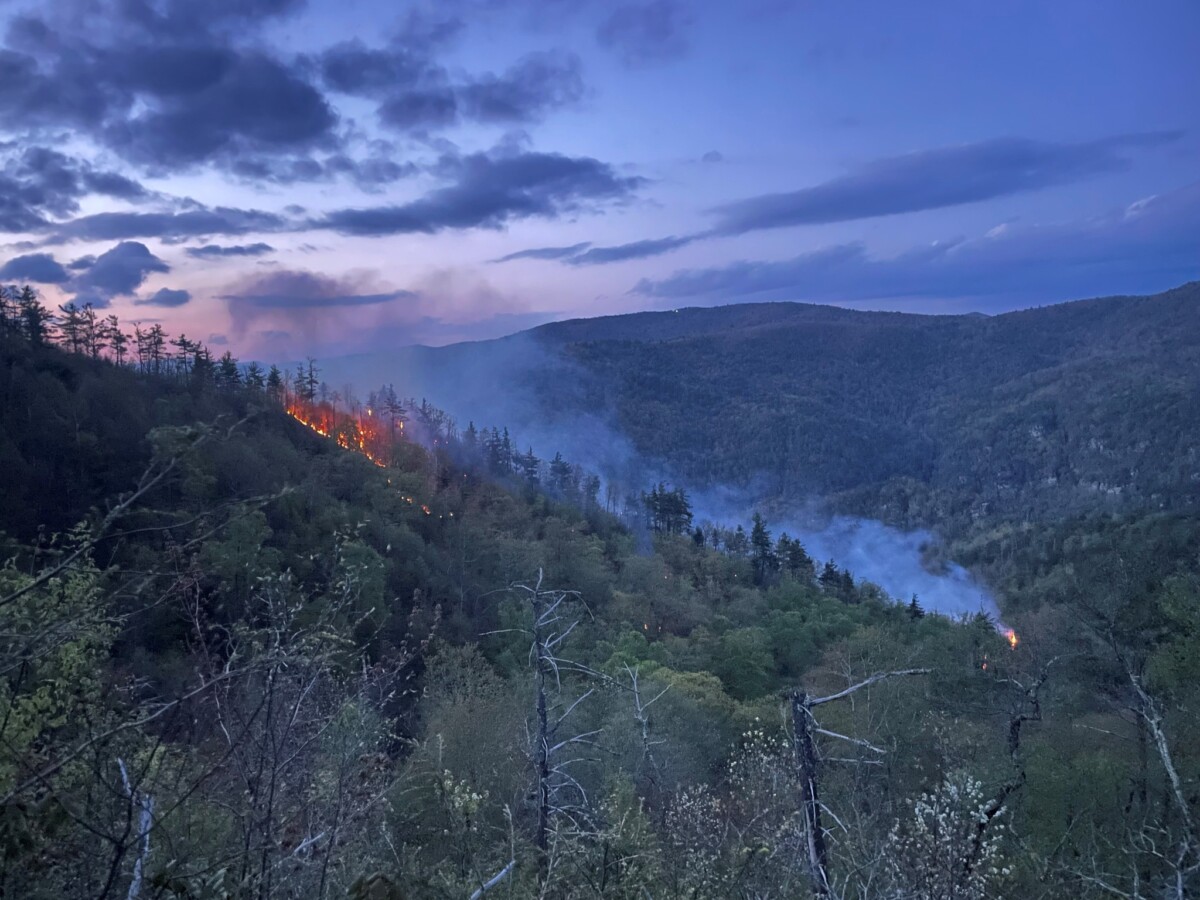 Last Updated on April 27, 2023 8:45 am
The Babel Tower Wildfire in the Linville Gorge Wilderness was reported yesterday afternoon, Tuesday April 25, in a remote area between Cabin Trail and Babel Tower Trail on the west side of the Linville River on the US Forest Service Grandfather Ranger District in Burke County, NC. The small wildfire poses minimal risk given the wet weather in the forecast.
Initially estimated at less than an acre, the fire grew to 12 acres before fire activity subsided overnight. With no resources at risk, and high humidity predicted over the next few days, fire managers determined no direct action was needed. By taking an indirect approach to monitoring the fire, impacts to Wilderness character are minimized. The terrain also dictated that this was the best approach to ensure the safety of responding fire personnel. Firefighters were stationed on Old NC 105 prepared to actively stop the fire if it approached the road. No fire lines have been constructed and no firing operations have taken place.
40 firefighters were on scene through late last night surveying and monitoring the fire. Hiking down into the Gorge along the Linville River trail, Grandfather District firefighters were able to assess the fire area and identify the point of origin. The fire started in rugged terrain nearly 300 feet above the Linville River trail. Firefighters located a completely blackened tree with exploded bark shards at the point of ignition, confirming lightning as the fire source. Fire managers referenced lightning strike data from the past several days and confirmed an active strike in the area from storms on Saturday morning. Lightning strikes create intense heat that can remain within the wood and root system, igniting nearby vegetation when conditions become hot and dry. Photos from recreational users on Saturday afternoon of a small smoke in the area further confirmed this as the source of ignition.
Today, fire crews returned to the fire to monitor assess remaining fire activity. Fire activity today was minimal with no growth and only minimal residual smoke. Significant rainfall is anticipated over the fire area through Friday afternoon. Unless conditions change, no additional fire growth is expected.
To ensure the safety of the public and firefighters, the Cabin Trail (Trail #246) and Babel Tower Trail (Trail #240) will remain closed through the weekend. All other areas and trails in the Linville Gorge Wilderness are open.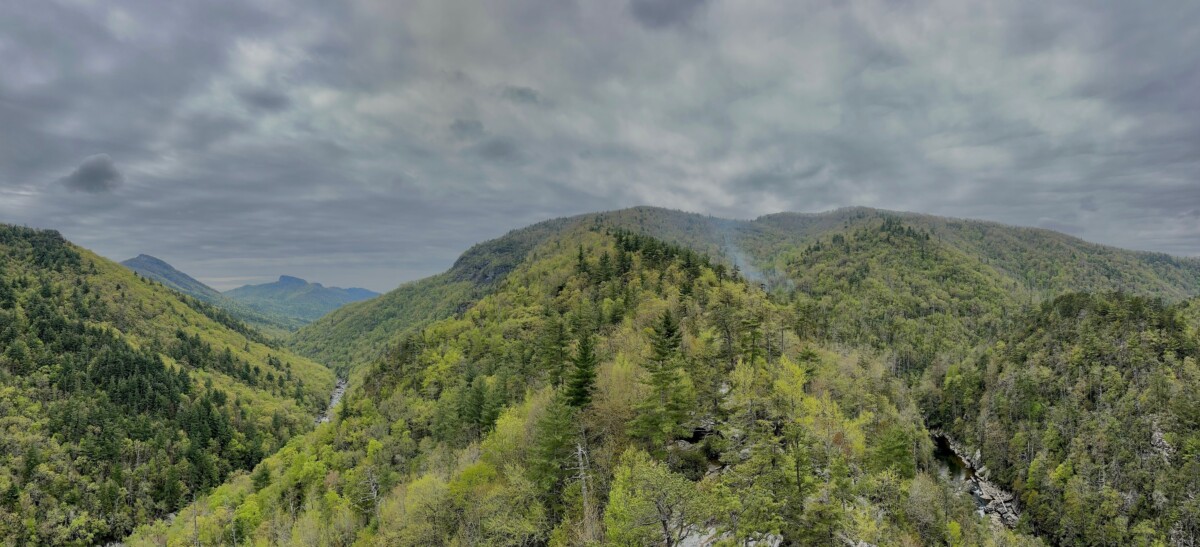 The fire grew to 12 acres yesterday afternoon before activity subsided overnight.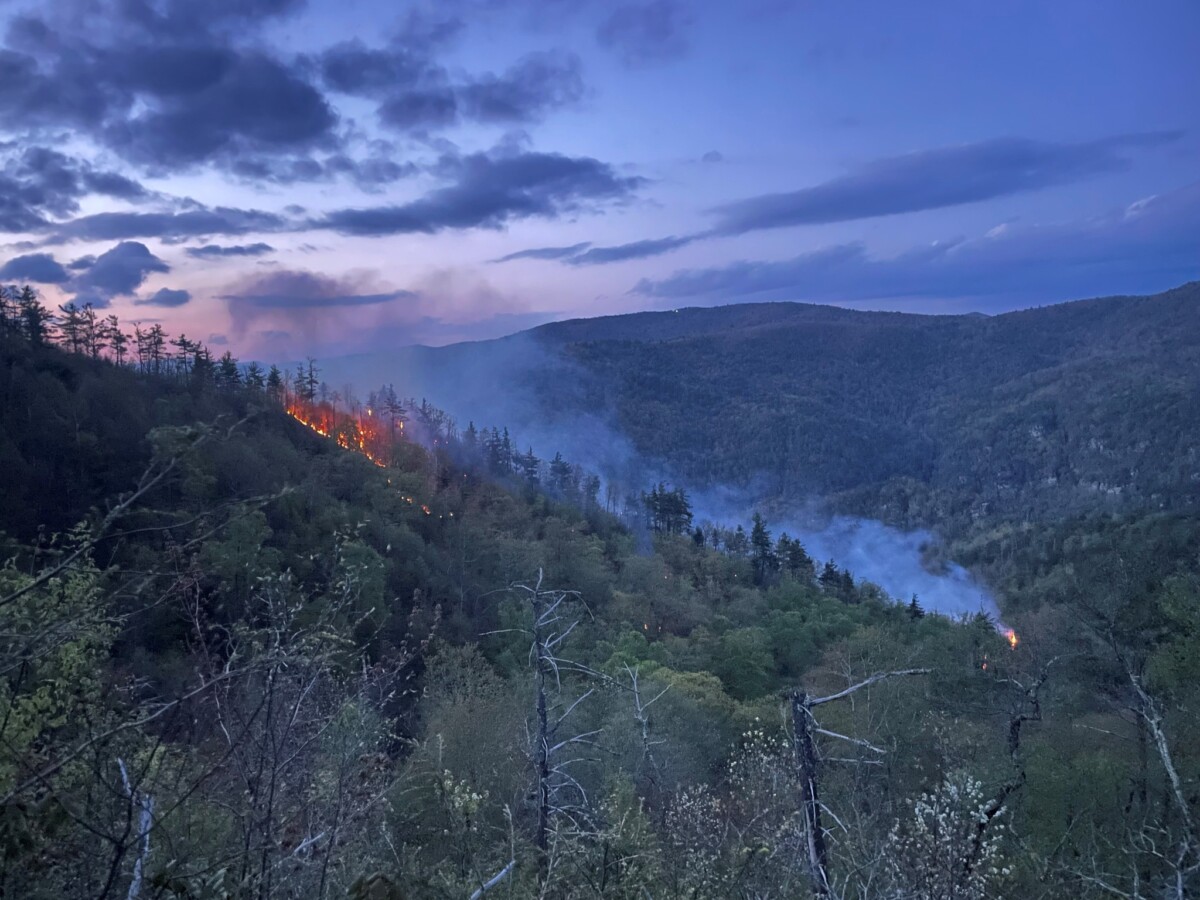 The source of ignition – a tree struck by lightning in the storms Saturday morning