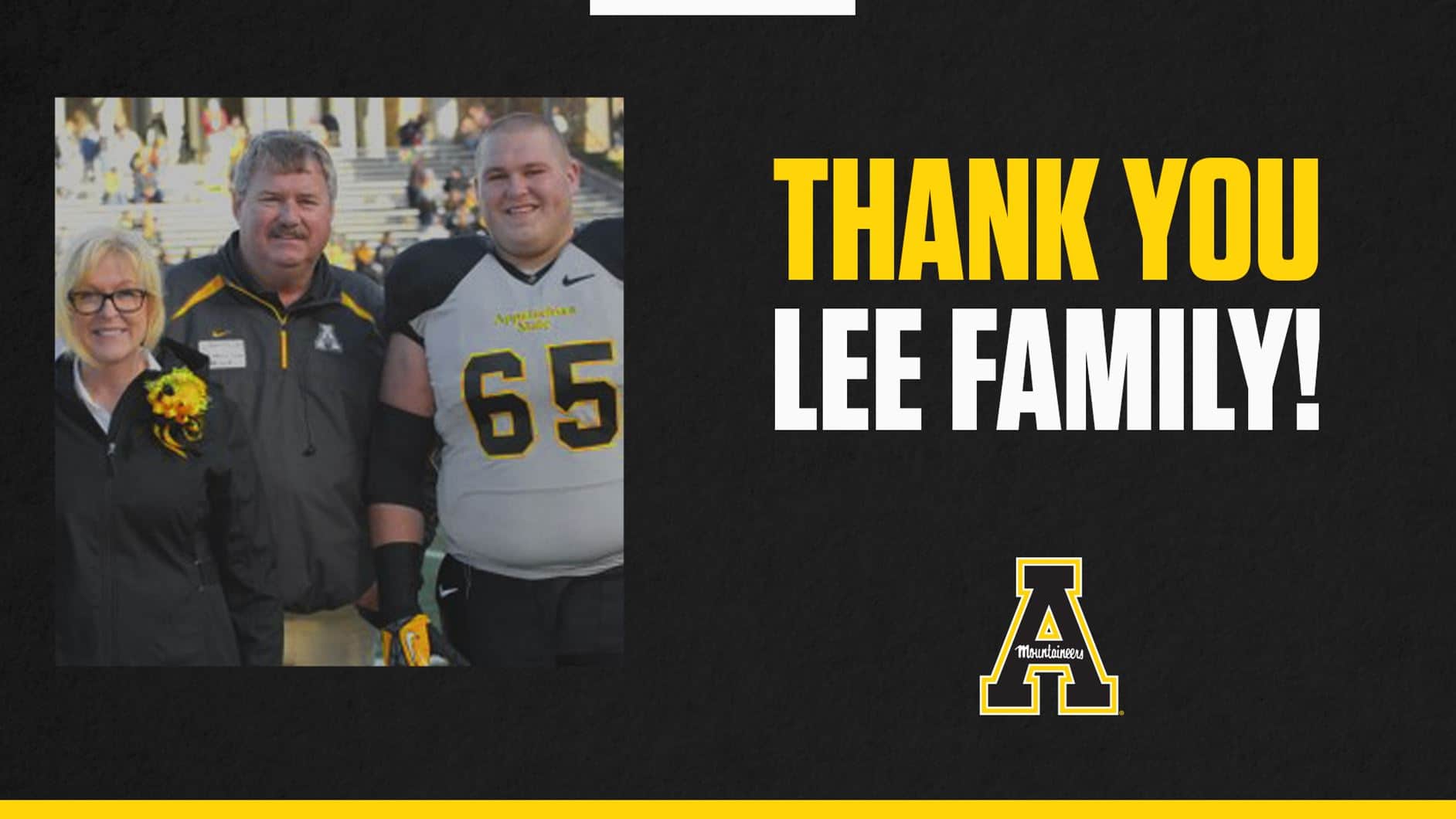 Last Updated on February 18, 2022 9:01 am
BOONE, N.C. – Robert Donald "Donnie" Lee, Dawn Lee and their son Tucker Lee, of Pinehurst, have made a $1 million gift to support academic resources and practice facilities for student-athletes at Appalachian State University.
"The Lee family has a history of supporting App State lasting more than a decade," said Chancellor Sheri Everts. "We appreciate their long-lasting generosity, which will allow us to continue recruiting and retaining student-athletes who are successful in the classroom and in their sports."
The Lee family has been in power line construction for over 50 years. Donnie Lee is a former co-owner of Lee Electrical Construction, Inc., located in Aberdeen, N.C.
"Many people at App State have touched the lives of our family," Donnie Lee said. "We celebrate this gift on behalf of our families, customers and employees – each demonstrating how a positive work ethic creates success."
"This gift will have a lasting impact on current and future Mountaineer student-athletes," said Director of Athletics Doug Gillin. "We are incredibly grateful to the Lee family for their commitment to App State Athletics."
The Lee family began their financial support for the university when Tucker Lee, a 2014 graduate who majored in Criminal Justice, was an offensive lineman for the Mountaineers football team. Tucker earned three letters from 2011-13 as a key contributor and a part-time starter at right guard, and helped the Mountaineers win the 2012 Southern Conference title.
"We wanted to support and live that experience with Tucker," Donnie said. "In time, that experience grew into something extraordinary. We spent time with fans, coaches, teammates and their families, and athletics department staff. People went out of their way to get us involved. We did not attend App State, but we were made to feel like we had. The friendly, welcoming environment made us feel like we were part of the App State family."
Hall of fame coach Jerry Moore, who was at the helm of the Mountaineers when Tucker joined the team, recalled Tucker's success and the history of the Lee family's involvement at App State.
"What a gracious and generous family," said Moore. "Tucker became made a significant difference in our program. He was a very intentional person and a hard worker about everything he did – from practice, to games, to his academics."