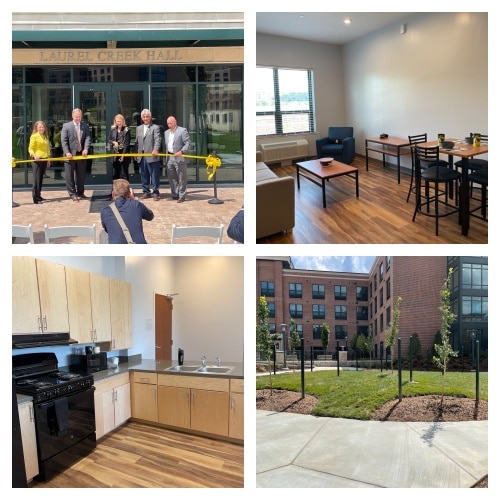 Last Updated on July 31, 2021 3:27 pm
A ribbon-cutting ceremony took place on Friday for one of Appalachian State's newest residence halls.
Chancellor Sheri Everts, Jeremy Doss, senior vice president, development, RISE: A Real Estate Company, and J.J. Brown, vice chancellor for student affairs, Appalachian State University, each made remarks during the ceremony to open Laurel Creek Hall.
Laurel Creek Hall is a five-story structure that holds 640 beds in apartment and suite-style rooms. The 151,861 square foot building was constructed per Green Built Alliance standards with sustainable features include air sealing and insulation, tree planting and repurposing, energy- and water-efficient appliances, LED lighting, automated systems and sustainable materials that meet stringent indoor air quality standards.
The common areas include lobbies, lounges, study spaces, a multipurpose room, an on-site laundry facility and a kitchen.
The opening of Laurel Creek Hall completes Phase 2 of App State's ongoing major housing project that, when completed, will replace seven residence halls: Bowie, Coltrane, Eggers, Gardner, Winkler, Justice and East. The $191 million project will provide approximately 2,300 beds — including a net gain of 500 beds — in three phases, while also adding better, more efficient parking.
A 14,400-square-foot green space in the courtyard area includes a hammock garden.
Videos and Photos: Kenneth Reece/WataugaOnline.com
Ribbon-cutting ceremony at the newest Appalachian State University residence hall, Laurel Creek Hall.
Looking from the outside of Laurel Creek Hall across the courtyard to Raven Rocks Hall.
Courtyard area where hammocks can be hung at Raven Rocks Hall then looking back toward Thunder Hill Hall and Laurel Creek Hall.