Last Updated on April 6, 2015 3:33 pm
*Updated April 2, 2018*
Though not typically known for huge snowstorms, the month of April marks the anniversary of two major snowfall events for that month.
April 4th, 2018 will mark the 31st anniversary of the largest April snowfall in Boone since both modern and all time weather records have been kept. Along with a foot of snow, April 4, 1987 still holds records for the coldest maximum temperature (28 degrees), coldest minimum temperature (19) and coldest average temperature (23.5) for that date.
April 4th records show it's history as not a heavy snow producing date. The second and third highest totals are 2 inches both in Blowing Rock and Boone, and both in 1944. Rounding out the Top 5 is .5 inches in Boone in 1992. As a side note Easter in 1987 fell on April 19th.      
Interestingly enough two days later marks the second largest snowfall for the month, April 6, 1931 recorded 10 inches.
According to the State Climate Office the storm for April 4, 1987 ended on April 5th, which made Boone's total snowfall around 18 inches total. In their recap of that storm "A spring storm became the biggest snow producer in North Carolina of the season. Wet, heavy snow began to fall early in the morning on the 3rd, and accumulated to as much as 2 feet in some areas. This snowfall left travelers on 1-40 between Asheville and the Tennessee line stranded for more than 24 hours. Many small buildings collapsed from the weight of the snow. However, cold air swept into the mountains Saturday, and the storm continued. Blizzard conditions were reported in the northern mountains, as another 4 to 6 inches of snow fell during this part of the storm, and winds were 30 to 45 mph. Some snow depths after the storm had ended were: AVL 12 inches, Boone 18 inches, Spruce Pine 21 inches, Grandfather Mountain 25 inches, Mount Mitchell (possibly a single storm record for North Carolina) 35 inches."
Graphic:Southeast Regional Climate Center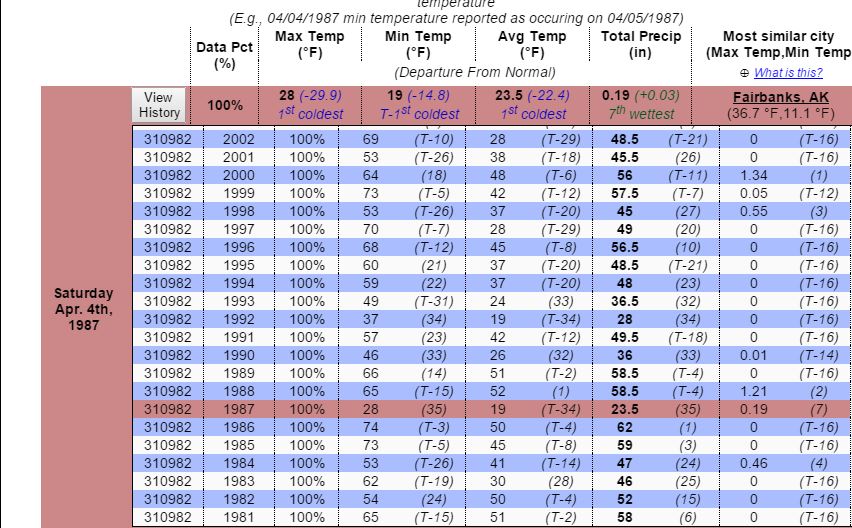 Graphics: State Climate Office