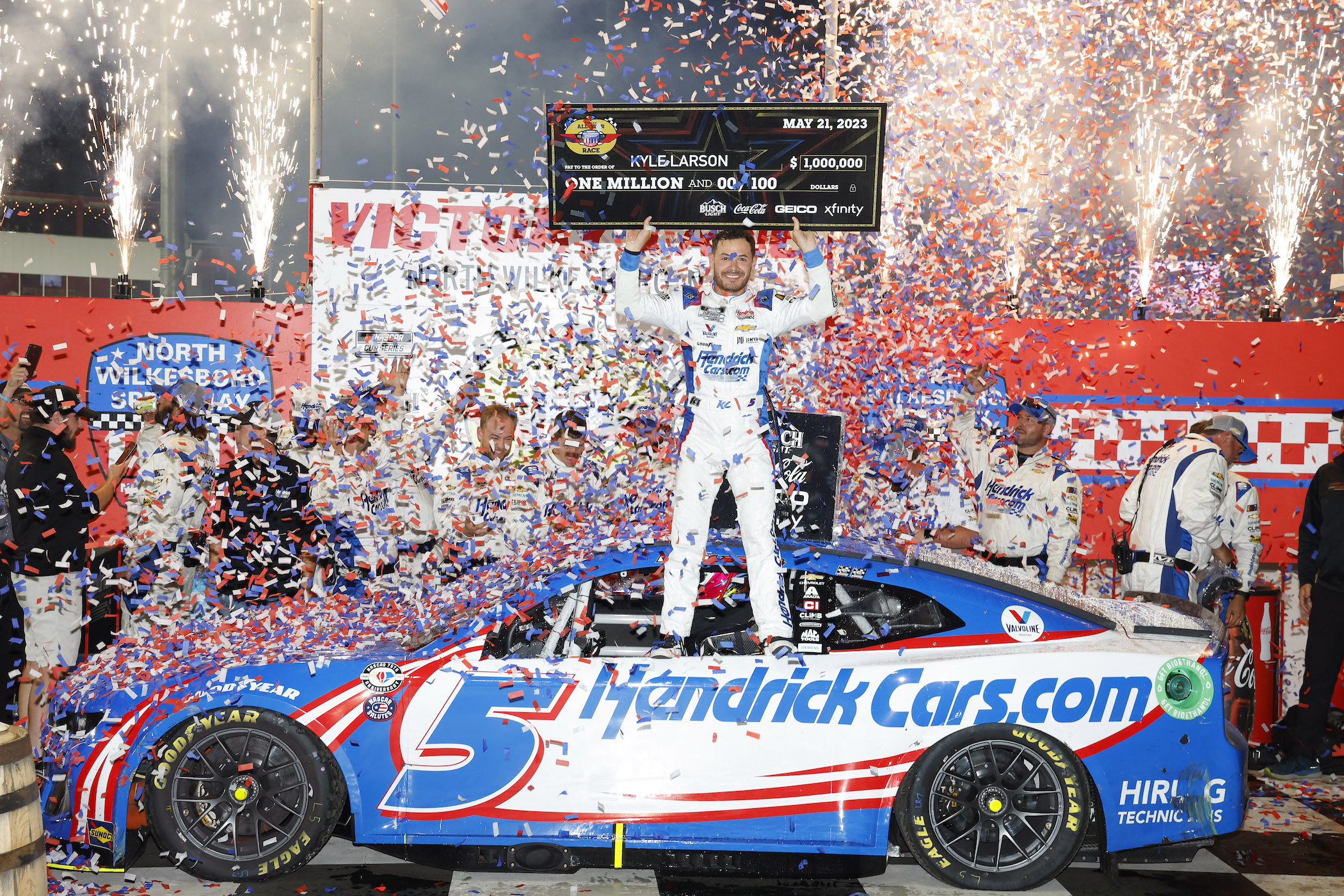 Last Updated on May 22, 2023 9:43 am
NORTH WILKESBORO, N.C. (May 21, 2023) – Kyle Larson left no doubt as to who shined brightest in Sunday's NASCAR All-Star Race at North Wilkesboro Speedway. The iconic track's 27-year wait for NASCAR's return led to Larson pulling a remarkable weekend sweep – winning the NASCAR CRAFTSMAN Truck Series Tyson 250 on Saturday – and following it with a convincing All-Star Race win a day later.
Larson started 15th in Sunday's 200-lap showcase event, but he struggled with an ill-handling car in the early stages. One pit stop after a Lap 15 caution – for tires and chassis adjustments – transformed Larson's No. 5 Hendrick Motorsports Chevrolet into a rocket, but he had to go through the entire field after being penalized for speeding on pit road. Larson went from the tail end to second in 36 laps, and passed pole winner Daniel Suarez for the lead on Lap 55.
Larson led 145 of the remaining 146 laps and beat Bubba Wallace to the finish line by 4.124 seconds. Tyler Reddick finished third with Chase Briscoe fourth and Chase Elliott fifth. Ryan Blaney was sixth with Suarez seventh. Erik Jones – in a throwback STP No. 43 Chevrolet, painted like NASCAR Hall of Famer Richard Petty's iconic car – finished eighth.
Ty Gibbs and Joey Logano rounded out the top 10.
The victory was Larson's third in a NASCAR All-Star Race, and his third at a different facility. He won the 2019 event at Charlotte Motor Speedway and the 2021 running at Texas Motor Speedway.
Josh Berry, subbing for the injured Alex Bowman, won Sunday's All-Star Open and finished 15th in the All-Star Race.
KYLE LARSON, NO. 5 HENDRICK MOTORSPORTS CHEVROLET (RACE WINNER): "It was a great night. Great job to Marcus (Smith, Speedway Motorsports' president and CEO) and his whole team on reviving this place. I don't think any of us thought that when Dale (Earnhardt Jr.) was here cleaning up weeds and cleaning it up for iRacing (in December of 2019), that we'd ever be here racing. The vibe was great tonight, with all the fans, and it helped that my car was quick. I didn't expect to be fast at all. … Friday (in practice) we were really bad. We had a good one-lap run but if you looked at my 30-lap average, it was like second to last. I thought we'd run around 15th tonight.
"We pitted for tires, I sped on pit road and we restarted last, but I started picking off some cars and I could get my line working and manage my tires. Once I was picking people off, I was wondering, 'Is my car this good, or is the tire fall-off this bad?' We got the lead, and I was like, 'I want to lap as many cars as I can.' I think they said I had a 12-second lead at one point. It's just so cool to dominate like that, like you used to see people dominate races here in the 1980s. I'm very proud of winning this race at three different venues. I am extremely proud to have won the All-Star Race, but to win it at three different tracks is really neat. … This track is so cool. It has a grassroots feel to it, and to me, I think that's what makes it so special."
CLIFF DANIELS, NO. 5 HENDRICK MOTORSPORTS CHEVROLET (WINNING CREW CHIEF): "I wasn't sure how the flow of the race would go. I was watching old North Wilkesboro races earlier this week on YouTube, and there were a lot of green flag runs. I knew that drivers were going to be driving the track, so there was a chance that there would be fewer caution flags. When we pitted (after the Lap 15 caution), we were in 18th, so I thought we needed to do something different than the leaders."
BUBBA WALLACE, NO. 23 23XI RACING TOYOTA (RUNNER-UP): "We won 'the best of the rest.' (Kyle) Larson was lights-out, so congrats to him. Those guys, they've been hitting it on the head really all season, so running second to them isn't so bad. … I'm proud of my team. Our Columbia Toyota Camry was super strong. … To keep our name in the mix is super important for us. The momentum train is still real. It's still rolling."
TYLER REDDICK, NO. 45 23XI RACING TOYOTA (THIRD-PLACE FINISHER): "I feel like I got into a rhythm that I needed to be in, maybe 50 laps into the race.. I knew the speed of the car was there. It was there on Friday afternoon in practice. We were stacked down in the field from the heat races (on Saturday) and we didn't have the long-run speed we needed to get going in the right direction."