Last Updated on July 7, 2013 7:31 am
*updated information about possible flooding conditions as they come in*
7:30am – as of this time no reports of flooding
Watauga River gauge at 10.91 feet at 4am this morning   http://water.weather.gov/ahps2/hydrograph.php?wfo=rnk&gage=sgwn7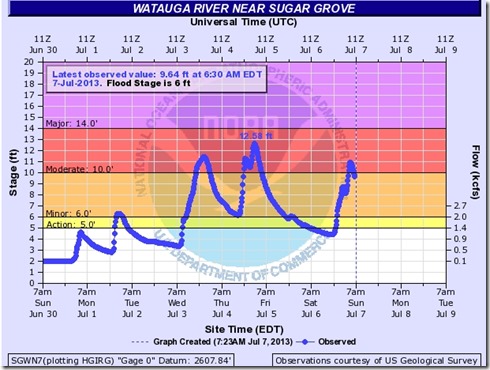 From July 1-6 Boone has received  7.80 inches of rain at the Watauga Medical Center reporting station. The NWS COOP reporting station has recorded 8.37 inches during the same time.
Rainfall amounts the last 7 days from http://water.weather.gov/precip/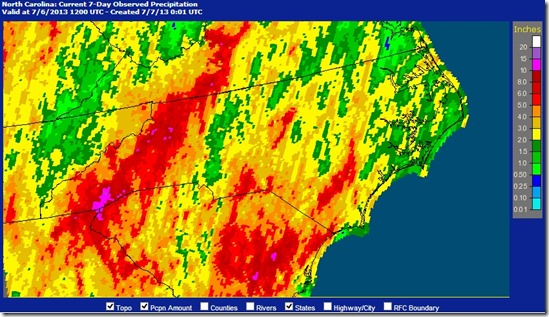 4:40pm – getting report of backups on 105 in Boone due to water in the road in right hand lane going into Boone
4:53pm – Per Boone PD – Faculty St behind blockbuster/Boone Mall/Farthing St are closed. Hardee Blowing Rock Road to 105 is down to one lane due to flooding.
4:55pm – @WataugaCommCent: On Poplar Grove Rd South there is a culvert pipe pouring water into the roadway near Poplar Grove Baptist Church.
Also report of water breaking over the bridge at Appaloosa Trail off of Castle Ford Rd.
@WataugaCommCent: There is still a significant washout on US HWY 421 N near Brushy Fork Church, on the North Bound Lane. Last word was it ate the barricade