Last Updated on July 4, 2013 5:48 am
5:30am – Boone Police tweeted over night that Deerfield Road is back open.
Flood Watch remains up through this evening.
Flood Warning until 6:45am
Dewitt Barnett Road bridge in Valle Crucis at 6am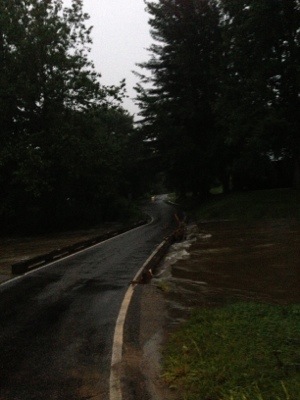 Watauga River gauge peaked at 11.38 feet at 1:30am – 11.2ft at 8:30pm – http://water.weather.gov/ahps2/hydrograph.php?wfo=rnk&gage=sgwn7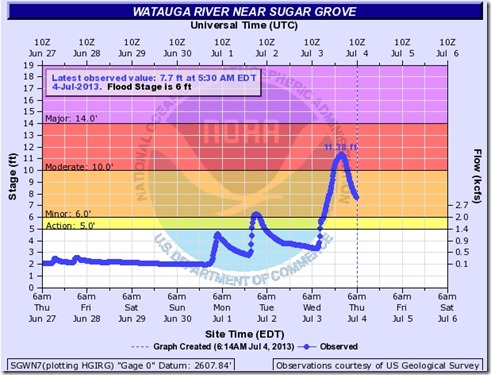 6:58am – Flood Warning has been extended to 12:45pm
7:05am – water levels have gone down a bit since midnight, however heavy rain continues in the forecast. Low lying bridges that are prone to flooding may still be under water or just about to be this morning. Currently no reports of road closings are coming in.
Boone Parade is still on and starts at 11am – http://wataugaroads.com/boone-july-4th-2013-parade-route-information/
Boone Parade has ended, roads around downtown back open. As of now fireworks at Tweetsie & Bethel Blast are still on for tonight – 11:53am
4:20pm – A new Flash Flood Warning has been issued for Watauga & Ashe until 8:15pm. Flash Flood Watch has been extended to Friday night.
Poplar Grove Road 4:45pm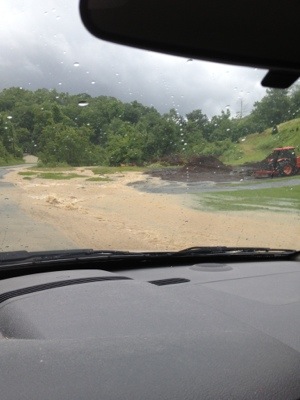 5:04pm – now getting flooding reports on Watauga River Road, Linville Creek Road and along 321/421
321/421 at 4:30pm. Photo: Walter Johnson
Watauga River Road flooding. 4:30pm. Photo: Jessica Cornett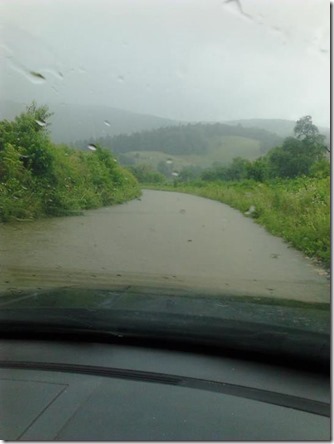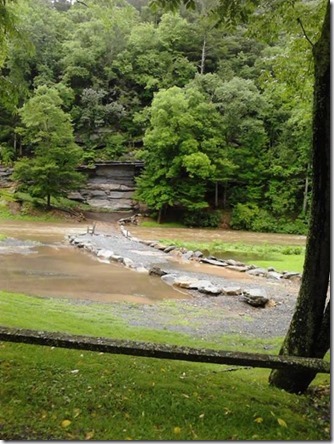 Lower Linville Creek Rd. Photo: Becky Trivette 5:15pm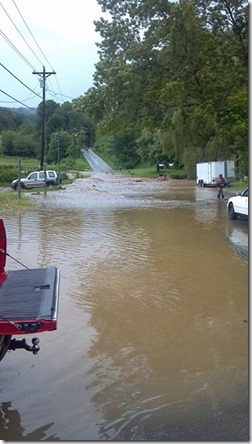 Hound Ears Golf Course 5:20pm. Photo: Marianna Durfor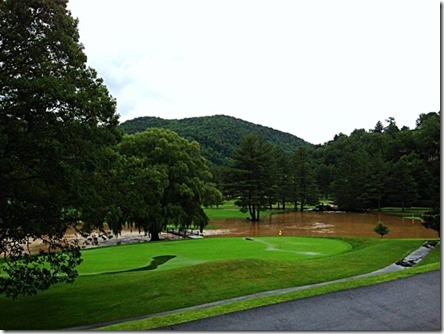 5:50pm – Heavy rain approaching Watauga, Wilkes and Ashe. Storms moving north at 35mph entering southern Watauga just after 6pm per NWS. More flooding possible.
5:58pm – small mudslide on Poplar Grove Road near Pine Hill Rd blocking one lane per scanner
Dewitt Barnett Rd bridge and Baird's Creek Road bridge. Photos: Jaclyn Landers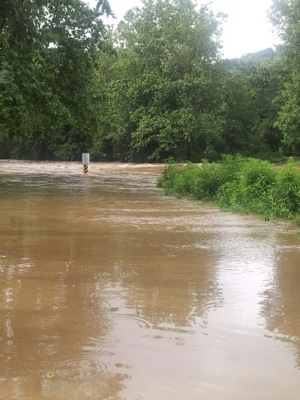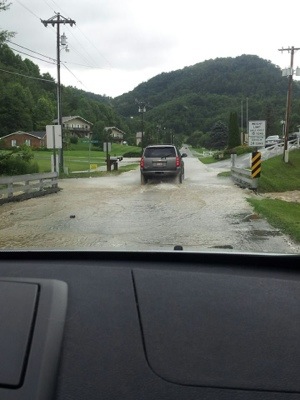 Flash Flood Warning has been extended until 4:15am Friday morning.
The Watauga River gauge has already jumped back to flood stage of 11.04 feet as of 8:30pm.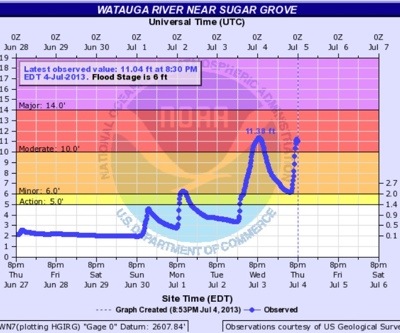 9:58pm – mudslide on Charlie Thompson Road blocking one lane. Linville Creek Road on 421 side is flooded.
10:25pm from Boone PD – Deerfield will be shut down going out of Boone.
10:56pm – Deerfield Rd is closed completely in the area of the bridge by the Moose lodge. Barricades have been placed.
11pm – continue to use caution if travel is necessary overnight as many locations are already being impacted by more heavy rains. Flash Flood Warning remain up until 4:15am, Flood Watch is up until Friday night.