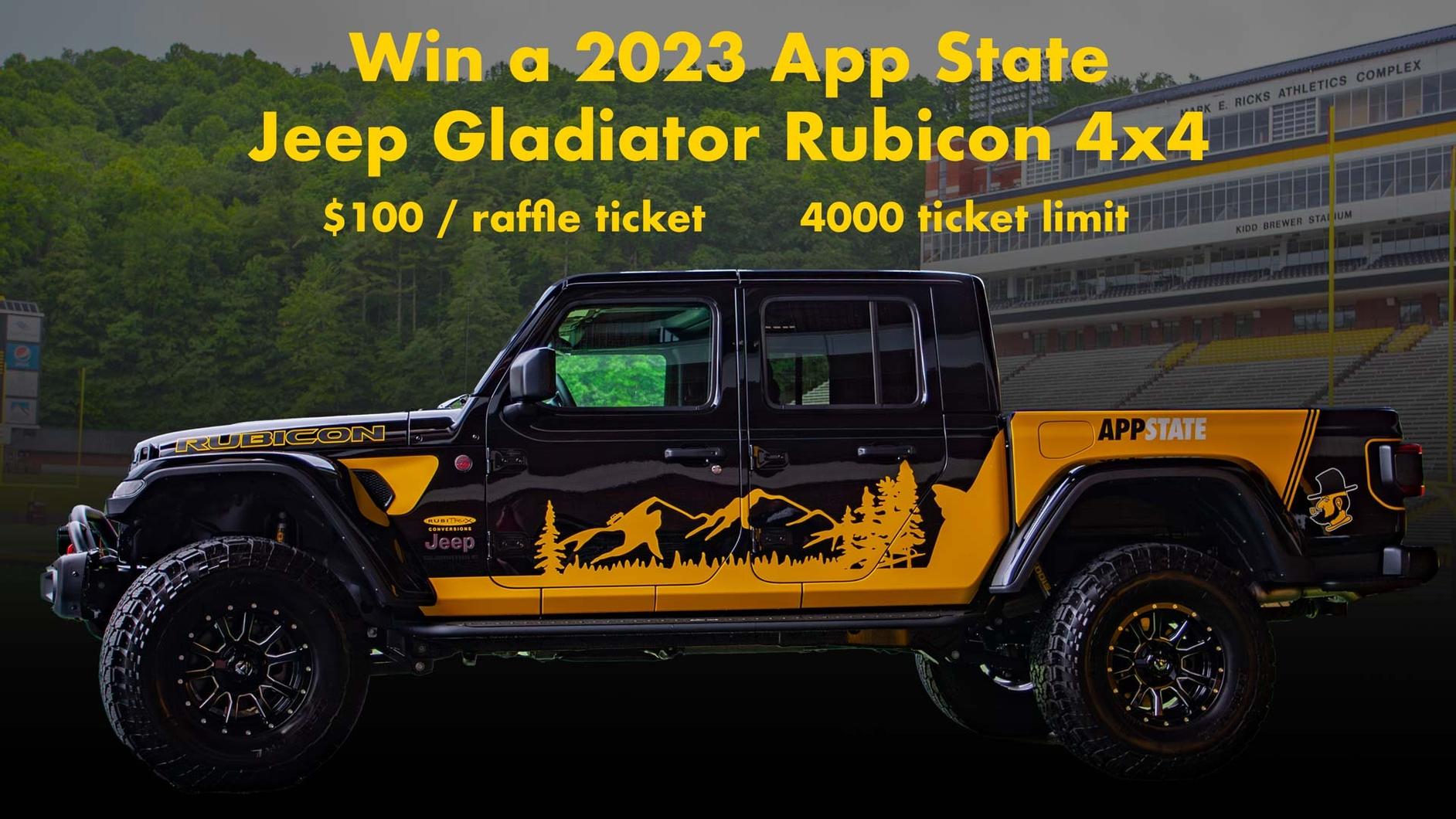 Last Updated on July 7, 2023 11:31 am
BOONE, N.C. – App State Athletics and RubiTrux Boone have partnered to raffle off a Mountaineer-branded 2023 Jeep Rubicon.
Raffle tickets are just $100, and all net proceeds will go to support App State Athletics. A drawing will take place on Nov. 17, and the winner will be presented with this one-of-a-kind Jeep in an on-field ceremony during the Nov. 25 App State football game against Georgia Southern. The raffle will be capped at 4,000 tickets sold.
"We are thrilled to offer our fans the opportunity to win this one-of-a-kind App State-branded Jeep Gladiator. Partnering with Rubitrux and App State alum Jessie Robertson is a fun way to uniquely raise funds for our student-athletes and give Mountaineer fans the chance to win an awesome new vehicle," said Senior Associate Athletic Director Spencer Bridges.
"We are proud to partner with my alma mater and offer a one-of-a-kind vehicle that's built with comfort and off-road use in mind," said RubiTrux President and General Manager, Jesse Robertson. "We have a world class team over here at RubiTrux and everyone is excited to see their craftsmanship at App. State games. I can't wait to meet the winner and show them around their custom Jeep."
The Jeep comes complete with top-of-the-line upgrades that include heated front seats and steering wheel, App State "A" stitched headrests, remote start capability, hard-top headliner, and Alpine premium audio system. RubiTrux has equipped this vehicle with premium suspension, fog lights, and wheels and tires designed for rugged off-road and comfortable on road use.
The last day to purchase a raffle ticket will be Nov. 16. Tickets can be purchased online or in-person at the Appalachian State University ticket office (111 Rivers St. in Boone).
About App State Athletics
More than 400 student-athletes compete in 17 NCAA Division I varsity sports at Appalachian State University, and dedicated fans love to cheer them on. App State's nationally ranked football team has enjoyed unprecedented success at the highest level of Division I (Football Bowl Subdivision) with six bowl wins in its first six years at the FBS level and four Sun Belt Conference championships. The Mountaineers were a dominant force in the Southern Conference for more than 40 years before moving up in 2014. App State student-athletes in all sports pursue daily comprehensive excellence in academics, competition and community involvement. All varsity teams compete in the Sun Belt Conference, except for field hockey (MAC) and wrestling (SoCon). For more, visit http://www.appstatesports.com.
About RubiTrux
Based in Boone, North Carolina, RubiTrux is an App State alumni owned business with over 25 years of experience in Jeep conversions. Jeeps are the most customized vehicles in the world and we excel in customizing Jeep Wranglers and Gladiators, now extending our expertise to the latest Jeep off-road models. With 600+ V8 HEMI Conversions since 2013, our quality engine, suspension, and interior modifications set us apart. We offer powerful V8 Hemi and Limited-Edition Richard Petty Hemi engine conversions for Wranglers or Gladiators. Whether you desire a ready-to-ship Hemi conversion or wish to build your dream vehicle from the ground up, we're your go-to. Our team, with a cumulative 135 years of industry experience, ensures your vehicle meets your expectations and our standards. As a leading custom Jeep facility, we ship Jeeps and Parts worldwide.