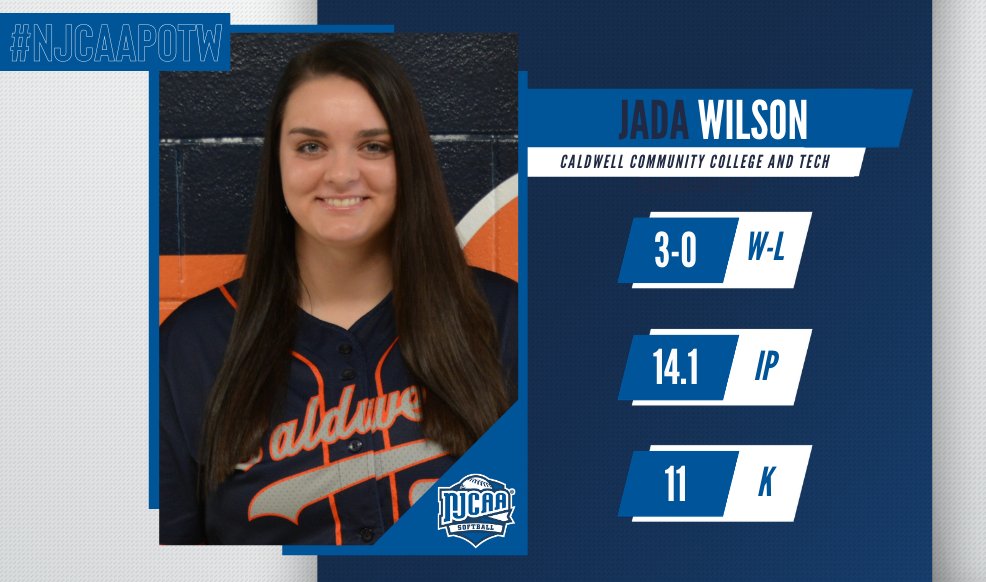 Last Updated on March 10, 2021 6:22 pm
Jada Wilson has been named NJCAA's Softball Div. II Pitcher of the Week for March 1-7. That announcement coming from Caldwell Community College Athletics Director Jeff Link on Wednesday.
Wilson, a 2019 Watauga High School graduate, went 3-0 on the mound last week, picking up a win against then 14th ranked Florence-Darlington Technical College on Friday, March 5 as well as two wins against Cleveland Community College on Saturday, March 6.  For the week she allowed no runs or walks in 14.1 innings pitched while recording 11 strikeouts.  For the season, Jada is 6-0 with a 0.62 ERA with 32 strikeouts in 34 innings pitched, to go along with one save and five complete games.
The Cobras are 9-1 on the season and return to action on Friday at home at 1PM for a double header against Surry Community College.  On Saturday, the Cobras will host Patrick Henry Community College in a double header starting at 1PM. 
Jada Wilson Stats for Week of March 1-7
3-5-21 at #14 Florence-Darlington Technical College: W 3-0 CG 7 IP, 0 R, 4 K, 0 BB

3-6-21 at Cleveland Community College: W 8-0, CG 5 IP, 0 R, 5 K, 0 BB

3-6-21 at Cleveland Community College: W 11-3, 2.1 IP, 0 R, 2 K, 0 BB