Last Updated on October 2, 2022 5:44 pm
2pm Audio update –
1:10pm – Snow accumulation probability of at least 4 inches Monday-Tuesday from NOAA
Snow accumulation probability of at least 8 inches Monday-Tuesday from NOAA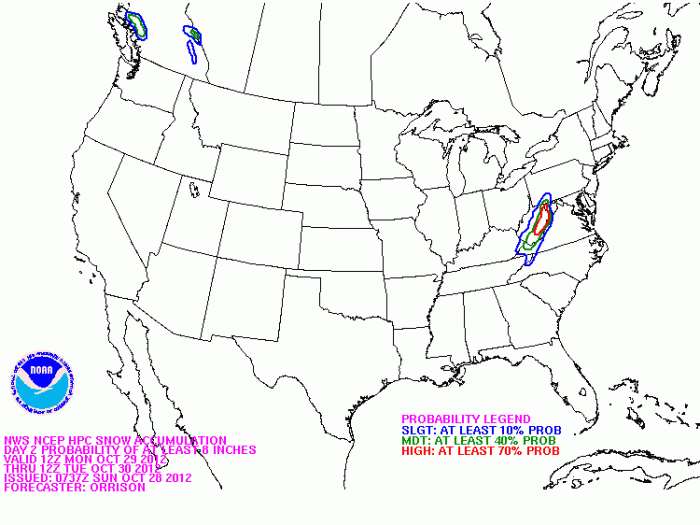 1pm Sunday – Video update from Brad Panovich
10am Sunday Oct 28 – WataugaRoads.com audio update
4:22pm -From NOAA – "Here's an update on the snowfall potential across the Appalachians from the interaction of Hurricane Sandy with a polar air mass behind a cold front across the Eastern U.S. Portions of the Central Appalachians are forecast to receive very heavy snowfall beginning Sunday night. This image shows the probability of receiving 12 inches of snow from 8 PM EDT Sunday through 8 PM EDT Tuesday."
Click on map for a larger view, it will open in a new window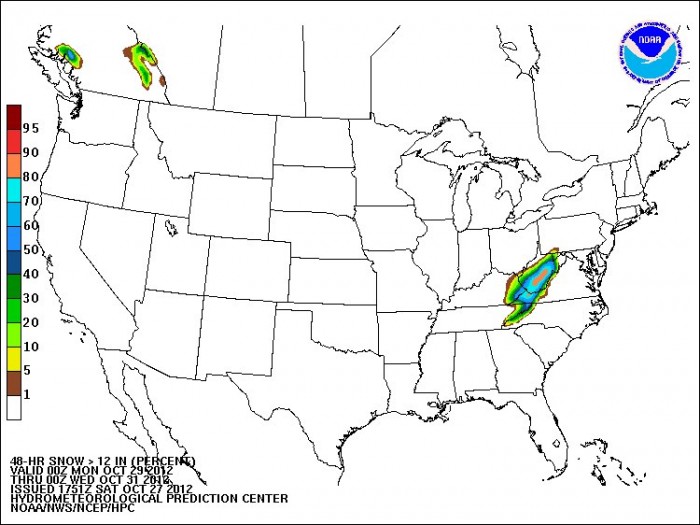 4:05pm – getting some facebook questions regarding could this storm break snowfall records. Here's some historical weather data from the State Climate Office.
The top 5 greatest one day snowfall totals of all time are:
24 inches in Blowing Rock March 13 1993, followed by:
19 inches in Boone Jan 27,1998
17 inches in Boone March 2,1942
16 inches in Boone Dec 26,1969
and 15 inches in Boone Feb 10, 1983. Keep in mind that these numbers are from reporting stations in the county to the climate office.
As far the month of October goes the top 5 greatest one day snowfalls reported to their office are:
2.5 inches in Blowing Rock Oct 17, 1977
2.5 inches in Boone Oct 23, 1937
2 inches in Boone Oct 17, 1977
2 inches in Boone Oct 20, 1961
2 inches in Boone Oct 21, 1989
For more historical data about Watauga, Ashe, Avery and statewide you find it on the Historical Weather Data page.
3:56PM – Snow accumulation probability of at least 4 inches Monday-Tuesday from NOAA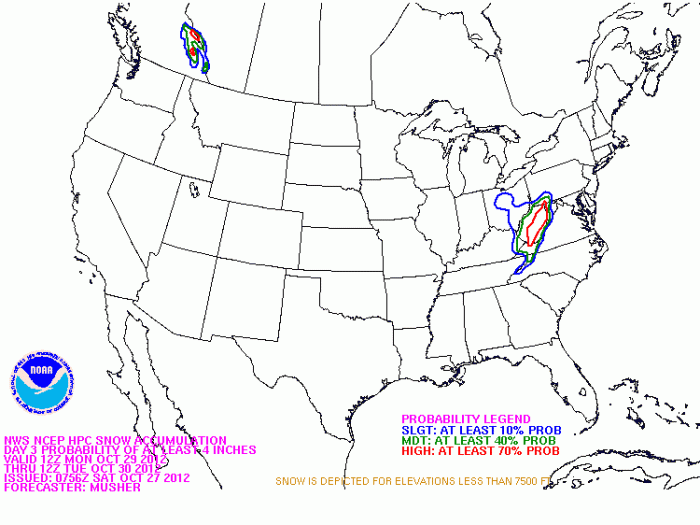 3:45pm National Weather Service update for our forecast area
3:24pm – via Brad Panovich
"Almost a guarantee we see accumulating snows in the NC mountains. Start preparing now for heavy wet snow, brutal cold and possible power outages. Make sure you have food and water for at least 3 days. Make sure you have a safe & reliable heat source as well. I'm thinking 4-7″ with localize 1′ amounts with near blizzard conditions at times & this is conservative."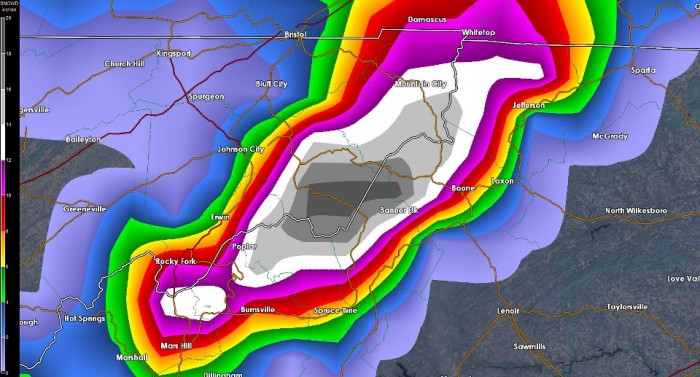 11:03am – Courtsey of John L'Heureux of L'Heureux's Weather – http://www.facebook.com/LHeureuxs.Weather, http://www4.ncsu.edu/~jmlheure/index2.html
"A longer persistence of a northwest flow has ramped up snow projections in this mornings model run. There is still considerable spread as to how much snow will fall and stick for the High Country. The longevity (Monday – Wednesday) will provide ample opportunity for snowfall; the slight shift in the post-tropical storm Sandy will determine how far south moisture from the Great Lakes will travel. This has the potential to be one of the largest October snowstorms for the High Country. High winds (gusts to 55mph) through Monday – Wednesday may create low visibility conditions. Here is an image of the NAM snow prediction, which has been chosen for my update for its better resolution with resolving snowfall for the topography of the mountains. With low confidence of course, we seem to be gunning for a 2-10″ snowfall projection (2″ for the Blue Ridge, increasing to 10″ towards the NC/TN line and highest peaks)."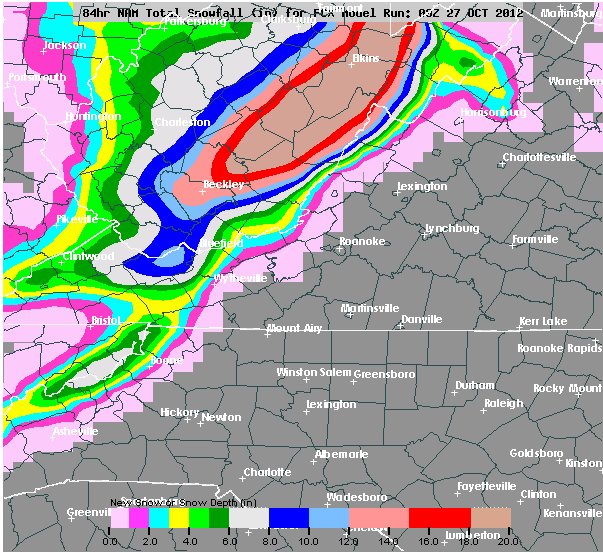 10:39am – Here are forecast temps from NWS – 40s on Sunday, 30s Sunday night, 40s Monday, 20s Monday night. Wind speeds of 10-30mph with gust of 40mph possible Sunday-Tuesday night at least.
9:21am Saturday – Snow accumulation probability of at least 8 inches Monday-Tuesday from NOAA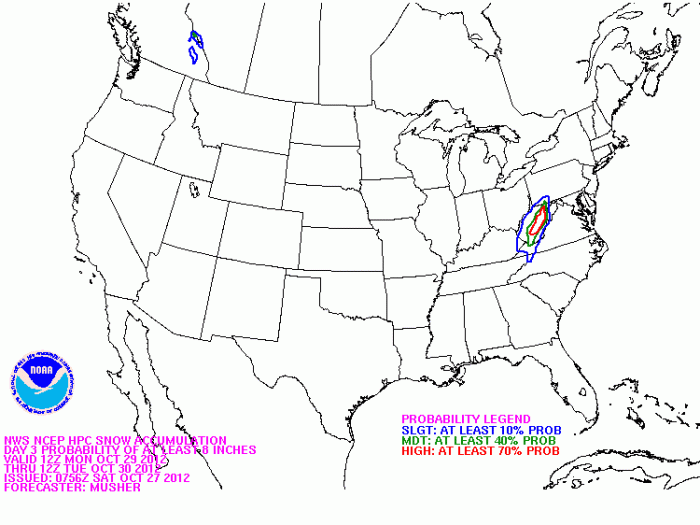 Snow accumulation probability of at least 4 inches Monday-Tuesday from NOAA
8:45am Saturday. From Brad Panovich "Model guidance continues to show a favorable set-up for major snow along the TN/NC border starting late Sunday night. This model shows almost 19″ at Mount Mitchell. This will be very elevation dependent. The worry is this wet heavy snow will combined with strong winds to bring trees & power lines down. Be ready for cold & snow and possibly no power starting Sunday night through Tuesday."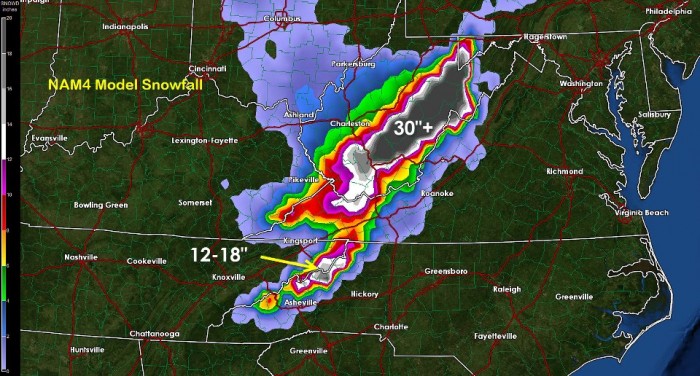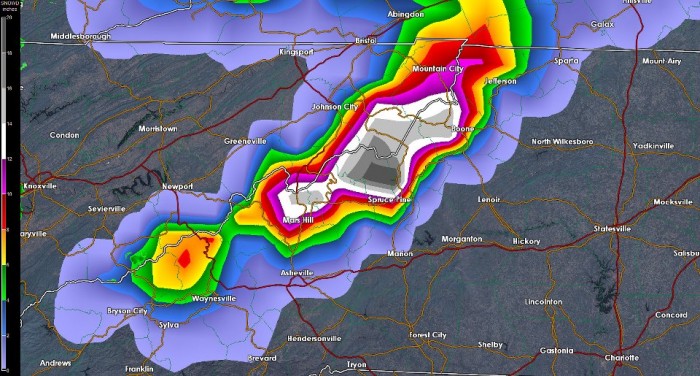 Also via Brad – "If you like probabilities check out the chances of seeing 1″ of snow Mon-Tue"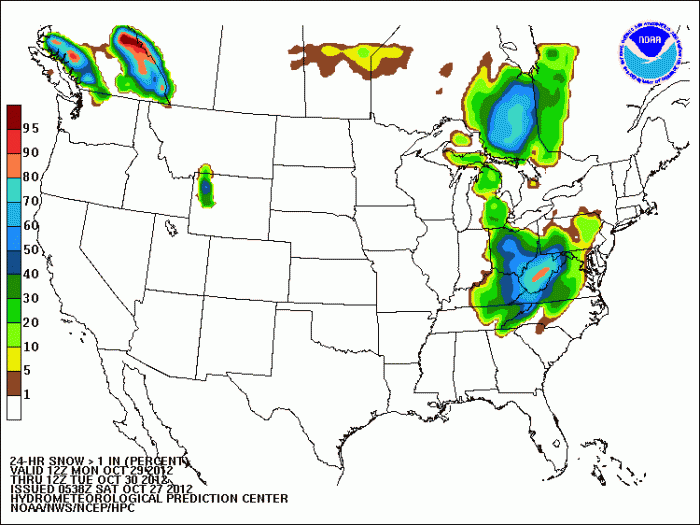 —————————————————————————————————–
6:05pm Friday – For information about how Sandy will have an impact in the Tri-Cities check out this update from Tri-Cities Weather Blog.
11:25am Friday – Video update from NWS Blacksburg
11:17am Friday – This from NWS Blacksburg will help you understand what could happen here with Sandy and the cold front. Click on the picture for a larger view.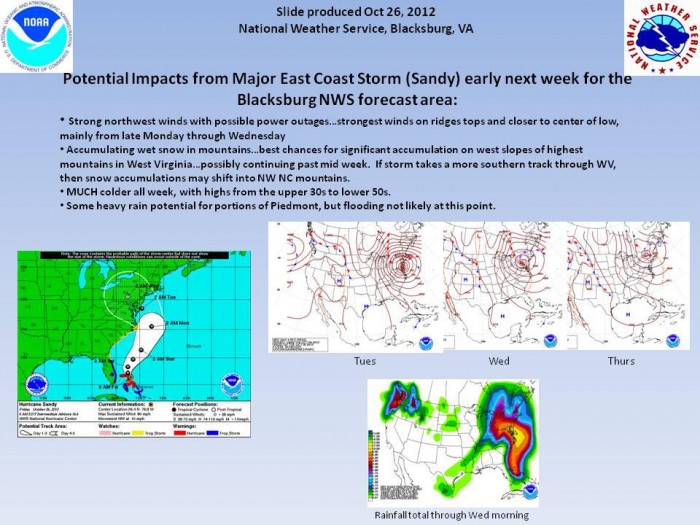 10:35am Friday. The graphic below from Brad Panovich shows the hourly temperature forecast. Brad notes that cold and windy days are ahead Sunday-Thursday.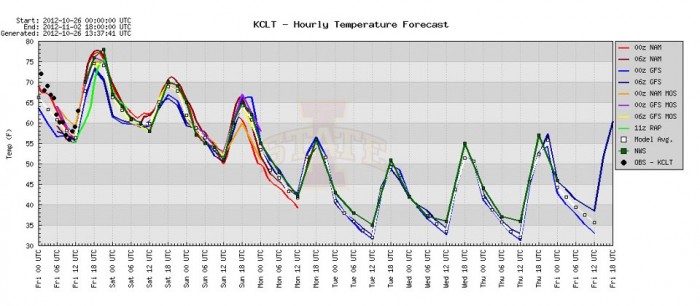 Below is the rainfall forecast through 8pm Tuesday Oct 30 from NOAA. Keep in mind that with the colder temps this could be more snow than rain.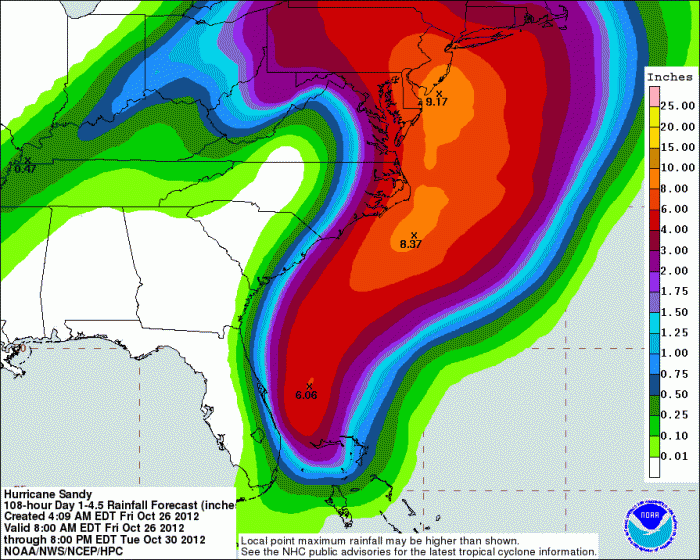 ————————————————————————
8:08pm – From the National Weather Service Hazardous Weather Outlook
"THE COMBINATION OF VERY COLD AIR AND MOISTURE WRAPPING IN BEHIND
SANDY COULD RESULT IN PERIODS OF ACCUMULATING SNOW SHOWERS SUNDAY
NIGHT INTO TUESDAY. IN ADDITION…WINDS COULD GUST TO ABOVE 45 OR
50 MPH MONDAY THROUGH TUESDAY. THIS WILL ALSO PRODUCE WIDESPREAD
FREEZING TEMPERATURES EARLY NEXT WEEK."
4:05pm – A lot of eyeballs are zeroing in on where Hurricane Sandy will go and how it will impact High Country weather. A cold front from our west is bringing in the cold but Sandy could bring more moisture which could equal more snow. With temperatures in the 70s much of this week area residents may find the 30s & 40s, and possible snow flurries, next week a real shock to the system.
On Thursday afternoon Brad Panovich, WCNC NewsChannel 36 Chief Meteorologist, shared this picture via twitter. Brad noted that "Sandy is growing in girth now, as it's outflow is about 1700miles wide"
To follow updates from the National Hurricane Center on Sandy you go go to this link http://www.nhc.noaa.gov/#SANDY
Brad also passes along
"East coast friends here are a couple of things to keep in mind with Sandy, please read & share.
Sandy combined with the strong trough will create a unique type of storm system. One that if you are in-land can mean major wind impacts you would only expect on the coast. It's very rare to see a strong tropical system merge with such a strong winter like trough of low pressure. Throw in a full moon and the potential is there for a significant storm. This system is 1 part Hurricane, 1 part Nor'easter and 1 part Blizzard potentially. Impacts of all 3 types of storms are possible depending on location.
For those on the coast don't let the Category of the storm or whether it's "just" a Nor'easter dictate your response. Your personal memories of previous storms are no use in this unique situation. This may be the first time in many people's lifetimes or in the short period of time you have lived in your current home that you have seen this type of system. The impact of the storm is what is important not the name it is given, the season, the line track it takes or what your friends on Facebook are saying.
Please listen to qualified & trusted sources of weather information especially local National Weather Services Offices and Emergency Managers.
Thanks,
Brad"
So what does this mean for the High Country right now? There's no doubt the cold is on the way but Sandy's impact is not quite yet known. Updated information here as the situation gets a little clearer hour by hour.
For information about weather conditions in the Tri-Cities check out Tri-Cities Weather Blog.
*Disclaimer WataugaRoads.com does not forecast weather/storms but chooses to passes along information from National Weather Service and trusted professionals in the weather industry.*