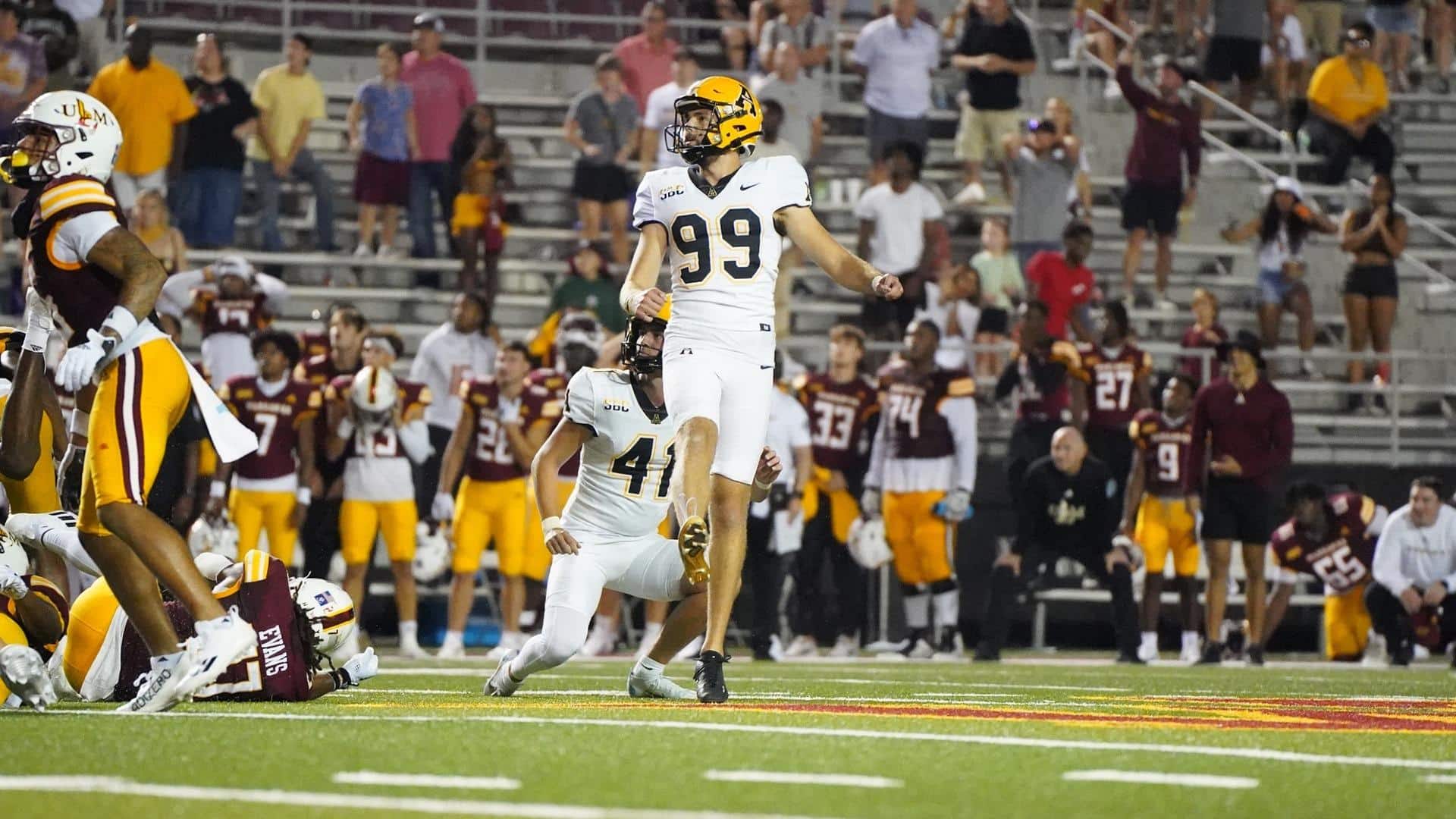 Last Updated on October 1, 2023 12:37 pm
MONROE, La. — Michael Hughes came up huge at crunch time to lift App State to an improbable Sun Belt win on the road.

Hughes' career-long 54-yard field goal as time expired — the longest game-winning field goal to end a victory in program history — delivered a 41-40 league triumph at ULM late Saturday night.

"I'm very proud of our players," head coach Shawn Clark said. "Everyone involved in our program just showed resilience. The odds of us winning that football game were not good, but everyone stuck together."

The longest App State field goal since 2000 — and tied for the third-longest in program history — capped a six-play, 43-yard march after the Mountaineers (3-2, 1-0) had regained possession at their own 20 with 1:02 left on the clock and no timeouts remaining.

Joey Aguilar went 4-for-5 passing on the final drive and completed three straight throws to Kaedin Robinson for 14, 16 and 14 yards to move the ball to the ULM 37 with four seconds showing on the clock. Christian Johnstone delivered the snap to Conner Maynard, whose clean hold set up a pure kick with plenty of distance.

"I knew it was going to be a long one, but we practice those kicks every day in practice," Hughes said. "I had the confidence in me that was just built up over the years. It's just trusting the guys around me and getting the job done.

"I hit the same field goal in warmups from 59. The camera guy was perfect on my line. I played my line, hit the ball and game over. I knew … I immediately turned around. I forget what I did, but it was a very exciting moment — one that I'll definitely remember. Having 500 people jump on me, I'll never forget that."

Trailing by two in the final six minutes and needing a goalline stand to keep it a one-possession game, App State forced a fourth-and-goal situation from the 1 thanks to Markus Clark's third-down stop for no gain. ULM attempted a play-action pass from a tight formation, but defensive backs Tyrek Funderburk and Nick Ross combined on a huge sack to give the Mountaineers a shot.

They moved toward midfield, but Aguilar gained 8 yards when he needed 9 on a keeper that ended just short of the ULM 39, where the marker stood.

App State had three timeouts left as ULM (2-2, 0-1) took over possession with 1:26 remaining. Three stops, including one for a 4-yard loss by Nick Ross, forced ULM to punt after running off only 19 seconds.

Funderburk scored a defensive touchdown for the second straight week to lead App State's defense, and Nate Noel rushed for 109 yards on 18 carries. Aguilar threw for 335 yards and three touchdowns, including two to Christan Horn. He had six catches for 124 yards, and Robinson finished with 112 yards on 10 receptions.

After ULM capitalized on an early turnover to engineer a touchdown drive and then marched down the field again to lead 14-0 with 6:10 remaining in the first quarter, App State needed only 35 seconds to break even with two touchdowns of its own.

Aguilar followed a drive-opening carry by Kanye Roberts with a 52-yard touchdown pass to a wide-open Horn streaking down the right sideline. On the first play of ULM's next series, Funderburk broke quickly on a wide receiver screen and picked off the throw in stride as he sprinted toward the end zone.

One week after scoring a touchdown on an 18-yard interception return at Wyoming, Funderburk scored this time on a 23-yard return.

A third straight Mountaineer touchdown, this one a third-and-goal catch covering 6 yards by Kaedin Robinson, gave App State its first lead of the game, but the score was tied at 28-all entering halftime as the Warhawks erased deficits of 21-14 and 28-21.

Roberts' 10-yard touchdown run through a gaping hole created from blocks by Damion Daley, Bucky Williams and Jack Murphy broke a 21-all tie with 3:14 left in the half, and ULM answered with a five-play, 74-yard drive that ended on Jiya Wright's third touchdown pass of the half with 1:17 remaining before the break.

App State took a 35-28 lead in the second half on Horn's 22-yard touchdown reception and held a one-point lead after Jordan Favors followed a fourth-down touchdown run from the 1 with a blocked extra point.

The third takeaway of the game from ULM's defense set up a go-ahead, 46-yard touchdown drive late in the third quarter, and Favors broke up the two-point pass to leave the Mountaineers facing a 40-35 deficit.

Hughes kicked a 28-yard field goal early in the fourth quarter to cut the deficit to 40-38, and DeAndre Dingle-Prince's recovery of a fumble forced by Favors set up App State with a chance to drive for go-ahead points, but an interception two plays later gave the ball back to the Warhawks.